These 5 tips will help you to make money on your recyclables.
Single stream recycling may be convenient, but it is not very profitable. These tips can help you to earn more money directly for your recyclables or allow you to negotiate a lower hauling fee from your recycling contractor.
1. Separate garbage from your recyclables; mixing garbage with recycling is expensive.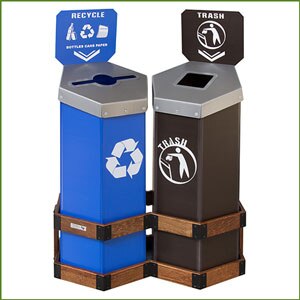 With the advent of the "Mixed-waste processing facility (MWPF) "or dirty MRF, some waste haulers accept a mixed solid waste stream and then attempt to "mine" recyclable materials from it. This process is not efficient nor effective and most materials are diverted to landfill. Landfill tipping fees are expensive and you will be charged accordingly.
Make it easy to separate your recyclables from your trash with a multi-sort recycling bin. Check out some of our award winning trash can recycle bin combo systems here.
2. Separate white paper from all other paper.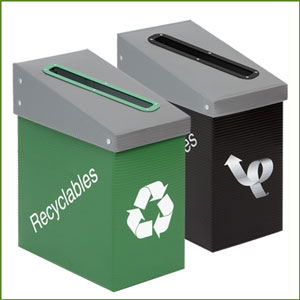 White paper commands the highest recycling price at $100 per ton. The value of other papers is much less, for example, newspaper is $30 per ton and colored paper is $10 per ton.
To conveniently collect white paper, place white paper collection bins in meeting areas, and near printer and copier stations. The Wedgecycle™ 1 is a low profile recycling bin that sits flush against the wall, making it the perfect choice for an office recycling bin.
3. Separate glass from all other recyclables.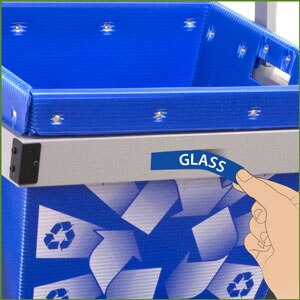 Glass is expensive to recycle. It costs about $70 to $90 a ton to process, yet it sells for only $10 a ton. When you mix glass with your other recyclables, it brings down their value. Glass also wreaks havoc on paper recycling equipment, therefore, it should never enter the paper recycling stream.
Paper contaminated with glass is worthless from a monetary perspective and will be diverted to landfill. Keep your recycling stream clean with a 3-bin Hexstation™.
4. Collect and recycle aluminum cans.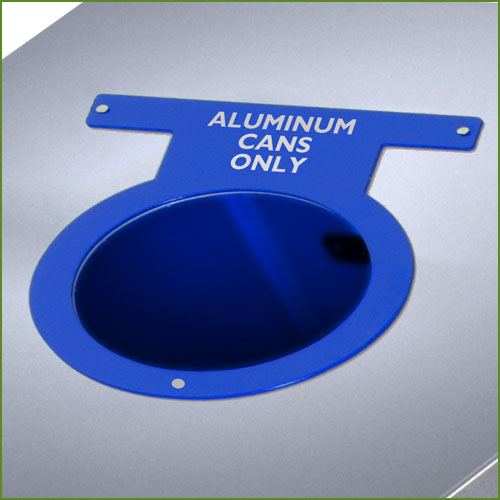 Aluminum is a highly, recycled metal. Making an aluminum can from recycled material takes 95% less energy than making a can from virgin aluminum. The market for aluminum can recycling is well established so you should take advantage of it.
Currently, aluminum cans bring in about $0.30 per pound and this price is negotiable. Learn more about the economics of recycling by clicking here.
5. Keep up to date on the market price for PET (polyethylene terephthalate, Resin #1).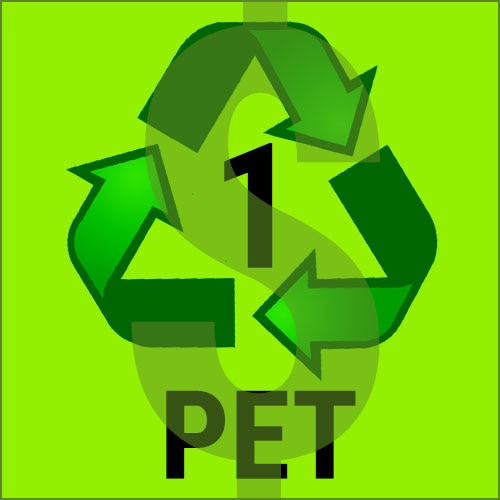 Pricing for recyclable plastic varies greatly from month to month. PET plastic, used for most consumer beverage bottles, currently has a scrap value of $0.15- $0.25 per pound. Scrap bottles are processed into PET resin which is priced at around $0.80+ per pound. Any swings in the PET resin pricing will affect the recycling value of plastic bottles.
When it comes to recycling, a little separation can mean a lot more profit. Negotiate the pricing you obtain for your recyclables and don't let your recycling hauler take all the profit!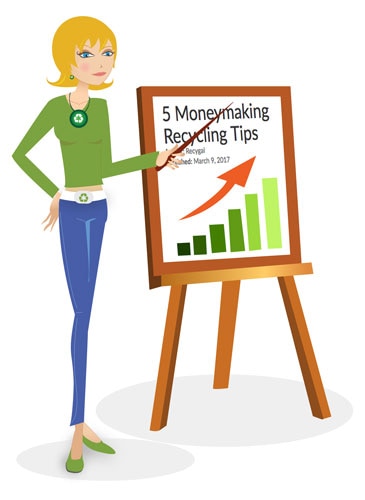 Happy Recycling!
© 2017 Recyclingbin.com
RecyGal© Blog and RecyGal© character are registered trademarks and registered copyrights of Recyclingbin.com. All rights reserved.