Hexcycle® IV
The state of the art Hexcycle
®
IV is available as a 23 gallon or 30 gallon collection bin. This high tech design is amazingly durable yet easy to manage. The extreme high strength to weight ratio will exceed your expectations. Available in 6 colors and with 12 different style lids, providing unlimited collection possibilities. Hexcycles
®
were awarded several US patents, and are collecting millions of pounds of recycling, trash, donations and compost!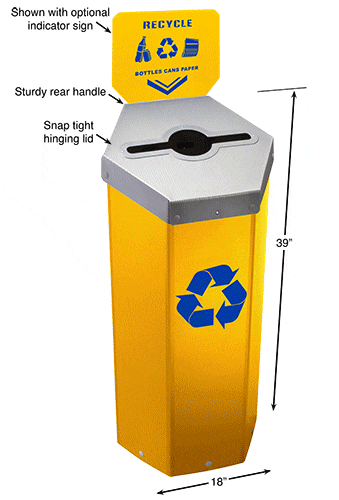 <
>
Hexcycle® IV
HEXIV
Hexcycle® IV
User rating:
4.90
out of
5
with
40
ratings from
9
user reviews
The state of the art Hexcycle
®
IV is available as a 23 gallon or 30 gallon collection bin. This high tech design is amazingly durable yet easy to manage. The extreme high strength to weight ratio will exceed your expectations. Available in 6 colors and with 12 different style lids, providing unlimited collection possibilities. Hexcycles
®
were awarded several US patents, and are collecting millions of pounds of recycling, trash, donations and compost!
Need assistance?
Please call 800-910-4757
8:30 am to 6pm EST
or email
[email protected]
.
Carbon Emitted From Production

Because of our commitment to sustainability and careful materials consideration, the HexCycle® emits, on average, 56% less carbon in the production process than its industry standard equivalent.
Best Value Anywhere!
The Hexcycle can be customized with features for all waste applications. Available options include 7 different lid types, wheels, 4 colors, and 2 sizes to choose from. (standard bin is as pictured)
US Patent #s: D659,338 S; D659,339 S; D640,028 S; D611,450 S; D661,449 S;D655,062 S

Engineered with the environment in mind of high efficiency structural plastic which maximizes strength with minimal use of plastic.
Fuel consumption and cost are reduced with Fuel Savertm designed product that packs flat.
Reduce improperly sorted materials and downstream costs

Clear and distinct fade proof colors with bright crisp symbols.
Variety of shaped holes and recoiling flaps
Identification decals included with every bin

Compact efficient design - 30 gallon bin only uses 18" diameter of floor space
Angled lid prevents build-up of recyclables and waste on top of bin.
Hinging and latch tight top to secure liners and prevent loss of lids.
Easily carry heavy loads and minimize back injuries with ergonomically placed handle.
100% Recyclable Bin – Made from a minimum 30% post industrial recycled plastic
Bins packaged in 100% recycled cardboard.
Product Guarantee
– The
Hexcycle
®
IV is manufactured to the highest quality standards and is designed to last indefinitely depending on the environment and usage. We guarantee this product against any and all workmanship defects and or performance.
| | |
| --- | --- |
| Size: | 39"h x 18"w or 30"h x 18"w |
| Weight: | 5 lbs. |
| Gallons: | (39" Bin = 30 ga.) and (30" Bin = 23 ga.) |
| Capacity: | 39" = 237 Uncrushed Alum Cans or 144 16oz water bottles |
| Material: | Heavy Duty, Lightweight Twin-Wall Polypropylene Plastic |
| Availability: | Usually Ships in 3-5 Business Days |
| Perfect Fit Liner: | 35 Gal. Liners Available in Blue, Green & Brown - 200 Pack - Model PRBBG | 50 Pack - Model PRBBGD |
Product Reviews for Hexcycle® IV