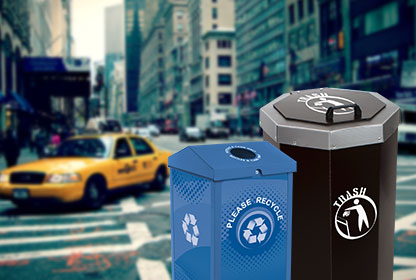 Outdoor Recycling Bins, Trash Cans and Stations
Looking for a less costly way to keep outside your facility both clean and attractive? Our bins' visible and customizable graphics will not only encourage use, but also match your outdoor facility's visual expectations.
Durable enough to bear the outdoor elements all year long and able to withstand high traffic use, our bins are specifically designed with your facility in mind. Whether you prefer wood, plastic or galvanized steel, Recyclingbin.com will assist you in selecting the perfect disposal system for your outdoor area.
Ergonomic, in both light weight plastic, sturdy steel, high end finished wood and aluminum you will find the performance and aesthetics of our products unmatched.
Quantity Discounts - Low Shipping - Customize