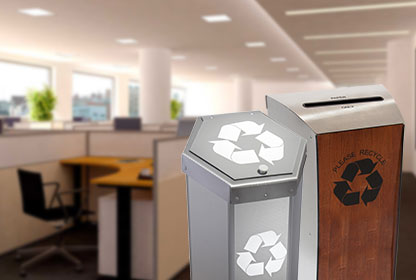 Indoor Recycling Bins, Trash Cans and Stations
Looking for a less costly way to keep inside your facility or home both clean and attractive? Let Recyclingbin.com help by enhancing your indoor areas with our bins and multi-sort systems.
By providing a place to properly dispose of trash and recyclables, you can help your place of business or home create a friendly and dynamic look for proper disposal of recyclables and waste. Our bins' visible and customizable graphics will not only encourage use, but also enhance your indoor recycling visual expectations.
Durable yet ergonomic, in both light weight plastic, sturdy steel, high end finished wood and aluminum you will find the performance and aesthetics of our products unmatched
Aluminum - Plastic - Wood - Steel - Customize