Starting a school recycling program can seem like a daunting task. Addressing a few key questions can help you to best manage your available finances and get your project off to a great start.
1. How many "recyclers" will be participating in the program?
Will your recycling program encompass an entire school district, certain grades, or just one classroom? Determine the number of students, teachers, and office staff that will be recycling. Allow for extracurricular "recyclers" such as visiting sports teams.
2. What type of recyclables will we collect?
Plastic and glass bottles, aluminum cans, paper, newsprint, and cardboard are mainstays of most recycling programs. Since most schools have cafeterias, it is important to find out if foodservice recyclables will be included in the program. If so, #10 cans, Styrofoam cups, compostable food trays, leftovers, and plastic wrap may need to be considered. Interview all school departments (especially the maintenance crew) and ask for their input.
3. What type of recycling bins do we need?
The proper recycling containers are critical for program success. Determine which materials will be collected separately and which materials will be co-mingled. Use different colored bins for different collection types. Choose a deposit lid that selects for specific recyclables such as a round deposit for cans and bottles and an elongated deposit for papers. Clearly identify the type of recyclable collected by using signage and labels on each bin. Locate collection bins side by side and add a coordinating trash bin. Keeping garbage out of your recyclables will keep your recyclables out of a landfill.
Younger students need smaller, shorter bins so they can easily deposit their items. Bins with bold colors and eye-catching graphics can help to identify the bins and bring a touch of fun to recycling. Teens and adults benefit from containers that clearly identify bin collection type. Actively engage students to put up recycling signs and posters. Consider incorporating school mascots or team logos on the recycling containers. Use school pride and team spirit to raise recycling awareness and support for the program.
4. Where should the bins be located?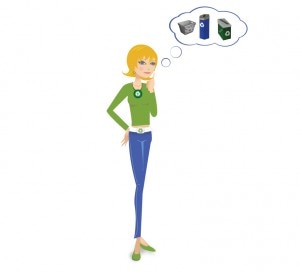 Place bins in high traffic areas and where they are most needed. Lobbies, cafeterias, gymnasiums, breakrooms, and photo copier stations can be key placement areas. If your program will collect recyclables both inside the school and out of doors, you may need to consider distinct types of bins for these different areas. Depending on where your school is located, the intensity of the sun, rain, wind, and amount of snowfall may influence the bin material specifications required for outdoor collection.
5. Who will haul away the recyclables?
If your municipality does not collect the recyclables, this is where a little number crunching can help. Recyclables have resale value so, if possible, chose a hauler that offers discounts based on the market value of your recyclables. When it comes to scrap value, white paper and aluminum cans are low hanging fruit. Some haulers even provide statistics on your collection, i.e. "Year- to- date your paper recycling has saved 10 Trees". Information like this can be a great motivator for the program.
6. How can we fund the recycling program?
Many local and state governments offer grants and incentives for schools to establish recycling programs. Browse the web or Google "Recycling grants for schools name of your state or town" and see if anything relevant comes up. Phone the municipal waste department of your town and ask if there are any school recycling grants. More often than not, parents are also eager to assist with fundraisers and donations for these programs.
Recycling programs do not need to be expensive, they need to be effective. Successful recycling programs have high participation and strong collection rates. When thinking about your program always ask yourself, "How can I use my funding to encourage individuals to strongly participate in the program?"
Seek recycling program volunteers from your school's student environmental club, its maintenance department, or even the P.T.A. Working together will ensure a successful recycling program. I hope these questions have served to spark a few ideas for your program.
Happy Recycling!
© 2009, ©2017 Recyclingbin.com
The RecyGal©TM and the RecyGal© character, logo are trademarks and registered copyrights of Recyclingbin.com. All Rights Reserved.