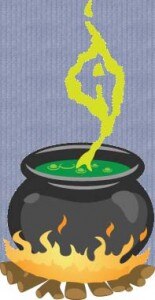 Double, double toil and trouble; fire burn and cauldron bubble
!
.
While this famous phrase may conjure up thoughts of witches concocting a potion, it surely doesn't represent all the Halloween fun we have carving pumpkins, trick or treating, and dressing up for costume parties. Americans spend $1.8 billion dollars on candy, $1.6 billion dollars on decorations, $2.0 billion dollars on costumes, and almost $350 million on greeting cards. After the holiday, tons and tons of candy wrappers, rotting pumpkins, polystyrene and latex masks, glow sticks, inflatable lawn decorations, and even pet costumes will end up in our landfills. As a nation are we under some sort of "throw away" spell?
Well, a glimpse into my crystal ball for Halloween 2018 seems to indicate there are environmentally conscious people who wish to celebrate this autumn-colored holiday in a greener way. I say, "Let's take the greening one step further and pull in the neighbors too. Why pull in the neighbors? According to a study published in the Journal of Applied Social Psychology, individuals who recycle and let their neighbors know other people are doing it, effectively influence their neighbors to recycle too. This year make recycling your Halloween paraphernalia a priority, let your neighbors know you are doing so, and turn the neighborhood Green for Halloween!
One great way to get the neighbors on board is to recycle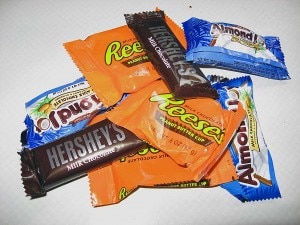 all those used candy wrappers. Visit Zero Waste Box to see how your neighborhood, school, or group can pool some funds to purchase a recycling box complete with a mailing label to keep your used candy wrappers out of a landfill. After your Jack O'Lantern has long stopped glowing, you will glow with the pride knowing that you recycled all those wrappers.
Now, what about that Jack O'Lantern? For those of us with access to composting, the compost pile is where this harbinger of Halloween will end up. But since only 8% of Americans compost, most of these artful pumpkins will end up in landfills. Although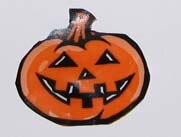 most of the pumpkin crop is used for processing (think of all those pumpkin pies we eat in November), according to the University of Illinois extension, a small percentage of the crop is used for ornamental sales through you-pick farms, farmers' markets and retail sales. With an annual pumpkin crop of 1.1 billion pounds, even a small percentage of the crop destined to become Jack O' Lanterns can mean tons and tons of garbage. So, let's at least try and reduce the amount of pumpkin garbage we generate. With eighty percent of the pumpkin crop harvested in October, the time is ripe to not only carve pumpkins but to save pumpkin seeds for baking and snacking. To learn all about the nutritional benefits of these seeds and how they can be used to enhance the nutritional value of your baked goods, visit Pumpkin Seeds.
For those of us who hide behind a mask during the holiday,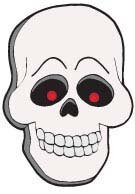 let's not throw those polystyrene and latex visages in the trash. Some communities do recycle polystyrene (plastic #6 of the resin code). Latex rubber is recyclable too, but is less of a consumer-based operation. One mask purveyor, Rubies, even has recycling symbols on its packaging. Visit Rubies to find out which national retailers sell their masks and contact them to learn more about how you can recycle their products. Additonally, a phone call to your local municipal recycling center or to a local, private recycling contractor may also help you in your mask recycling quest.

With all the spirit of Halloween, out come the glow sticks! These light up the night accessories are not recyclable! One manufacturer in its "Handle with Care" clause states, "After use, dispose of in refuse container." I guess this is supposed to demonstrate environmental stewardship. Why don't they just say, "After use, send this off to a land fill?" I'm sorry, but a plastic contraption that harbors a to be broken glass vial inside of its plastic shell and contains fluorescent dye, hydrogen peroxide, and phenyl oxalate ester is just not environmentally friendly! To learn more about the science and components of glow sticks, visit: Glow Granny. Because of the non-recyclability of glow sticks, one manufacturer, Extreme Glow, has developed a sturdy, reusable LED light stick that operates on recyclable AG13 batteries. This glow stick not only has a recyclable power source, it can be used more than once. Even for Halloween, we can make "greener" choices.
Most suburbanites know that Halloween is an opportunity to transform our yards into spooky, haunted havens. Netted cobwebs, plastic tombstones, and inflatable ghosts, goblins, and witches create an aura of the supernatural. Over the years, inflatable lawn decor has invaded our communities. Made from materials ranging from nylon to triple thick plastic, these over the top accessories often end up in the garbage after just one season. If you love inflatable lawn decor, at least choose wisely and select inflatable decorations made from readily, recyclable materials. If you chose a fabric like nylon, you can at least recycle the fabric.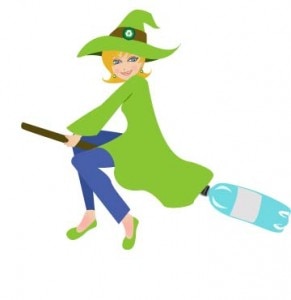 As for costumes, if you are unable to source your outfit from your closet or local thrift store, ask your neighbors if they have any previously used costumes you can borrow. If you must purchase a new costume at least try and get more than one Halloween season out of it. And, finally, make sure to recycle all of your costumes in your local Used Clothing Donation Bin. Don't forget to put your pet's costume and the fabric from that spent inflatable, lawn decoration in the collection bin too!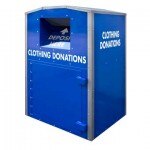 Happy Halloween Recycling!
© 2018 Recyclingbin.com
RecyGal® logo and the RecyGal®
character are trademarks and registered copyrights of Recyclingbin.com
References:The Complete Works of William Shakespeare, "Macbeth", Act IV, Scene I, www.shakespeare-literature.com, BiGresearch¨, Consumer Intentions & Actions Survey, National Retail Federation, September 2010, "Social Psychology and the Stimulation of Recycling Behaviors: The Block Leader Approach", Journal of Applied Social Psychology, 1991, 21, 8, p. 611-629.S. Burn, Psychology and Human Development Department, California Polytechnic State University, San Luis Obispo, Zero Waste box, www.terracycle.net, "Compost Awareness Week: No More Excuses, Start Your Pile", A. Wills, www.Earth911, May 3, 2010, "Pumpkin Facts". www.urbanext.illinois.edu/pumpkins/facts.cfm, "Pumpkin Seeds", www.whfoods.com, www.rubies.com, Super Glowª Lightstick Necklace, Amscan¨, Inc, Elmsford, NY 10523, www.glowgranny.com, www.extremeglow.com, www.inflatablehalloweendecorations.info.