August is the month that big box stores load up on traditional school supplies. For us environmentally conscious shoppers, there are more green choices for back to school supplies than ever before. Also, knowing how to properly recycle these scholastic tools can make them even greener. Smart teachers and PTA moms know well that establishing a recycling club, collecting items, and recycling in bulk can be great educational and fundraising opportunities too.
Purchasing paper and notebooks made from recycled paper stock are no brainers as back to school choices. With Americans using 50 million tons of paper annually, anytime recycled paper or cardboard can be used we help to save some of the 850 million trees destroyed to satisfy our paper demand. Although many municipalities include school districts in their municipal recycling programs, some schools must pay to have recycling services. When a school must pay to recycle paper, a little ingenuity can often lead to an alternative green channel. Simply removing staples from paper prior to shredding makes used paper useful as a packing material or even as bedding. Creative teachers can use paper repurposing to actively educate students about recycling while helping out the local community too. Small businesses such as animal shelters will often happily pick up shredded, staple free paper to use as animal bedding. Combining recycling with the care of animals is a fun way for kids to learn about the importance of recycling.
But what can we do with all the wires from spiral bound notebooks and metal rings from ring binders? According to Brion Gray, Sales Manager at Arlington Scrap Metal Corp in Wayne, NJ, we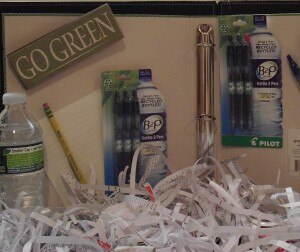 should be collecting these items in bulk and taking them to scrap metal dealers. Scrap metal dealers will gladly accept wires, metal notebook binders, broken metal protractors and even spent metal rulers. Because scrap metal pricing is determined on commodities markets like the LME (London Mercantile Exchange) and COMEX (Commodities Future Exchange), the value of a particular metal can change daily. Metal type, grade and cleanliness all figure into the final price paid by a dealer. Scrap metal dealers pay by the pound. The heavier the load you bring in, the more cash you will make. Throw in the metal from a broken desk or two and you are on your way to earning even more money! To check up on current metal pricing, visit Scrap Metal Prices.
When it comes to writing instruments, pencils and pens can be repurposed and recycled too. According to the blog Greenerways, pencil shavings make ÒdecentÓ kindling for campfires and can also be composted. How about saving up pencil shavings to use in a school garden project? Turning pencil shavings into a flower can be a beautiful thing! Thanks to the company, Pilot, pens are now being made from recycled bottles. Recently, launched in the USA is pilotÕs B2P Gel roller pen which contains 89% recycled content. What is even more amazing is that finally a blister pack made from recycled PET #1 resin plastic (polyethylene terephthalate) has entered the US merchandising world. The B2P Gel roller pen is not only made out of recycled plastic it is packaged in recycled cardboard and plastic too.
So, now as the summer begins to wind down and our thoughts start to wander off Òback to schoolÓ as parents, teachers, and students letÕs do the best we can to purchase environmentally friendly school supplies. Once these tools have served us well, letÕs creatively repurpose and recycle them too.
Happy School Supply Shopping and Recycling!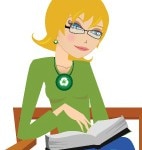 © 2011 Recycle Life, LLC
RecyGalTM logo and the RecyGalTM character are trademarks and registered copyrights of Recycle Life , LLC