Americans dispose of billions upon billions of paper, plastic, and foam cups. This year over 58 billion paper cups and 25 billion polystyrene foam cups will pass through our hands and end up in landfills. While the United States is still the world's largest culprit of disposable cup waste, growing nations like China and India are fast catching up. It's a cup carrying, cup dumping world!
With coffee bars and fast food restaurants dispensing hundreds of thousands of these cups by the second, it is no wonder it seems so natural for us to use them. The American "On the Go" lifestyle supported by takeout counters and drive up windows provides little incentive for us to bring a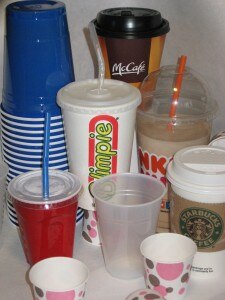 commuter mug along and pay for a fill up. It's just more convenient to grab a brand new, disposable cup. As quickly as we feed our hunger for caffeine or quench our thirst for effervescence, disposable cups enable us to throw out the evidence! No washing required, just toss! What happened to recycling?
Where hot and cold beverages meet paper and plastic cups, recycling is not as straightforward as you may think. Composite materials and lack of established collection and reclamation processes make the recycling of this growing environmental concern challenging. Annually, over 220 billion disposable paper cups are used worldwide; that's thirty-two paper cups for every person on the planet! While I don't have actual worldwide usage figures for hard plastic cups and expanded foam plastic cups, you can imagine the numbers are big. And, let's not forget the disposable lids, straws, and sleeves which come along with many of these cups.
All accoutrements aside, it was the disposable paper cup that started the throw away cup craze. Developed in the early twentieth century, paper cup usage grew as concern for sanitary drinking water at railway stations became a public health concern. Once a sidekick of the water fountain, today's paper cup is used for both hot and cold beverages. To meet the demands of liquid portability, the simple paper cup is not just made out of paper; the paper is coated with polyethylene plastic (PE) to make it waterproof. Disposable paper cups are made of about 95% high quality paper fiber and 5% PE coating. Although the paper fiber is recyclable, contamination caused by food and drinks can limit the recyclability of the paper and the small amount of plastic which coats the paper deters most paper mills from accepting PE- coated cups for recycling. Depending on the physical properties required of the cup, the PE coating is often a mixture of both low density polyethylene (LPDE#4 ) and high density polyethylene (HDPE #2) and can even contain polypropylene (PP #5), polyethylene terephthalate (PET #1), polystyrene (PS #6) or nylon.
For many paper mills, plastics (even the smallest amounts) can wreak havoc with paper reclamation equipment and contaminate downstream processes. For those few paper mills willing to take on the challenge, a consistent supply of used cups is often nowhere to be found. According to a press release issued in the UK, for a paper mill to begin recycling paper cups, at least 10 tons of used paper cups are needed monthly. If a cup weighs about 5 grams, that's almost 2 million cups a month. For disposable cup recycling to become a reality, the used cups need to be collected systematically in bulk. Since consumers often take their beverages with them when they leave the coffee bar or fast food chain, disposable cups end up everywhere but in proper collection systems. Even if consumers end up taking the paper cups home, the cups most likely end up in landfills since most municipalities do not recycle paper cups. Portability does not support recyclability!
Because coffee bars like Starbucks are large users of disposable paper cups (Starbucks purchased 2.7 billion paper cups in 2008) the company looks seriously at how it can reduce the impact of its paper cup usage on the environment. By promoting the use of reusable ceramic mugs or glasses for in-store beverage users and commuter cups for the take out crowd, Starbucks can help to break the disposable cup habit and meaningfully reduce disposable cup usage. Additionally, use of recycled paper fiber in the paper cups can help to reduce the impact paper cups have on our forests. In 2006, Starbucks launched a 10% post consumer fiber (PCF) paper cup in the US and Canada. While these cups are still not recycled, Starbucks' move to the PCF cup has saved 300,000 trees.
In the search for a "greener" disposable cup, International Paper has developed the "Ecotainer" a 100% biodegradable paper cup made from trees grown under the sustainable forest initiative and coated with the corn-derived plastic, polylactic acid (PLA) . Used cups no longer become trash, they now become compost! Maybe. A PLA-coated cup won't degrade in your backyard compost bin or in the trash; it needs the very controlled decomposition environment of a commercial or municipal compost facility. PLA begins as a corn kernel that is milled and separated into starch and the simple sugar, dextrose. The dextrose is then fermented into lactic acid and converted to the lactide polymer, polylactic acid (a bio-plastic that requires 65% less energy to be produced and generates 68% fewer greenhouse gases than conventional plastics). Sounds pretty good, but PLA applications are limited by the low melting point of this bio-plastic, 114 degrees Fahrenheit. Given the water temperatures for brewing most coffees reaches 190 to 200 degrees Fahrenheit and coffee normally hits the cup at least 120 degrees, the PLA-coating does not appear to be able to withstand direct contact with such hot beverages. For the Ecotainer to hold up against temperature, the paper must somehow insulate the PLA from the heat; perhaps the PLA coating is only on the outside of the cup? The company is marketing the Ecotainer for use with both hot and cold beverages, so it must have the science figured out. But, will the Ecotainer really keep paper cups out of the trash? Not really. As mentioned earlier, unless the cup finds its way into a controlled compost facility; it will pollute just as well as any other non-degradable cup. And just like PE-coated cups, it is not a wanted recyclable by the paper industry. For institutions like universities that manage both in-house food service operations and controlled composting facilities, replacing PE-coated paper cups with PLA-coated cups works well to reduce landfill costs and help keep campuses green. The key to the future success of PLA- coated paper cups is highly dependent on the development of and access to managed compost facilities.
So, what about disposable plastic cups? These plastic cups come in two varieties: foam plastic and hard plastic. Foam cups are made of expanded polystyrene (EPS) – polystyrene (PS#6) that has been expanded by a blowing agent such as carbon dioxide or pentane. Supporters of foam cups argue that the cup is 95% air and only 5% plastic resulting in less plastic to be disposed of than found in hard plastic cups. Hard plastic cups are made mostly from PET (#1), PS (#6), and PP (#5). While both foam and hard plastic cups are recyclable, lack of sufficient collection and reclamation systems results in both types of cups going to landfills.
As the recycling industry evolves, heavy cup users like Starbucks are turning away from plastics with low recyclability prospects to plastics that are more readily recyclable. Formerly, Starbucks served its cold drinks in PET (#1) cups. Not a bad idea since the PET (#1) bottle is the most recycled consumer plastic in North America. Unfortunately, the reclamation process to recycle bottles does not accommodate the recycling of other items made from PET (#1), so even though the plastic itself is recyclable, the cups have nowhere to go but to landfills. With more communities and municipalities offering recycling of PP (#5), Starbucks has switched from PET (#1) cups to PP (#5). The beauty of PP(#5) recycling is that it is building up around the recycling of everything made out of the PP(#5) plastic, not just one specific item as in the case of PET(#1) bottle. Also, by making some of its PP (#5) cups lighter, Starbucks is reducing the amount of plastic resin used and saving 650 tons or resin annually. Every little bit helps.
Hard PS (#6) is also a staple in the cup world. Not only are beverages served it PS (#6) cups, but yogurts and many other dairy items come packaged in this plastic too. Efforts by the organization, Preserve Gimme 5, have helped to raise PS (#6) recycling awareness and offer more convenient recycling opportunities for the plastic. The organization is creating a true closed loop system for post consumer PS (#6) plastic used by the dairy industry. For more information, see one of my previous blogs (scroll to paragraph 10 ) which mentions "Preserve Gimme 5″.
To lessen the environmental impact that disposable cups have on society, everyone must be willing to take steps to reduce the use of disposable cups. Next time you are going to visit your favorite deli or coffee bar, bring along your own cup and ask the barista to fill it up. If the barista gives you push back, politely let management know that as a customer it is important to you that the company supports reusable cups. Phone your
municipality or check its website to see which types of plastic are accepted for recycling. If your favorite fast food or take out restaurant gives you PS (#6) or PP (#5) cups and your municipality accepts them for recycling, make sure they make it into the recycling bin. And, when it comes to paper, a truly recyclable cup is on the horizon. "Starbucks" hopes to launch one by 2012. However, it will take the commitment of municipalities to collect these used paper cups and the acceptance of paper mills to recycle them. Everyone can have a positive impact for more responsible disposable cup use. Happy sipping!
© 2010 Recycle Life, LLC
The RecyGalTM logo and the RecyGalTM character are trademarks and registered copyrights of Recycle Life , LLC
References for this article were obtained from: www.epa.gov, "Innovation, Biodegradeable Coffee Cups!", Justin, July 3, 2007, www.metefficient.com, "Starbucks Pilots Coffee Cup Recycling Program", Hasler, Lauren, September 18, 2009, earth911.com, US Patent 6129653-Heat Insulating Paper Cups, Fredericks, Richard E., et al., October 10, 2000, Press Release- The Cup Recovery and Recycling Group, "Recycling of Paper Cups", November 24, 2008, www.thepapercupcompany.co.uk, "Dixie Cup Company History", Lafayette College Libraries, August 1995, www.lafayette.edu/~library/special/dixie/company.html, www.starbucks.com, Environmental Stewardship, Paper Cups, "Corn Plastic to the Rescue", Smithsonian Magazine, Royte, Elizabeth, August 2006, www.sacomaine.com, www.motherjones.com, "Industrial Strength Solution", Makower, Joel, May 2009.