No matter where we shop, the retail landscape is loaded with miscellaneous merchandise that tempts our impulses to buy. To capture our attention, safeguard product integrity, and to reduce pilferage, many goods are marketed in multi-material packaging. As a rule, this complex packaging is not recycling friendly. Often comprised of both recyclable and non-recyclable materials, individual packaging components must be properly separated and sorted prior to reclamation. One such format, the blister pack, is both a merchandising marvel and an environmental nightmare.
Used widely for the packaging of consumer goods, pharmaceuticals, and medical devices, blister packs bring to market such diverse items as toys, electronics, kitchen gadgets, cosmetics, medical syringes, cold tablets, and even chewing gums.
Blister packs begin as sheets of plastic that are heated and molded to create rigid storage cavities- a process known as thermoforming. Package characteristics such as impact strength, tear resistance, and vapor transmission ability are largely determined by the type of plastic used. It is these thermoformed plastic cavities or shells that securely nest packaged items for optimal viewing and shelf placement at retail.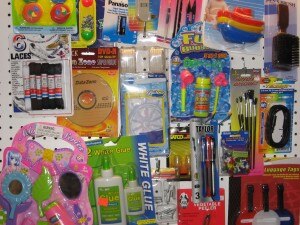 Here in the USA, polyvinyl chloride PVC (#3) and polystyrene PS (#6) plastics are used widely in the blister pack world. In countries like Germany (where manufacturers must take back the packaging they have generated and either recycle or re-use it) polyethylene terephthalate PET (#1) is the blister pack resin of choice. In some European pharmaceutical applications, even polypropylene plastic, PP (#5), is used. It is this plethora of plastic resins and possible combinations thereof that make the recycling of blister pack shells complicated at best.
But plastic is not the end of the blister pack story; the plastic shell is only half of the tale. Blister packs are comprised of both a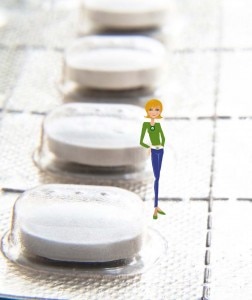 front shell and a back panel (the packaged good is sandwiched in-between). Different goods require different backings- for consumer goods it is often paperboard, for pharmaceuticals it is often aluminum foil, and for medical devices it is often another piece of thermoformed plastic. Yes, blister packs can litter our world with plastics, papers, and metals!
The package of choice for millions upon millions of diverse goods, it is surprising that blister pack land-fill waste seems to hardly register on the "green" radar screen. So, what are we as responsible recycling advocates to do?
We must increase public awareness for blister pack land-fill waste. Did you know that millions of blister-packed goods are produced without any plastic resin code identification on their packaging? This lack of plastic resin identification coupled with limited recycling infrastructure for many resins leaves little hope that spent blister packs are being recycled.
Despite the breadth and complexity of blister pack proliferation, both packaged goods manufacturers and retailers believe that the recycling of blister packs should be industry led. In my opinion, the sheer scope of blister pack material diversity and potential packaging applications will not enable private industry to arrive at any comprehensive blister pack recycling plan soon.
As consumers and recyclers we need to take actions that will increase public awareness of the blister pack garbage problem. But where do we begin? Perhaps we can start with half of the story…the plastic shell. By publicizing the lack of plastic resin code recycling symbols on blister packs and supporting an effort to demand that blister pack resins be identified, we will begin an effort to keep spent blister packs out of our land-fills.
Placement of plastic resin code recycling symbols on blister packs will enable us to gain understanding of the types and quantities of resins that are moving through our retailers and into our land-fills. Blister pack-resin identification will enable us to channel spent blister packs into established recycling streams and to develop recycling streams for those resins which are not customarily recycled.
Next time you purchase a blister-packed good, please take a moment to see if a plastic resin code is identified on the package. More than likely, there is no resin identification. If you want totake action, send your state government representative an email and let him or her know that you are concerned about the state of blister pack recycling in your community; convey that plastic resin code identification should be mandatory for all blister-packed goods. Send the same message to a friend on "Facebook¨", "Twitter¨", or by email. Get the word out. The time has come for blister pack recycling! And, if you want, please tell them, I sent you!
Happy Blister Pack Recycling !!
© 2018 Recycle Life, LLC
RecyGalTM logo and the RecyGal TMcharacter are trademarks and registered copyrights of Recyclingbin.com
References:References: "Recycling Report" The truth about plastic clamshell and blister recycling in America with suggestions for the industry, C. Slavin, Dordan Manufacturing Company, Inc., www.leadwise.mediadroit.com, "Germany-Environmental Legislation", www.ghgaccountingsoftware.com, "Blister packs polypropylene is best": Peter Forsmark, Technical Director, Recipharm (Stockholm, Sweden) explains why polypropylene blister packs are better than aluminum and PVC blisters now that the technical barriers to manufacturing them have been overcome. , www.freelibrary.com, "Plastic Packaging Resins", American Chemistry Council, www.americanchemistry.com, "Guide to Plastic Recycling Symbols", www.quantumbalancing.com/recycle.htm.