I hope this America Recycles Day is laden with WILL DO spirit. Over the past several years, recycling initiatives have spanned the gamut from reducing disposable plastic bag use to implementing single stream collection. So, how is recycling progressing?
Unless you live in San Francisco (Ground Zero for an A+ in Recycling), the results may be surprising. Despite our best intentions, many locally implemented efforts seem to be waning.
In my town, the local grocery store is packing goods in very thin, disposable plastic bags and no longer offers shoppers the choice to purchase reusable shopping bags. These disposable bags are so weak everything must now be double bagged! To make matters worse, both the grocery store and the local Walmart (where shoppers recycled these disposable bags) have removed their recycling bins dedicated to plastic grocery bag recycling. Now recycling conscious shoppers have no convenient place to recycle the disposable bags! Let's stop using these nasty, disposable bags and get back to I WILL remember to bring a reusable bag for my shopping trip with me!
How about those cash register receipts that are long enough to be used as garlands for our fireplace mantels? Last week during a shopping spree at CVS, I purchased 3 items and received a 29 inch sales receipt at checkout! This recently posted Instagram photo illustrates the receipt problem well.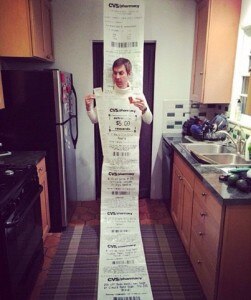 Let's help to eliminate this wasteful practice with I WILL take the time to add my email address to the retailer's database upon checkout and receive my receipts via email!
Product packaging seems more complex than ever. A bill introduced to the U.S. House of Representatives on July 30, 2014,H.R.5283 Land-Based Marine Debris and Reduction Act, requires manufacturers to use more recycled materials in their products. Not only does the bill require the use of more recycled content, it limits the future amount of solid waste going to landfills.
Make a difference now, find your representative by zip code, and commit to WILL send a brief message to my representative in support of H.R. 5283.
Avid recyclers know that single stream collection often lowers the amount of collected goods that can be recycled. Last America Recycles Day (November 15, 2013) Waste Management's CEO, David Steiner, appeared on CNBC and told viewers how Waste Management's investment in single stream technology failed because consumers weren't educated in how to recycle properly. Since the premise behind single stream collection is to collect everything (including garbage) in one bin and then separate it downstream using sophisticated technology, I don't think the consumers are responsible for any failure. Please watch the CNBC video with CEO Steiner and see for yourself.
Didn't Educate Consumers on Recycling
In my opinion, single stream collection achieved exactly what large waste haulers wanted it to do- stop the growth of locally separated, recycling and trash collection. Although some waste hauling executives are now backing away from the single stream mantra, I believe the concept of single stream recycling was used to combat the threat recycling posed to the profitable landfill business. Large waste haulers marketed single stream collection to municipalities on the concept that it is less expensive to collect everything together (recyclables and garbage) in one truck rather than have separate recycling and garbage pickups. What many municipalities did not realize was that the recyclables collected with single stream technology are often lower quality than those collected via separate streams (e.g. paper in one bin and garbage in another bin). Single stream collected paper (collected in the same bin as garbage) can be laden with food oils and small glass fragments. This dirty paper, if lucky, can be used to make the lowest grade recycled paper products or, if not so lucky, become garbage in a landfill! What was once recycling revenue for the town, is now landfill tipping fee expense. Recycling begins to lose its appeal and investment in recycling starts to decline. Landfills still remain.
Help jump start recycling again with a WILL DO attitude for this America Recycles Day 2014. PLEASE contact your U.S. House representative in support of H.R. 5283. You can bet major waste haulers will lobby against the landfill reduction clauses found in this legislation. H.R. 5283 needs your support!
Happy America Recycles Day!!
© 2014 Recycle Life, LLC
RecyGal© logo and the RecyGal© character are registered trademarks and registered copyrights of Recycle Life , LLC. All Rights Reserved.