When it comes to recycling, there is nothing lucky about plastic resin code, Seven.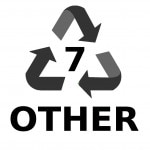 The last member of the code numbers developed in 1988 by the
Society of the Plastics Industry (SPI)
to help identify the type of plastics entering residential waste streams, this catchall "OTHER" resin code no longer helps clarify plastic identification, but confuses everyone.
Not only is resin code Seven confusing, but over the years the entire plastic resin identification system has created the public perception that if a resin code appears on a plastic container, it is recyclable. This is simply, UNTRUE.
While most municipalities recycle resin code 1 (PET) polyethylene terephthalate (drink bottle plastic), resin code 2 (HDPE) high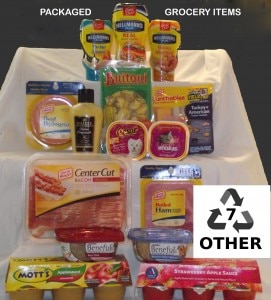 density polyethylene (juice and milk jug plastic) and more recently resin code 5 (PP) polypropylene (yogurt container plastic), other resin codes are less often part of municipal recycling programs. And, when it comes to unlucky plastic resin code Seven, this plastic is basically NON-RECYCLABLE.
Plastic resin code Seven is identified as "OTHER" meaning it does not fit into any of the six neatly identified plastic types: PETE, HDPE, V (PVC and Vinyl), LDPE (low density polyethylene), PP, or PS (Polystyrene). When resin code Seven appears on a plastic container it means the container is either made out of a "new" type of plastic resin or a mix of plastic resins.
Lumped into resin code Seven is the more recently developed corn derived plastic , PLA (polylactic acid). PLA derived plastic is not recyclable, but does degrade when part of an industrial compost operation. To make PLA plastic a viable "green" packaging alternative, proper separation of PLA plastic from the recyclable plastics' stream is important. Contaminating PET, HDPE, PP and other recyclable plastic streams with PLA plastic reduces the overall plastic recycling rate and hurts plastic recycling profitability. Additionally, if PLA plastic does not find its way to an industrial compost facility, it just adds to our mountains of garbage; PLA plastic does not degrade in landfills. Because PLA plastics are compostable when handled properly, I strongly believe this plastic resin deserves to have its own resin code. Although not recyclable, PLA plastic resin is not a bad packaging medium if separated and handled properly in the waste collection stream. The question is, why hasn't the SPI created a separate resin code for PLA plastic yet?
This may have to do with the fact that the FTC (U.S. Federal Trade Commission) and the NAD (U.S. National Advertising Division of the Council of Better Business Bureaus) are taking action against companies that use the word "biodegradable" for marketing claims that are unsubstantiated.
To make the claim that PLA plastic containers are "biodegradable" these items must adhere to the guidelines and specifications established for compostable plastics and products made from plastics by the ASTM (American Society for Testing and Materials) under standard ASTM D6400. In other words, it is not just the plastic that must pass the test, but the container itself.
Established specifications such as the time by which a product must disintegrate can keep a "thicker" container from meeting the standards.

Unlike thinner PLA plastic products such as the compostable trash can liners like BioBags (which do adhere to ASTM D6400) thicker, slower degrading PLA plastic packaging containers unable to be labelled as "Biodegradable" may be keeping PLA resin from gaining broader market acceptance. In a world where marketing claims are often key to the success of a product, "NO CLAIM, means NO FAME". Why create a resin code for a plastic that potentially may not be a major part of the municipal waste stream? For me, the fact that compostable PLA trash liners are now on the market is reason enough to create a new code for PLA plastic resin. How can these liners ever be properly composted if they are not identified?
Besides PLA derived plastic, resin code Seven encompasses a plethora of mixed resins. Surprisingly, these "mixes" do not need to be identified on the plastic containers themselves. To put it simply, containers made of mixed resins are NOT RECYCLABLE. These containers either end up in our landfills or are incinerated. So, why are mixed resin containers popping up more and more on our store shelves?
Mixed plastic containers not only enable marketers to create more attractive packaging, these containers allow foodstuffs and other sundry goods to be processed at higher temperatures and pressures than stand alone plastic resins can handle. Besides expanding the manufacturing alternatives for many products, mixed resin containers also extend the shelf life properties of plastic packaged goods. Because plastic can be formed into any shape, made to be any color, provide a view of the product packaged inside, support microwave heating, and provide airtight storage for refrigerated items, marketers love this packaging medium. And, when it comes to the distribution of consumer packaged goods, plastic is less likely to break than glass and weighs less than glass or metal. The versatility of mixed plastic resin packaging makes it an attractive marketing tool. However, if you throw in an eco-friendly requirement, mixed resin packaging fails miserably. Unfortunately, these non-recyclable packaging formats are steadily replacing traditional, highly recyclable glass jars and tins.
Although according to SPI, "the resin identification code has been developed to provide a consistent national system to facilitate recycling of post-consumer plastics through the normal channels for collecting recyclable materials from household waste", I feel strongly that when it comes to resin code, Seven "OTHER", the SPI is misleading consumers. What worries me most is that SPI states to properly use the plastic resin codes marketers should "make the code inconspicuous at the point of purchase so it does not influence the consumer's buying decision". PLEASE!! As environmentally conscious consumers, the way a product is packaged must influence our purchase decision. The more we purchase products packaged in non-environmentally friendly formats, the more demand we create for landfill loving packages.
In today's fast paced, convenience driven world, consumer goods packaging choices available in the marketplace are supported by our purchases. Although convenience is great, we must do our part to better the environment by purchasing products in minimally packaged, recyclable, or compostable packaging. When it comes to resin code Seven, Less is more.
Happy Recycling!
© 2017 Intercycle, LLC
RecyGal® logo and the RecyGal® character are trademarks and registered copyrights of Intercycle , LLC
References: "NYC WasteLess", www.nyc.gov, SPI "Plastic Resin ID Codes" www.plasticsindustry.org, "Corn plastic sounds great, but it's tough to recycle and may foul systems", S. Wood, October 7,27, 2008, www.oregonlive.com,"POSITION PAPER ON OXO-BIODEGRADABLES AND OTHER DEGRADABLE ADDITIVES", Society of Plastics Industry, Bioplastics Council, January 2010, ASTM Overview www.astm.org, "SPI Resin Identification Code-Guide to Correct Use", www.plasticsindustry.org