Single Stream 2-Bin Hexstation™
Manage your recycling and trash collection efficiently with the Single Stream 2-Bin Hexstation™. Featuring hinged lids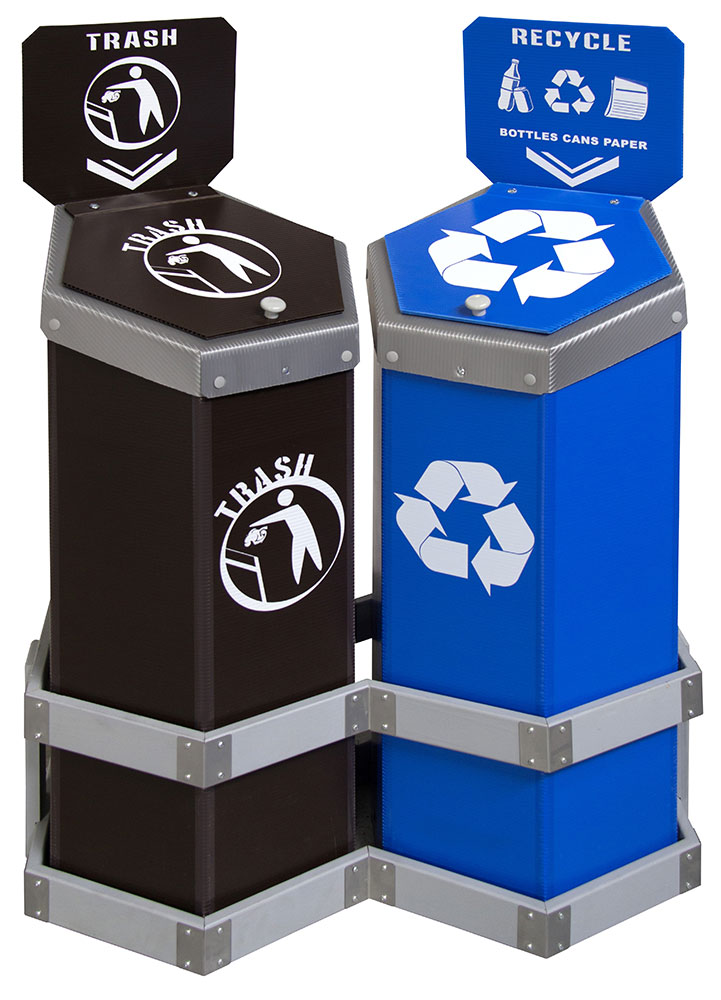 <
>
Single Stream 2-Bin Hexstation™
H2SLSTF-I
Single Stream 2-Bin Hexstation™
User rating:
5.00
out of
5
with
20
ratings from
6
user reviews
Manage your recycling and trash collection efficiently with the Single Stream 2-Bin Hexstation™. Featuring hinged lids
Need assistance?
Please call 800-910-4757
8:30 am to 6pm EST
or email
[email protected]
.
The HexStation™ was recently awarded a patent for its unique and effective design (D640,0285). Arrange, secure, and organize multiple recycling and waste bins together with a contoured wood base. Configure the perfect station for your establishment's specific recycling requirements. Two of our best selling HexCycle® IV Bins and the stability of the contoured base station provides the ultimate waste collection system for your facility.
US Patent #s: D659,338 S;D659,339 S;D640,028 S;D611,450 S;D661,449 S;D655,062 S
Centralize collection and color coordinate with environment.
Keep trash and collectibles out of sight.
Distinguish collection via deposit lid type and color.
Guard against unsightly waste, odor, and insects with our award winning deposit flap.
Stable in windy conditions or high traffic locations.
Keep bins organized and together with integrated base design.
Separate materials at the point of collection.
Never lose a lid - All lids are hinged to the bin.
Communicate the collection message with distinct graphics and bright colors.
| | |
| --- | --- |
| Size: | 36"L x 21"D x 51"H |
| Weight: | 30 lbs. |
| Gallons: | 60 Gallons - (30 Gallons per Bin) |
| Capacity: | 237 Cans or 144 -1/2 L bottles Plus 60 lbs Trash |
| Material: | Structural Plastic, Wood, Galvanized Steel |
| Availability: | Usually ships in 3-7 days |
| Perfect Fit Liner: | 35 Gal. Liners Available in Blue, Green & Brown - 200 Pack - Model PRBBG | 50 Pack - Model PRBBGD |
Product Reviews for Single Stream 2-Bin Hexstation™