Imagine a world where all plastic products were recycled. Living in a world where no plastic debris litters the roadways, nor floats in our oceans, nor sits in landfills for hundreds, if not thousands, of years. To most of us this seems almost unimaginable, but is it?
According to Stanford Magazine , ÒWorldwide we consume approximately 100 million tons of plastic each yearÓ. Yet, this figure is a far cry from 2007 statistics which estimate worldwide production of all plastics (except those used for textiles) to be about 286 million tons. Looking at annual production statistics for polymer-based, synthetic textiles there is at least another 31 million tons. Add it all up and worldwide plastic production is well over 300 million tons annually. Each year the world is producing about 100 pounds of plastic for every person on the planet!
But, how do we account for the 200 million ton difference between our consumption and worldwide production? Well, mixing statistics from different sources is always a tricky business. What the difference seems to be indicating is that a lot of plastic is used for many non-consumer applications. Plastics are being used to build the infrastructure of nations and to produce the durable goods enjoyed by all sectors in our modern world. As more nations climb out of the third world, demand for plastics will continue to increase. So, what does this mean for recycling?
According to Dennis Sabourin of the National Association of PET Container Resources NAPCOR, first and foremost, when recycling plastics, we must do our best to "conserve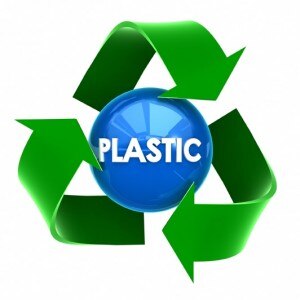 the plastic molecule". Think of the plastic molecule as the smallest possible physical unit of the plastic; imagine it as a single link in a chain. By attaching identical links together to form a long chain, a plastic resin is created. In science, this chain of molecules is termed a polymer; plastics are polymers. When seeking recycling options we must strive to conserve the molecule because in doing so we are conserving the petroleum and energy which was initially required to create it chemically. Additionally, recycling plastics produces less green house gas emissions than producing virgin plastics.
In the USA, the recycling of used PET (polyethylene terephthalate) beverage bottles is one of the most developed, successful plastic recycling initiatives today. Considered to be the model of closed loop recycling, PET beverage bottles are collected, sorted, heat treated, and reformed into new PET bottles. Because PET bottle resin grades are standardized and contaminants can be readily removed from the reclaimed resin stream, PET bottles are highly recyclable not only to make new bottles but to produce other thermoformed plastic goods and synthetic fibers.
In the textile world, PET plastic is known as polyester . With over 60% of global PET production being used for the manufacture of synthetic

fibers the more PET bottles we can recycle into polyester, the less demand there will be for virgin PET resin. Fiber made from PET bottles can be used in a myriad of applications including the production of polyester fabric and synthetic carpeting. And, let's not forget, that these PET-derived products can be recycled too.
Plastics can also be reclaimed and mechanically processed into products which require lower properties than the original plastic source. Plastic properties can include such things as tensile strength, opacity, rigidness, etc. This type of recycling is considered Òsecondary recyclingÓ and is sometimes referred to as ÒdowngradingÓ. To me, the term "downgrading" is misleading. Anytime we can conserve the plastic molecule and find a new purposeful use for it, it is a bonus in my book! The use of reclaimed, disposable plastic shopping bags as a raw material for the production of synthetic lumber is a well known secondary recycling application.
Another type of plastic recycling is when the plastic itself is broken down into its chemical constituents and the resulting ÒchemicalsÓ are used to again make plastic or to make other synthetic chemicals. The most common form of thisÓ advanced recyclingÓ is the de-polymerization of the plastic chain. Again, think of plastic as a long chain of identical links. When heat is applied to the chain it can be broken down into individual links and with further processing the links can be put back together again. This process creates a plastic polymer that is ÒindistinguishableÓ from virgin resin. Today, polyethylene and some nylons can be recycled using de-polymerization.
Lastly, it is also considered recycling, when plastic is burned to produce energy either as a direct fuel source or to generate electricity. Some USA states actually include energy generation from waste in their recycling statistics. However, burning plastic for energy recovery is not as environmentally friendly as other recycling options because it does not lower the demand for virgin plastic.
So, with several plastic recycling options why does 63 pounds of plastic packaging per person still end up in USA landfills each year? Simply stated, the majority of used plastic is disposed of in landfills because it often costs less to landfill the plastic than to recycle it. To make plastic recycling the norm, development of a more economically feasible recycling infrastructure must come to fruition. Part of that development should also include recycling the plastics that are now entombed in our landfills. In the USA alone, it is estimated that 896 million tons of plastic went to landfills between 1960 and 2007. Plastic is estimated to take up 24% of all landfill space.
With about 50% of all plastics being used in the manufacture of single-use applications, such as packaging, agricultural films, and other disposable consumer goods, designing these items with less plastic content can help to reduce overall plastic demand. Lower plastic content items coupled with improved collection and recycling rates will help us to lower the demand for virgin plastics.
Industry too must do its part, and in many ways it is exceeding the efforts of consumer-focused recycling practices. The industrial recycling of plastics is a well established worldwide market driven activity. As early as the 1990Õs, USA plastic scrap had an estimated industrial recycling rate between 75% to 90%. Single polymer, uncontaminated scrap plastics are often viable components of manufacturing operations. In comparison, today USA municipal plastic recycling rates are still below 30%. ÒSince the volumes of post-consumer waste are up to five times larger than those generated by commerce and industryÓ,1 increasing the collection and recycling of post-consumer plastics must be a priority.
As the demand for plastics increases, the market for scrap plastics increases too. In fact, the demand for some plastic resins is so high, that scrap plastic Òsources and quantities are considered competitive informationÓ.2 The high demand for scrap plastics in developing, industrial nations like China often make it more financially lucrative for western scrap plastic dealers to bundle the plastic and ship it abroad rather than sell it to domestic recyclers. To see recycling at the international level, please watch the video: How Plastic Bottles Are Recycled Into Polyester
Today, approximately 4% of the worldÕs oil and gas production is used as base materials in the production of plastics; an additional 3% to 4% of these natural resources are expended as energy to produce them. By recycling all the plastic we produce we will be eliminating the demand for billions of barrels of petroleum and reduce the overall green house gases associated with the production of plastic (taking into account that recycling plastic also has emissions too). According to the Energy Information Administration as early as 2002 the production of plastic materials and resins accounted for over 4% of all the carbon dioxide emissions in the USA. With the manufacture of plastics on the increase worldwide, reducing its contribution to green house gas emissions is imperative; replacing virgin plastics with recycled plastics can help.
While it is sometimes less expensive to produce virgin plastics rather than recycle plastics, experts agree it is always better for the environment to recycle plastic than to make virgin plastic. From a long term perspective, it is apparent that the environmental costs associated with virgin plastic production makes recycling plastic the true affordable solution. By utilizing current plastic recycling methods and continuing to discover new recycling technologies, we can one day substantially reduce the demand for virgin plastic resins and keep plastic recycling at pace with our production of plastic goods.
Happy Plastic Recycling!
© 2011 Recycle Life, LLC
RecyGalTM logo and the RecyGalTM character are trademarks and registered copyrights of Recycle Life , LLC
References: ÒIs there a link between our plastic use and climate change?Ó, Stanford Magazine, 2009-2010, ÒPlastic recycling; challenges and opportunitiesÓ, J. Hopewell, et.al., Philosophical Transactions of the Royal Society B, 2009, Vol. 364, p. 2115-2126, ÒMan-made Synthetic FibersÓ, O Ecotextiles, Blog, oecotextiles.worpress.com July 7, 2010, ÒRecycling of Plastics in Germany,Ó 1, Patel, et.al, Conserv. Recycling Bol. 29, p. 65-90, Babino & Partners, Press Release, ÒAquafilÓ, Ljubljana, May 19, 2011, eia U.S. Energy Information Administration, Petroleum Statistics (2010), EPA ÒNumbers Plastics, From Manufacturing to Recycling to Long Death in a LandfillÓ, Discover Magazine, October 21, 2009, ÒCorporate Relations, Industry Fact SheetÓ, Environ, www.environ.com, 2