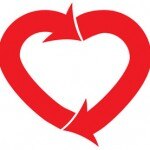 Valentine's Day is a festival of cards, candy, and flowers. During this holiday, 65% of all US households will exchange greeting cards, 38% will give or receive candy, and 32% will turn to flowers to say, ÒWill you be my Valentine?Ó
With about 180 million individual cards to be exchanged (excluding packaged childrenÕs cards), this holiday is heavy on paper cardstock. Despite the tons of paper used for this holiday, ValentineÕs Day represents only about 12.5% of the 7 billion U.S. greeting cards sold annually. With Hallmark and American Greetings controlling over 80% of the market, anything these companies do to make greeting cards more eco-friendly does have immediate Ògreen impactÓ. Thankfully, both companies do offer cards with recycled content. With about 30% of all greeting cards containing some recycled content, over 1 million trees are saved annually. Marketing cards made from 100% recycled paper, American GreetingÕs, Recycled Paper Greetings is the "green card" leader. Buy a greeting card with recycled content and you will not only be saying to your Valentine, ÒHow do I love thee?Ó , you will be letting these corporate purveyors of messages hear, ÒLet me count the treesÓ.
Saving our trees by using recycled paper to produce greeting cards must be supported by recycling the cards that are gifted. Greeting cards can be recycled wherever Òmixed paperÓ is accepted. Since most municipalities accept Òmixed paperÓ, please remember to recycle all your cards that are not personal keepsakes. If your municipality or hauler does not accept Òmixed paperÓ, you have until February 28th to send your ValentineÕs Day cards to St. JudeÕs Ranch for Children. For 34 years, St. JudeÕs has accepted used greeting card fronts and works with children to trim the cards and glue them onto pre-printed card backs. These refurbished cards are then packaged and sold by the charity. According to their website, ÒThe benefits are two-fold; customers receive ÒgreenÓ holiday cards for use and the children receive payment for their work and learn the benefits and importance of Ògoing greenÓ. It is St. JudeÕs commitment to Òbreak the vicious welfare cycle and to teach the children to learn to earnÓ, they pay each child fifteen cents for each card made. While the program does not specifically create cards purposed for ValentineÕs Day, this 34 year old program will use ÒanythingÉthat starts with a used greeting card frontÓ . For a small postage fee you will be supporting a charity that has helped millions of children. To learn more about this greeting card recycling program, please visit their website at: St. Jude's Ranch.
A favorite among ValentineÕs Day gifts is the heart-shaped box filled with chocolates. Chocolates presented in individual wrappings, placed inside a cardboard carton which is then wrapped in cellophane just seem to make for a beautiful presentation! Today, even our favorite candy bar brands are specially wrapped to bring in the holiday. And, a chocolate loverÕs holiday it is. In 2009, 58 million pounds of chocolate sold for ValentineÕs Day. Wrap, wrap, and wrap! WhoÕs counting? I donÕt deny that wrapping serves not only as candy ÒfashionÓ, but also enables mechanized production and helps to maintain product freshness, but when is the wrapping too much? When the wrapping does not incorporate any recycled content and is itself not recyclable- thatÕs overwrapped chocolate! Since most candy wrappers are wax-coated or made of layered adhered materials (paper, foil, and plastic) they are not recyclable. Plastic-coated, color inked-paper laminates may grab our attention for a few seconds at retail, but ultimately these super packaged eye-catchers end up sitting in our landfills for hundreds of years. A quote from, A Century of Candy Bars, by David Grager, is definitely some food for thought, ÒThe simple sheet of paper used to protect our favorite candy bar, an item we rarely think about or consciously notice, one that we immediately throw into the trash, may tell us more about ourselves than we realizeÓ. Not so sweet a thought?! Help may be on the way. Some emerging technologies may one day make wrapper recycling a reality. Material reclamation technology being developed by Poly Flow Corporation and plasma technology used for aseptic brick recycling may one day be used to recycle candy wrappers. (To read more about recycling aseptic packages, please visit one of my previous postings: Tetra Pak¨ -Building a Foundation for Carton Recycling with Aseptic Bricks).
Despite the current lack of wrapper recycling, there is no reason why candy cartons and elements of candy wrappers cannot be made with recycled content. The food grade recycled cartons and papers available to candy producers are not widely used. Surprisingly, even many organic chocolate manufacturers do not place emphasis on the eco-friendliness of their packaging. Shameful! Since packaging is fashion and the confectionery industry follows trends, the current greening of America should eventually gain momentum in the candy arena too. In the meantime, at least recycle your candy cartons. Every carton we keep out of a landfill helps to save trees. And, of course, you can always support companies like TerraCycle¨ who make wonderful items out of reclaimed materials like candy wrappers. Visit Terracycle to learn more about their efforts and how you can participate.
The No.1 gift associated with ValentineÕs Day is a bouquet of roses. This year, over 100 million roses will be sold for the holiday. With growing, packaging and shipping all taking tolls on the environment you may want to consider sending an organically grown bouquet. An online purveyor of organic flowers, Organic Bouquet, offers flowers grown to meet certified guidelines for sustainable crop production, ecosystem protection, fair labor practices, community benefits, and product quality. All orders are packaged using recycled and recyclable materials. To atone for the carbon footprint generated by shipping, the carbon emissions from each shipment are Òoffset by rolling funds into the Nicaragua Restoration ProjectÓ. Over a forty year period, this project will sequester more than 150,000 tons of carbon dioxide by reforesting over 850 acres of abandoned pastures with native trees. Check out Organic Bouquet for your floral needs.
As ValentineÕs Day fast approaches and soon leaves us for another year, letÕs try and keep all our holiday traditions as green and as renewable as possible. Please submit any suggestions you may have to keep our gifting greener; we can all learn from each other. Happy ValentineÕs Day!
© 2010 Recycle Life, LLC
The RecyGalTM logo and the RecyGalTMl character are registered trademarks of Recycle Life , LLC
References for this article were obtained from: www.recycledgreetingcards.com, ÒEnvironmental InfoÓ, USAID, Expro El Salvador, Program for Export Promotion, for the Micro, Small, and Mid-Size Businesses, San Salvador 7, July 7, 2005, www.grinningplanet.com , ÒCongratulations!..On Overpaying for the Greeting CardÓ, February 8, 2005, www.emotioncards.com, ÒThe History of Greeting CardsÓ, www.poemhunter.com, ÒHow Do I Love TheeÓ, Elizabeth Barret Browning, www.slashfood.com , ÒWhy we Give Candy on ValentineÕs Day, H. Raskin, February 4, 2010, www.earth911.com, ÒRecycling Mysteries: Candy WrappersÓ, B. Hammad, May 18, 2009, www.www.underconsideration.com, ÒA Century of Candy Bars- An Analysis of Wrapper DesignÓ, David Crager, The Gazette, ÒValentineÕs roses bloom by the millionsÓ, D. Wilson, February 11, 2000, PR Newswire, ÒOrganic Roses on Valentines Say Ô I love you and the earth too!ÕÓ, January 25, 2005, www.organicbouquet.com.