During the catastrophic spill when 52,700 to 62,200 barrels of oil were released daily (1 barrel = 42 US gallons), initial clean-up efforts focused on oil containment and recovery. As booms corralled oil slicks, skimmers mechanically separated oil from water so it could be cleaned and ÒreusedÓ. I think the petroleum industry uses the term ÒreusedÓ a bit loosely; this oil had yet even to be refined. All terminology aside, this tried and true remediation technique is only about 15% efficient; somewhere between 44,795 and 52,870 barrels of oil were lost at sea daily. Overall, this enormous spill left well over 4 million barrels of oil free to wash up on our shores or to travel with the ocean currents.
To mitigate the harmful effects of the uncontained oil, dispersants (chemicals that break up oil into smaller droplets) were added to the oil as it escaped from the well. Over 1.84 million gallons of these chemicals were released at depths of up to 1 mile below the surface of the sea. Why break up the oil? Breaking up the oil into droplets makes it more available for natureÕs hydrocarbon eating microbes to do their thing; you can say it makes the oil more edible. Yes, there are marine microbes that eat petroleum!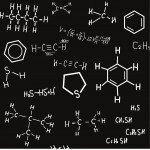 Because petroleum is a complex hydrocarbon, a vast number of marine microbial species (each with its own distinct hydrocarbon chomping palate) are involved in the process. Using chemical dispersants to facilitate the microbial break down of petroleum is a tested remediation technique for ocean surface oil spills. However, the dispersants used on the deepwater Horizon disaster were not released on the surface of the ocean, but one mile below it. Guess what happened?
The dispersants did not work.
ItÕs been almost five months since the wellÕs containment and oil plumes (some estimated as large as 10 miles across) are still floating beneath the oceanÕs surface. Rather than breaking down the crude oil into droplets, the dispersants have become part of the plumes! To date, no one knows why. Given that the quantity of dispersants released on the deepwater Horizon spill was the largest amount ever used on any spill anywhere on the planet, there is concern that these lingering chemicals may be toxic to some marine ecosystems. Currently, the National Oil Spill Commission is pushing for research on the toxicity of these chemicals. However, for the time being, the oily dispersant laden plumes continue to float by!
While the underwater oil plumes remain a serious concern, another deepwater Horizon contaminate, the green house gas, methane (which made up 30% of the hydrocarbons released by the spill) seems to have been naturally remediated by methane consuming bacteria. Because methane tends to hang out in the atmosphere for about 9 to 15 years, researchers believed it would be the longest lingering hydrocarbon contaminate from the spill. Fortunately, this was not the case. Evidence indicates that as methane escaped from the deepwater spill it became entrapped in the spewing oil and contaminated seawater thereby preventing itÕs direct release into the atmosphere. In June an initial scientific analysis of this oil-methane-seawater mix revealed elevated methane concentrations. Yet, microbial analysis of the same mix found no methane chomping microbes. It looked as if the methane contamination would probably persist for years. Surprisingly, a subsequent analysis in September found unusually "high relative abundances" of methane eating microbes and the methane gas had virtually disappeared! With the oil spill having released between 7.3 to 10.1 billion cubic feet of methane, a whole lot of methane chomping action must have been ÒgoÕin onÓ for it to disappear! This is bioremediation at its best!
Despite all of the clean-up to date, hundreds of miles of oily shorelines and contaminated wetlands still remain. If Mother Nature can rid the ocean of methane, could she also be at work to help restore the beaches and marshes in the Gulf? Could oil-tolerant plants actually be helping to contain the contamination? Could microbes be consuming the polluting hydrocarbons? Is anyone even trying to find out?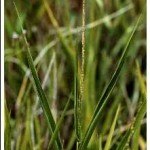 Phytoremediation is the removal of contaminates from soil by plants. Research in this ever growing field reveals when plants are used to remediate hydrocarbon polluted soils, the microbes which thrive among plant root systems are often vital to the process.
Oil tolerate marsh plants like Panicum hemitomon (Maiden Cane) and Sagittaria lancifolia (Bulltongue Arrowhead) have been well studied and utilized to remediate petroleum contamination caused by leaks in the many miles of pipeline that transport crude oil through the State of Louisiana. Alternatives to the old "set fire to the spill and burn away the oil" approach, these salt intolerable plants are most effective in freshwater and brackish water areas.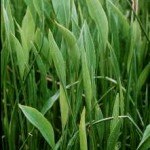 Far way in Saudia Arabia, where the sea is highly saline and there are many oil spills, researchers have isolated and verified several types of "hydrocarbon munching" microbes associated with the salt-tolerant plant, Halocnemum strobilaceum. This succulent, branching undershrub not only tolerates salt but thrives in desert-like climates. Even single-celled microbes called, Archaea, have been found actively

"chomping away" at hydrocarbons among its roots. Despite the ubiquity of Archaea species in the worldÕs oceans, few of these microbes have been isolated and studied.


The above mentioned plants are just a few examples of known petroleum bioremediators. It's is a big world out there and it is full of plants and microbes with the potential to breakdown and utilize hydrocarbons. All we need to do is discover these natural remediators and determine how we can best ulitize them to clean-up oil spills.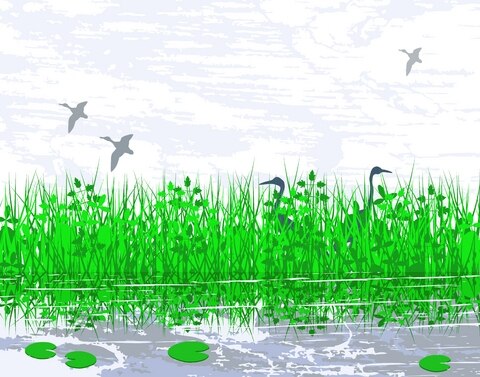 April 20th will mark the first anniversary of the deepwater Horizon oil spill. As news coverage moves from this disaster to more current, attention-catching topics, we humans soon forget that contaminating oil still persists. We accept that "official" clean-up efforts are winding down and we go on with our lives. Nature goes on too; soon the Gulf coastal region will become a resting point for thousands of migratory birds. If our avian friends are lucky, Mother Nature has been helping to remediate her wetlands where we humans have failed to do so. Yet, at this juncture no one knows.
Discovering how the Gulf's native flora may be at work to bring back the balance and beauty of this precious environment should be a scientific priority. Unfortunately, scientific investigation needs not only commitment but also funding. According to the blog Plantshed, in the wake of this catastrophe, "Congress failed to pass into law a single response". Given the size of the oil spill, fines imposed under the Clean Water Act will result in a government windfall somewhere between "$5 billion to $21 billion". Without congressional action, not a single penny of this money will be used to restore the Gulf area; it will simply "disappear into the general budget". Unbelievable!
We must restore, protect and preserve our precious Gulf Coast. As citizens, here are some of the ways we can help:
Write to Congress. Let your representatives know that you support the bill introduced in the House of Representatives, H.R. 56: Gulf Coast Restoration Act.
Volunteer. If you would like to personally volunteer to help The Nature Conservancy with some of its Gulf projects, check out Volunteer and chose the State where you would like to participate.
Purchase Products that Help Fund Gulf Coast Restoration Efforts. If you need a recycling container and would also like to donate to the Gulf Coast recovery, check out the Coastal Bin from Recyclingbin.com.

Part of the proceeds from the sale of this beautiful bin will be donated directly to communities in the Gulf.
Together we can Make a Difference!
© 2011 Recycle Life, LLC
RecyGalTM logo and the RecyGalTM character are trademarks and registered copyrights of Recycle Life , LLC
References: www.groundhog.org, ÒNorth American Migration FlywaysÓ, www.birdnature.com/flyways.html, ÒDeep Horizon Oil SpillÓ, www.en.wikipedia.org/www.nola.news, ÒGulf of Mexico Oil Spill (2010), Jan. 11, 2011, www.topics.nytimes.com, ÒAll about Migration-North American Birds, Duncraft, Sep. 4, 2009, www.duncraft.atom5.com , ÒChemical Dispersants Used by BP Linger in Deep Sea PlumeÓ, Environment News Service, Falmouth, MA, Jan. 26, 2011, www.ens-news-newswire.com, ÒGulf of Mexico oil spill continues to foul 168 miles of Louisiana coastline, The Times-Picayune, M. Schleifstein, Dec. 30, 2010, www.nola.com, ÒDeepwater Horizon oil spillÓ, C. Cleveland, Dec. 5, 2010, www.eoearth.org, ÒSlick Solution: How Microbes Will Clean Up the Deepwater Horizon Oil SpillÓ, www.scientificamerican.com, D. Biello, May 25, 2010, ÒOil Spill BasicsÓ, www.absorbentsonline.com, ÒTiny organisms ate vast majority of methane gas released during Gulf of Mexico oil spill, scientists say, ÒThe Times-PicayneÓ, M. Schliefstein, Jan. 6, 2011, www.nola.com, ÒA Persistant Oxygen Anomaly Reveals the Fate of Spilled Methane in the Deep Gulf of MexicoÓ, Kessler, et. al., Science, Vol. 331, Jan. 21, 2011, pg. 312-315, ÒNational Oil Commission urges research on toxicity of dispersantsÓ, Times-Picayune, Jan. 15, 2001, www.nola.com, "Phytoremediation of small-scale oil spills in fresh marsh environments: a mesocosm simulation", R.A. Dowty, et al., Southeastern Louisiana University, Dept. of Biological Sciences, Hammond, LA, 70402, Elsevier Science, Ltd., 2001, p. 195-211, "The Management and Ecology of the Wetland Grass, Maidencane, G. Holm & C. Sasser, Journal of Aquatic Plant Management, Vol. 46, 2008, p. 51-60, ÒOil phytoremediation potential of hypersaline coasts of the Arabian Gulf using rhizosphere technology, D.M. Al-Mailem, et al., Department of Biological Sciences, Faculty of Science, Kuwait University, Kuwait, Bioresearch Technology, Vol. 101, 2010, pg. 5786-5792, Archae, www.wilipedia.org, "Oil Spill Commission Justice", P.Harrison, Jan. 19, 2011, Plantshed, www.eponline.com/blogs/planetshed, Bill H.R. 56,Gulf Coast Restoration Act, www. thomas.gov, The Nature Conservancy, www.nature.org, Recyclingbin.com, www.recyclingbin.com.