Digital coupons are the new retail buzz. With newspaper readership down and Sunday circulars in decline, the Consumer Products Industry (CPI) has a big upside if it can reach consumers via the internet. In the U.S. it is estimated that 1 out of 10 shoppers or 40 million consumers are very likely to use coupons found on line. This industry is betting that digital coupons will not only bring a better value message to consumers, but strengthen consumer loyalty and provide more targeted data.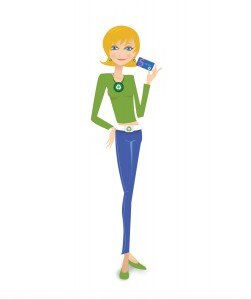 Companies like Procter and Gamble (P&G) allow shopperÕs to access its website: www.PGesaver.com and save coupons on their shopper cards. Shoppers register their loyalty cards and choose the coupons they want tied to their cards; discounts are taken off at the retailerÕs cash registers when the cards are swiped. P&GÕs website features discounts on over 50 items ranging from paper towels to shampoo. Participating in this program are supermarket chains belonging to Safeway Inc. and Kroger Co. While these stores span most of the U.S. and Canada, New England and the eastern Canadian provinces are not yet served. In addition to P&G coupons, Safeway and Kroger shoppers can find more digital savings by visiting the supermarket market websites and/or www.shortcuts.com (an AOL advertiser sponsored digital coupon site).
Another great way to disseminate digital coupons is via a mobile device such as a cell phone or PDA. In marketing lingo this type of selling is called M-commerce (mobile commerce). While M-Commerce is not as widespread in the U.S. as it is in Europe and Asia, there are over 200 million Americans owning cell phones, so M-commerce is positioned to become important in the U.S. too. One such service, www.Cellfire.com sends coupons directly to your mobile device and/or to your ShopRite Price Plus Card. (For shoppers residing in the Mid-Atlantic States, this is a good thing). Sign up is easy and savings begin immediately. Imagine you can download coupons to your cell phone while you are shopping in the store! Cellfire.com is free and has a broad list of participating retailers such as: Safeway, Kroger, Payless Shoes, Hardees, Subway, Hollywood Video, Sears Portraits, 1-800-Flowers, and even the Cincinnati Zoo & Botanical Gardens! Is anyone planning a trip to Cinncinnati soon? To see all the participants, check out the site.
Digital couponing is a recent trend (within the past year). From the above information, you can see that manufacturers and retailers are using several avenues within the same marketing channel to reach consumers. As M-Commerce heats up, companies like Zavers (a digital promotions company) are marketing the benefits of digital couponing.
Zavers touts the ability to offer Òreal-timeÓ statistics. Honestly, I think Òreal-timeÓ information about coupon redemption is silly. Must a brand manager know ÒSuzy Smith, age 42, from Arlington Heights just bought a 64 oz bottle of detergent?Ó Can a retailer justify having a brand manager sit and watch Òreal timeÓ coupon redemptions all day? Can you imagine the stress of this poor corporate trooper if 20 people purchase the exact same item at 18 different store locations within 6 minutes of each other? Cyber confusion!! Did I mention mental distraction? Anyway, back to the point, Zavers.com offers A&P customers the opportunity to link coupons to their Bonus Savings Cards or to receive them directly on their mobile device. Shoppers may access the service directly from the A&P website or from www.Zavers.com. According to Zavers, prior to their service, Òproduct manufacturers did not have an effective way to track and measure the success of their programs, and consumers wanted to save dollars without the hassle of clipping couponsÉWith this data, manufacturers and advertisers can instantly track their marketing investment in real timeÓ. I guess this is a big step for POS (but not for mankind). On a more positive note, I do give Zavers an A+ for their website slogan, ÒSave Time, Save Money, Save TreesÓ. It seems that the other digital ÒCouponersÓ neglected to acknowledge (or perhaps to even care) that by reducing paper usage, we are saving trees. Bravo, a little green star for Zavers! Check them out.
As customer loyalty becomes more and more important for sales, digital coupon initiatives will continue to grow. The above examples illustrate that the M-commerce market is still in its infancy and is growing through a host of fragmented players. However, with the advent of new POS software and hardware the territory could change.
According to the National Retail Federation, POS Benchmarking Survey, ÒThere is renewed interest in the upgrade of replacement of POS systemsÓ. At the present time, the POS hardware market is dominated by IBM with Fujitsu and NCR (gaining market share). While NCR and Fujitsu still focus on thermal POS systems, IBM seems to be taking a higher road and is partnering with smaller firms to advance digital receipt technology. Because much of the software required to meet customer demands cannot be run on old hardware, the trend to upgrade hardware is expected to continue. I believe it is with the ÒresponsibleÓ replacement of hardware and/or the addition of new software, the much awaited age of digital sales receipts will begin to take off.
According to Retail Solutions Online, afterBOT, Inc. a leader in digital receipt technology, announced that in June of this year it was Òawarded the U.S.PatentÉElectronic Transaction Receipt System and MethodÓ. For almost ten years, afterBOT has been providing electronic receipt capabilities to businesses with its TransAccessª software. Since 2002, afterBOT software has provided digital receipt technology to a large consumer goods wholesaler, Smart & Final. AfterBOTÕs software acts as middleware to grab information collected at NCR cash registers and send it to a Microsoft Server database. ÒThe data is converted to a digital format and posted on its web server where customers can log on and view receiptsÓ. According to Internet Retailer, ÒSmart & Final does business with such large customers as government bodies, school districts, and caterersÓ. AfterBOTÕs recent patent strengthens its software offering. To fortify its market strategy, afterBOT works with retail associations like the National Retail Federation (NRF), Association for Retail Technology Standards (ARTS), and the Voluntary Interindustry Commerce Standards Association (VICS). Bravo!
In the quest for a paperless receipt world, afterBOT, Inc. is not alone. Another interesting digital receipt technology is that of Transaction Treeª. Transaction Treeª describes itself as Òa green company that provides simple and eco-friendly solutions by using advances in todayÕs digital technology. So whether youÕre a retailer or shopper, our greenovations are created with you in mindÓ. Rich Boretsky, Retails System Consultant, RIBA Retail says, "Transaction Treeª provides digital receipt technology for any POS system". Transaction Treeª partners with such POS players as IBM and Microsoft (to name a few).
Third Solutions, a technology and marketing company, offers digital receipt technology solutions to POS retailers with its platform called, Digital Receipts Network. Like the others, Third Solutions, works with partners like IBM, Microsoft, and ARTS. Information about the Digital Receipts Network can be found at www.digitalreceipts.com.
On the consumer side, sites like www.Alletronic.com make sign up for digital receipt service easy. ÒAllEtronic functions as an add-in for digital cash registers running popular POS applicationsÓ. When an AllEtronic member is having a sale rung up, ÒAllEtronic blocks the receipt-printing process, triggering details to be sent its servers instead.Ó Consumers visit AllEtronicÕs web site to view and export their receipts. The success of AllEtronic will largely depend upon the ÒwhoÓ, ÒwhereÓ, and ÒwhenÓ of participating retailers. According to AllEtronic, there are some Ò600,000 tons of thermal paper used by stores each year. (Must be a U.S. statistic). It takes 15 trees, 19,000 gallons of water, and 390 gallons of oil to make a ton of paperÓ. Multiply these numbers by 600,000; the results are quite alarming. (These statistics donÕt even take into consideration the toxic chemicals required to make thermal paper!) If you are serious about ridding yourself of paper receipts, you must check out AllEtronic.
Developing technology in partnership with trade groups, software developers, hardware manufacturers, standards committees and users will hopefully accelerate the introduction, acceptance, and use of digital receipts in the marketplace.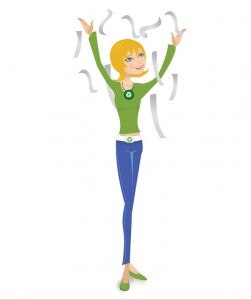 As Napoleon Bonaparte said, ÒAbility is nothing without opportunityÓ. The technology for digital receipts exists; we must give this technology its opportunity in the marketplace. If history has its way, digital receipts should become the POS standard. We only need to look at MP3 players to see where the music business is today; technology has changed the market. Viva the Digital Sales Receipt!!
© 2009 Recycle Life, LLC
The RecyGalTM and the RecyGal character, logo are trademarks and registered copyrights of Recycle Life , LLC
References for this article were obtained from:
"First", Aug. 3, 2009, p.84-85, www.PGesaver.com,www.shortcuts.com, www.dmnews.com, "Digital coupons help grocers boost loyalty programs, Jun 26, 2009, www.Cellfire.com,www.Safeway.com, the wise makeket.com, "Digital coupons go nationwide at Safeway USA", Jul 22, 2009,www.Kroger.com,www.Zavers.com, www.retailsolutionsonline.com, "Zavers, A & P Launch Digital Network for Cross-Channel Promtions", Aug. 11, 2009, www.nrf.com, "8th Annual Benchmarking Survey", www.reuters.com, "afterBOT Awarded Patent for Retail Industry Digital Receipt System", Jun 25, 2009, www.retailsolutionsonline,"afterBOT Gets Patent For Digital Receipt System, Jun 29, 2009, www.computerworld.com, "Grocer's digital receipts pay off", Jul 8, 2002, www.internetretailer.com, "Digital receipts reduce labor and increase sales, says Smart & Final", Jun 27, 2002, www.retailwire.com, "The Incredible Growing Sales Receipt", Sep. 14, 2009, www.transactiontree.com, www.digitalreceipts.com, "Advantages of Providing Digital Receipts",, www.news.cnet.com, "Your receipt is in the e-mail, May 9, 2008, www.reuters.com, "allEtronic Digital Receipts Receive Positive Feedback from Consumers Across the U.S., www.digitalreceipts.com, "Trends in Consumer Couponing," Mar 31, 2009