As a nation, are we truly reducing the amount of municipal solid waste (MSW) that ends up in landfills? Are we recycling more? How do recycling rates compare across the different regions of our country? Does the future for recycling look positive?
Since curbside collection of waste can either be sorted and recycled or carted off to landfills, governing municipalities and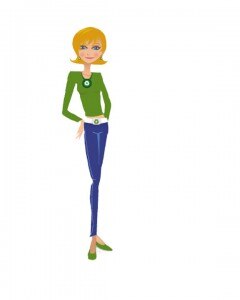 contracted private waste haulers greatly influence where our collected trash ends up. While recycling legislation and economic incentives help to steer waste disposable decisions to the recycling stream, lack of such provisions leave waste disposable options up solely to the local authorities. Often local decision makers must choose between two types of green: the ÒgreenÓ almighty dollar or the ÒgreenÓ recycle symbol. When market forces are not economically favorable for recycling, trash often goes to landfills.
According to an article recently published in MSW Management, when it comes to landfills, Òsolid waste quantities are down. Reports vary throughout the country … but reductions of 15%, 25% 30%, or greater are commonÓ. For anyone who is passionate about reducing the use of landfills in our country, this is encouraging news. So, how have these reductions come about? Are we recycling more or simply generating less waste? EPA data for MSW through year 2008 shows that for the past decade MSW generation has been relatively flat and even on a slight decline. While nationally recycling reached a 33.2% rate in the year 2008; some recently published figures for various states may put that number now closer to 30%. No matter how you look at it, we still have a long way to go to substantially reduce landfill usage and increase the recycling rate.
Three public corporations: "Waste Management, Inc." ,"Republic Services, Inc." , "IESI-BFC Ltd." control 75% of the MSW landfill capacity in the USA. With only 25% of landfills under the direction of municipalities, landfill management remains largely under pressure to make profits and keep Wall Street happy. With 1, 812 landfills in the continental US, 10 in Hawaii, and 300 in Alaska, there are a lot of facilities to run and maintain. Compare these numbers to the number of Materials Recovery Facilities (MRFS). There are 545 in the continental US, 2 in Hawaii, and 1 in Alaska. Where does the emphasis seem to be? To date, landfills still hold the bulk of our waste.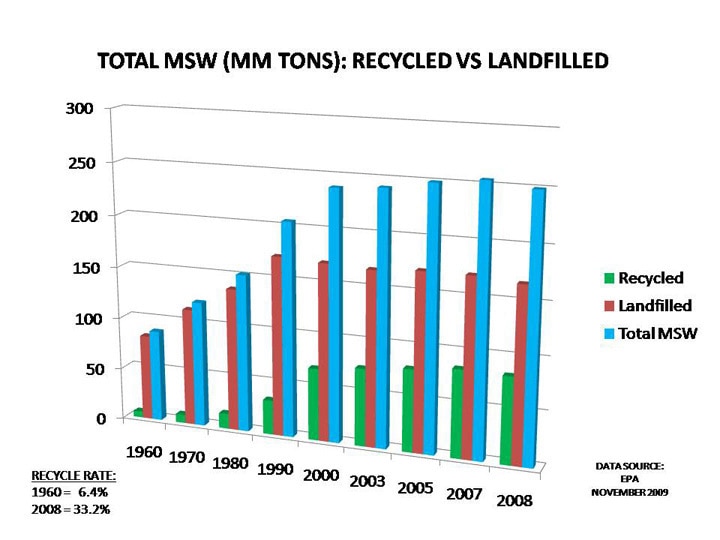 Although landfills still rule when it comes to waste disposal, the above graph illustrates that landfill usage is on the downswing. In such a capital intensive industry, declining landfill demand translates into over capacity, idle equipment, lost jobs and lower profits. Now, thatÕs not good for any municipality or corporation. ItÕs not only the ÒGreening of AmericaÓ, but the risk of future business loss that is spurring corporations like Waste Management, Inc. to invest in recycling. As more states enact ÒgreenÓ legislation the business of recycling will continue to strengthen. In my opinion, there is no reason why our national recycle rate must hover in the low 30% range. We need to aim much higher.
And, aiming higher is just what some regions of our country have done. But, how do we compare recycling rates between regions? Although no national standard exists, the EPA does issue recycling rate calculation guidelines. However, all recycling rates are not created equal. According to the EPA, discrepancies arise due to the following factors:
How a state defines recycling. (Some states allow communities with waste-to-energy facilities to additionally credit their recycling rates for these operations).
What is counted in the recycling rate. (Some states put limits on what can be counted while other states allow everything to be counted, e.g. automobiles and farm animal waste).
How MSW is defined. (Some states include bio-solids and industrial wastes).
What year is used to calculate the recycling rate. (Some jurisdictions calculate the recycling rate based on MSW generated during a specific "base year" rather than the current year).
How volume is converted to tons. (Conversion factors vary greatly).
Although recycle rate calculations are not perfect, overtime these rates do serve to benchmark our recycling efforts. Compiled below are recycling rates by region. These figures were generated using 2010 Census data and recently published state recycle rates (mostly 2009 and 2010). Sources for the recycling rates included state websites, publications, and recycling organizations. To have a benchmark to compare to, the recycling regions were defined exactly the same as in a report released by ,"BioCycle" ,"The State of Garbage in America". The BioCycle report contains 2006 data.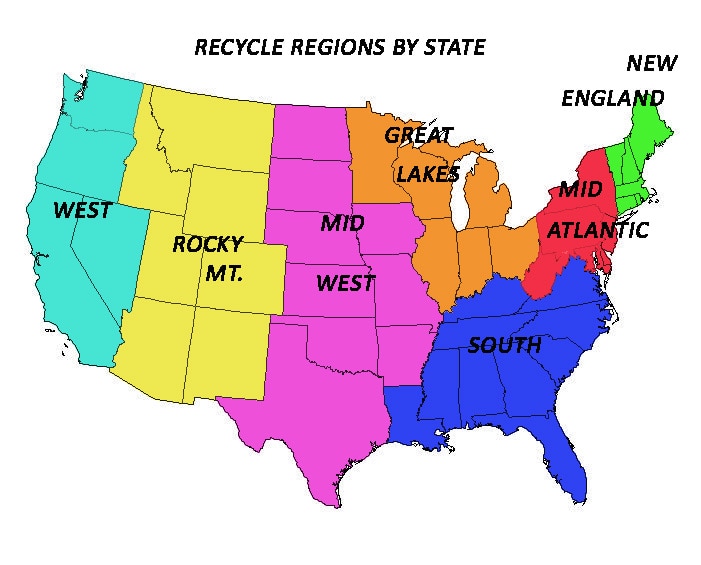 For ease of reference, I have listed both the recently calculated recycling rates and the 2006 figures. The new RecyGal data uses only standard recycling materials in the rate calculations and excludes waste-to-energy credits. How a state calculates its recycle rate can make a substantial difference in the final number reported. For example, the State of Maryland publishes a recycle rate of 43.9%, but when adjusted for EPA guidelines, the rate is 36.2%. Personally, whenever I see a published recycle rate, I normally allow for plus or minus 5% of the stated value.