When we think of recycling beverage containers, the plastic bottle or the aluminum can come to mind. The prolific use and discard of these holders of liquids has spurred us on to enact anti-litter laws, collect used bottles and cans, and to recycle. As systems to recycle beverage containers evolve, our focus (at least in the USA) seems to still revolve around the collection of PET plastic, aluminum cans, and glass. While advancements in packaging technology have brought us beverage products packaged in Òlong life packagingÓ like the Tetrapak¨ aseptic brick, little has been done (at least in our country) to Òsort outÓ how these useful multi-material packages can be recycled. For those of you who are wondering what a Tetrapak¨ aseptic brick is, IÕll give you a brief overview.
The name Tetra Pak¨ has become synonymous with the aseptic brick package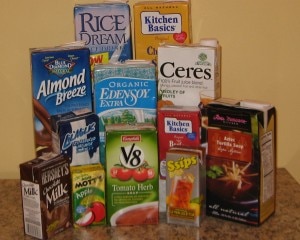 (an innovative packaging process that allows liquid food stuffs to remain shelf stable without preservatives or refrigeration). Since the early 1950s, Tetra Pak¨, a Swedish company, has been packaging liquid milk in aseptic cartons. Today, with operations in over 165 countries, its cartons are used for juices, wines, soups, and sauces too. To learn more visit: Tetra¨ Pak
Comprised of 6 layers of materials, the Tetra Pak¨ aseptic brick allows for light weight, efficient, non-refrigerated shipment and storage of liquid foods.
To have a close look at a Tetra Pak¨ carton for yourself, just visit your grocerÕs child-size juice section. In the USA, many Òon the goÓ parents depend on Tetra Pak¨ packaged juices to keep their toddlers happy and well hydrated. So, what about milk?
By the time Tetra Pak¨ got its start, the USA was already developing wide spread refrigerated distribution. Remember the milkman? While the milkman serviced regional dairies and local communities, the advent of superhighways enabled trucking companies to expand distribution across the country. As trucking companies expanded so too did the distribution of refrigerated food stuffs; Americans everywhere were enjoying fresh milk.
In our fresh milk market, the Tetra Pak¨ concept has not fared so well; utilizing a process coined ÒUHTÓ (ultra high temperature) the milk is heated for a shorter time and at a higher temperature than the process used to produce fresh milk (pasteurization). The UHT milk (now free of all bacteria) is filled into a sterile carton (brick) creating a shelf stable, long life product. Given the higher temperature of processing required for UHT, the inherent milk sugars caramelize and give the UHT milk a bit of a ÒcookedÓ flavor rather than the familiar ÒfreshÓ taste Americans prefer. This difference in milk flavor has kept Tetra Pak¨ from establishing a large share of the USA liquid milk market. For beverages where UHT processing does not adversely affect flavor such as chocolate milk and juices, the aseptic brick has found better consumer acceptance.
Given that worldwide two thirds of all Tetra Pak¨ bricks are used for packaging milk, if a market does not have a large share of its milk packaged in aseptic bricks, it is conceivable the market development for this type of packaging will be marginal. With the average American consuming 13.5 gallons of non-flavored milk per year (equivalent to over 16 billion 32oz Tetra Paks¨ of milk) that is a market you do not want to be a marginal player in! However, it seems that Tetra Pak¨ only has a marginal share of the huge, non-flavored milk market and so concentrates in the niche for flavored milks, juices, and soup bases. So, how does Tetra Pak's¨ niche position affect the recycling for aseptic bricks in the USA?
In order to develop a sound recycling system for any material, there must be a sizable volume of material to reclaim. Without a steady supply of reclaimed material, efficient processing and market development for the recyclable cannot come to fruition. Because the aseptic brick is a multilayer package of several materials, it takes ingenuity and special techniques to separate the various components and to reclaim them. In markets like the USA where Tetra Pak¨ use is less main- stream, emphasis on developing reclamation techniques and an infrastructure to support them is not top priority. Here in the USA, many eco-conscious consumers still think the recycling process for aseptic brick packaging is either not possible or Òvery expensive and awkward, and is therefore only available in a very few placesÓ. So, what happens to the cartons when junior has finished his apple juice? Sadly, in the USA many of these cartons do not get recycled. However, in established European markets, like Germany, aseptic bricks have recycle rates greater than 65%. And, in developing markets where Tetra Pak¨ technology has gained a foothold due to lack of refrigerated distribution, recycling advances have grown right alongside milk sales. Recycling Tetra Pak¨ does not have to be Òexpensive and awkward Ò, it just needs to be done with a common sense approach that fits the particular market.
Because the aseptic brick is composed of about 75% long fiber paper, 20% low density polyethylene, and 5% aluminum, the paper market is the most developed downstream use for reclaimed aseptic bricks. The paper fibers are recovered at paper mills and make Òexcellent raw material for the corrugated paperboard sectorÓ. The process to separate the paper from other materials in the brick is called hydrapulping. Basically, hydrapulping uses water and industrial strength blenders to separate the paper from the polyethylene and aluminum layers. The paper is recovered, leaving the polyethylene and aluminum as a residual.
Depending on the particular recycling market, the polyethylene and aluminum residual can be repurposed in a variety of ways. In Germany, the residual is used by the cement industry for energy recovery and bauxite replacement whereas Brazil uses it to make products like roofing materials, buckets, and brooms.
To see how Tetra Paks¨ are recycled in a developing nation like India, please watch this video from Mumbai:
If a complete separation of materials is required, a novel process called thermal plasma technology can be employed. After the paper has been recovered, the aluminum/polyethylene residual is heated to a high temperature in the absence of oxygen. When polyethylene is heated to a high temperature it does not burn but breaks down into smaller particles forming paraffin. The aluminum melts down and is recovered as highly pure ingots. The plasma technology is very efficient: Ò90% of energy yield is actually achieved in the process.Ó Emissions are near zero.
So, now that we have established that aseptic brick packaging is recyclable, where is recycling available? Currently, beverage carton recycling (including the aseptic brick) is available curbside in at least half of our states. Fourteen states (CA, CO, CT, FL, IL, MA, ME, MI, NJ, NY, OH, RI, UT, WA) have many communities which collect used cartons. Eight states have 3 to 10 communities with collection (AZ, GA, LA, MS, MN, NC, NE, OR), and three states have only 1 community which collects: (PA, TX, LA). Oh, and Washington, D.C. collects cartons for recycling too. According to Tetra Pak¨, Ò20% of total US residents across 26 states (theyÕre counting Washington, D.C. as a state) have access to carton recyclingÓ. With 25 states not even having one community with collection, there is a long way to go to recycle all the used beverage cartons (including regular "gable top" cartons used for fresh milk and juices too). To find out if your community has curbside collection of beverage cartons, Click Here.
To wrap it up, IÕd like to mention a wonderful aseptic brick packaging endeavor. A Canadian company based in QuŽbec, Groupe RCM, is working with the QuŽbec government, Narel (a dairy cooperative), A. Lassonde Inc., (a fruit juice company) and Tetra Pak¨, to build a recycling facility to recycle plastic and paper waste, Òspecifically Tetra Pak¨ aseptic containersÉas well as plastic (low-density polyethylene) bags and filmsÓ. The facility will utilize a high-speed ÒthermokineticÓ process developed by the QuŽbec Center of Industrial Research. What is so amazing about Groupe RCM is that it is an organization with the mission to provide jobs for handicapped people and to better the environment. Groupe RCM collaborates with the regional Center of Services for Intellectual Deficiencies and provides employment for many mentally deficient individuals. The new recycling facility will add 65 more jobs that will be mostly filled by handicapped workers. I canÕt give Groupe RCM enough kudos for keeping waste out of landfills and providing meaningful employment to disabled persons. Learn more at:Groupe RCM.
Come on America, with aseptic brick recycling examples like those in Canada and India, we can definitely do more!
© 2010 Recycle Life, LLC
The RecyGalTM logo and the RecyGalTM character are trademarks and registered copyights of Recycle Life , LLC
References for this article were obtained from: ÒEmpowering the Bottom of the Pyramid via Product Stewardship: Tetra Pak Entrepreneurial Networks in Brazil", Orsato, Renato, et.al, October 10, 2007, INSEAD Business School, Fontainebleau, France, ÒHow is a juice box made?Ó, www.answers.com, ÒTetra Pak and wine: a low carbon footprint alternative packageÓ,www.wineenabler.com, Neil, January 25, 2009, ÒCommonly Recycled Materials- Aseptic PackagingÓ , www.obviously.com, ÒRefrigerated Transportation Timeline, pre-WWIIÓ, www.33brinkster.com, ÒGot Data? Multiple Data Sources Track U.S. Food ConsumptionÓ, Morrison, R., et.al, March 2009, www.ers.usda.gov, www.tetrapak.com, www.aseptic.org, ÒA great leap forward for waste diversion- $3.5M investment in Groupe RCM plant in Yamachiche: Tetra Pak cartons, milk cartons, plastic bags and films can now be recycled into new productsÓ, November 2009, www.newswire.ca, "Division Recuperation", www.groupercm.com