There is growing public opinion that sales receipts are getting longer. A long sales receipt (once embarrassing proof of an out of control shopping spree) can now bring tidings of special offers, coupons, and redemptions. In a culture where more information is better, these growing paper streamers help to satisfy our need to know.
As sales transaction information becomes more detailed, sales receipt length grows. Oftentimes, actual transaction data becomes secondary imprint to merchant logos and marketing promotions. Seeing savings tallied and bonus points earned make us feel good. By knowing we are just 400 points away from receiving that free Thanksgiving Day turkey, we may even rationalize spending more time and money at that particular store. Longer, easy to read print better captures our attention (something every marketer on the planet is striving to do).
As a recycling enthusiast, paper receipts (especially these long, verbose types) drive me nuts. Not only do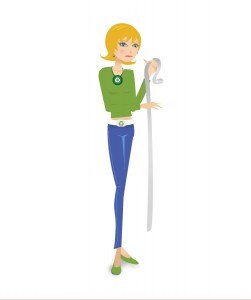 these over-crafted ticker tapes wreak havoc on the size of my wallet, these wastes of paper are not recyclable. I repeat- not recyclable.
So, how have we gotten into this non-recyclable paper situation? Over the past decade, companies behind the advancement of printer technology have been persuading merchants to switch from impact printing to thermal printing. What is the difference? An impact printer operates much like a typewriter; a print head strikes across an ink ribbon to make an imprint of each character on the paper. On the other hand, a thermal printer moves heat-sensitive, chemically-coated paper beneath a stationary print head; as the paper heats up a chemical reaction takes place on the paper, creating the characters and images we see on our receipts. What most people do not realize is that the chemicals required for the ÒthermalÓ print to be formed are hydrocarbons with chemistry similar to benzene. According to Scorecard, The Pollution Information Site, Benzene is ranked as one of the most hazardous compounds (worst 10%) to ecosystems and human health. In thermal paper manufacturing, large amounts of these chemicals are used to achieve higher recording sensitivity or to improve the preservability of recorded images (Iida and Tsuchida, 1999). As thermal printers become more ubiquitous, demand for thermal papers and their chemicals grows too. Unfortunately, the environmental impact of these chemical pollutants has largely been ignored.
Since most individuals arenÕt aware that thermal paper receipts should not be recycled, many receipts find their way into the paper streams destined for recycling. Paper recyclers donÕt like thermal paper because the same chemicals which create characters on our sales receipts get reheated during paper recycling and cause black spots in the newly recycled paper. To combat this problem, paper recycling plants can add acids to the process to inactivate these chemicals; however, this not only increases recycling costs but also creates chemical disposal issues. One study conducted in Japan (Teraski, Fukazawa, Tani, Makino 2007) tested the effluent waters from a paper recycling facility. It is not surprising that waters tested at the release area of the recycle plant and downstream at the mouth of a port contained the same type of hydrocarbons found in thermal paper. Upstream of the effluent, these compounds were not detected. The researchers concluded that the results suggest that the chemicals found in the downstream aquatic environments originated from thermal paper.
According to the Wall Street Journal, ÓNobody tracks receipt lengths, but retailers, consultants and makers of receipt printers all agree the tallies have gotten longerÓ. Although I find it hard to believe that sales receipt data isn't tracked by the thermal paper industry, in reality, it is not easy to find. I decided to take a closer look at some sale receipts myself. To try and make the information as credible as possible, I analyzed 100 sales receipts collected within the past 12 months. To make things simple, I categorized the receipts as follows: Gas Station, Grocery, Miscellaneous (anything from the United States Postal Service to airline boarding passes), Pharmacy, Restaurant, and Retail (big box stores as well as small boutique shops). Herein is a pie chart which shows the % representation by category: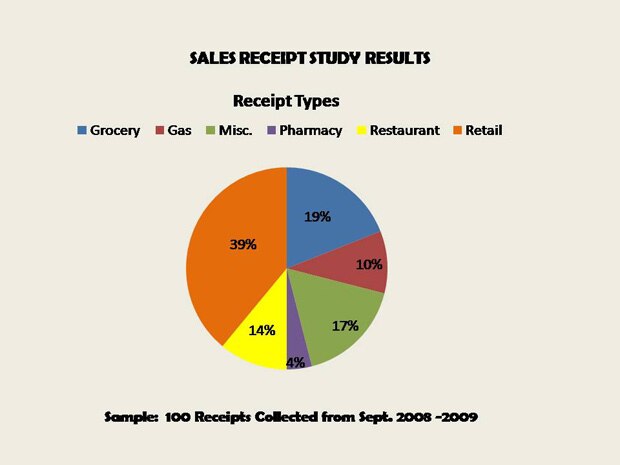 As you can see, I seem to be collecting a lot of retail sales receipts! As with most households, retail, grocery, and gas expenditures take up a big part of the pie.
Now that you have an idea of the types of receipts I collected, letÕs take a look at sales receipt length.
Below is a bar chart which reflects average sales receipt length by category. Please note that for the most part I do not have Òextreme receiptsÓ (those incredibly, ridiculously, long electronic box store types which have several feet of length dedicated to rebate offers).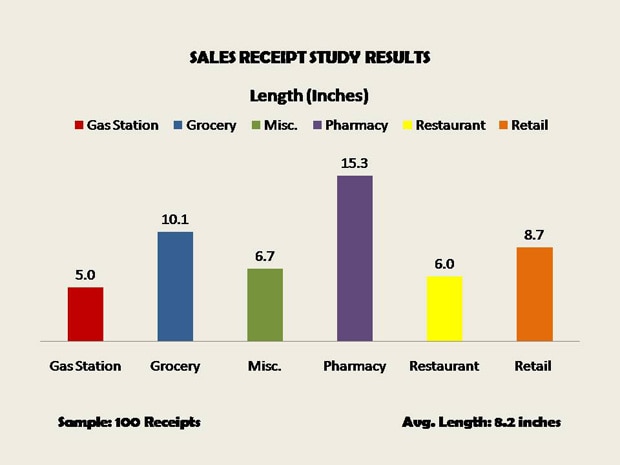 From the 100 receipt sample, average length was 8.2 inches with a range of 25.1 inches (Difference between the longest receipt of 27.6 inches and shortest receipt of 2.5 inches). Given the Retail category represents the majority of receipts or 39%, it is not surprising that the average Retail receipt length of 8.7 inches is similar to the overall average receipt length of 8.2 inches. It must be noted that the 39 Retail receipts analyzed were obtained from 22 different retailers- the largest, distinct categorized sub sample. While only 4 Pharmacy receipts were in the sample, they were by far the longest, ranging from 12.0 inches to 27.6 inches. Additionally, these 4 Pharmacy receipts generated 9 additional coupons which represent 60% of all coupons associated with any of the sale receipts studied. These 9 Pharmacy coupons represented an additional 2.8 ft of thermal paper! While the Pharmacy receipt sub sample was small, it spoke for itself- large, chain pharmacy outlets tend to be huge generators of unnecessary, non-recyclable thermal paper.
To try and keep apples to apples and oranges to oranges, I decided to calculate the number of imprints (characters printed) per page. In this way, I could look at the area of the receipt (length x width) and calculate the print density (# imprints/ square in). Out of 100 receipts, the average receipt area was 24 in2 and the average print density was 20 imprints/in2. To put this in perspective, a newspaper has about 95 Ð 105 imprints (characters) per square inch. Do you think there is a waste of paper here? LetÕs say on average about 80% of the receipt paper is blank space!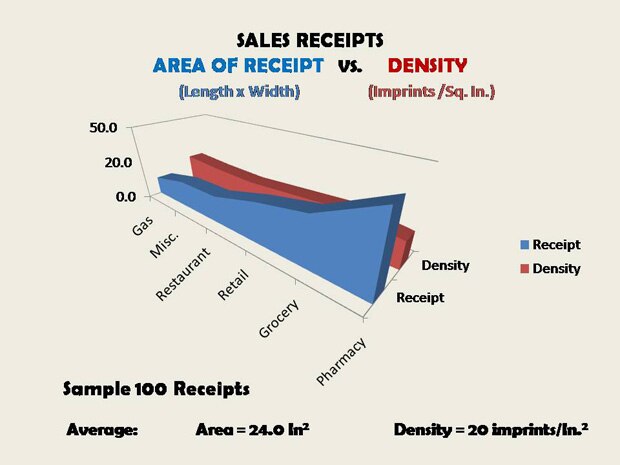 From the above graph, it is apparent that average sale receipt print density (shown in red) is about the same throughout all categories. Of the 100 receipts sampled, the print density range was 79 imprints/in2 (The highest density being 85 and the lowest being 6). While the Pharmacy print density was consistent with the overall study average, the large receipt area demonstrates that this category prints a lot of superfluous information on its receipts. How do I know? Out of the 100 receipts analyzed, 42 were receipts for the purchase of only 1 item! The average number of items listed on all 100 receipts was 6.1. To be fair to the Pharmacy category, the average number of items purchased was 3.8 per receipt.
In summary, it is important to know that out of the 100 receipts, 96 were thermal paper receipts, 2 were traditional imprint receipts, and 2 were print sensitive copy receipts (a whole other topic I will explore in the near future). So after all this collecting and analyzing, has sales receipt length gotten longer? In my search for historic sales receipt lengths, I found a 2004 IBM White Paper which contained sales receipt data used to market and sell thermal printers. According to IBM, the receipt length used in the 2004 data was 5.8 inches, so I will use that as a past standard receipt length. In comparison, this recent study (5 years later) revealed an average receipt length of 8.2 inches , a 41.4% increase in length. The IBM data also stated the number of characters per receipt (including logo) to be 871. Since the IBM data did not contain receipt width, I will assume that receipt width is constant and use the most prevalent width found in the recent study or 3.125 inches (77% of receipts). This results in a past receipt area of 18.125 in2 and a past print density of 48 imprints/in2 . The current print density of 20 imprints/in2 is 58.3% less than just 5 years ago. Not only are the receipts longer, they also have more blank space. Paper waste, paper waste, paper waste!
The above referenced 2004 data estimated annual merchant sales receipt paper usage at 30,416 feet. Add the now increased average length of 41.4% and we have 43,000 feet of receipt paper annually per outlet. This is longer than 140 football fields! Think of all the merchants creating receipts and you realize the impact these receipts have on our environment. How about all the trees that fell just to make the paper! The switch to thermal printers offered merchants faster, less noisy printing with the ability to customize receipts with logos and bar codes. From the 100 receipts reviewed, 49% contained logos and 31% were bar coded. It seems that the ability to add custom logos and bar codes to receipts is not as important to retailers as one would like to think. May be those less polluting imprint ink receipts werenÕt so bad after all? Why not develop impact printers with bio-degradable, soy-based natural ink ribbons that print on recycled paper? Am I going too far? I really donÕt think so. Better yet, how about no receipts at all? How about digital receipts coded on a handy card that you can read on your computer or on your hand held device? With all the clever engineers and scientists in the world, it would be refreshing to see everyday technology move toward a more environmentally conscious direction. What is your opinion? To be continuedÉ
© 2009 Recycle Life, LLC
The RecyGalTM logo and the RecyGal TMcharacter are trademarks and registered copyrights of Recycle Life , LLC
References for this article were obtained from:
The Wall Street Journal, "The Tale of the Tape: Retailers Take Receipts to Great Lengths", Vol. CCLIV No. 54, September 2, 2009,"Comparing printing technologies: the advantages of thermal printing", IBM White Paper, 2004, "Organic pollutants in paper-recycling process water discharge areas: First detection and emission in aquatic environment", Tersaki, Fukazawa, Tani, Makino, Institute for Environmental Sciences, University of Shizuoka, Yada 52-1, Suruga-ku, Shizuoka 422-8526, Japan, February 2007, US Patent 5888929, T. Iida, T. Tsuchida, 1999, www.scorecard.org