Is your recycling program suffering from a bit of malaise these days? As with many well intentioned initiatives, excitement can begin to wane with time. To make sure recycling remains top of mind for everyone at home or at your place of work, here are some ideas to help reinvigorate your recycling efforts.
The key to good collection begins with the recycling containers themselves. Like any other living or work space, a recycling area can need updating too. Replacing bland run of the mill collection containers with novel, aesthetic bins lifts recycling out of the realm of hardscrabble garbage detail into the field of green opportunity. Attractive bins with eye-catching colors and graphics bring excitement into the recycling space and help to create enthusiasm for the activity. When people feel good about an activity they will participate in it. And, as your recycling collection rate goes up, youÕll feel good too!
Another way to add some pizzazz to a recycling program is to put up some inspirational signage. At home, this can be as simple as placing a reminder note on the refrigerator for the kids. Silly notes such as, ÒDonÕt forget to recycle your yogurt cup Ôcause itÕs berry important",

reinforce the recycling message in a humorous way. Making recycling a fun activity (rather than a chore) can renew enthusiasm for a greener lifestyle.
At work, posting signage with recycling symbols or targeted messages helps to positively reinforce the activity.

It is amazing how far a little humor and praise can go.
Monitoring the amount of recyclables collected and letting everyone know the current recycling rate can do wonders to increase your recyclables collection. Actively involving the family or co-workers in the process of setting recycling goals gives everyone a larger share of ownership in the recycling endeavor.
Reignite recycling enthusiasm by adding a new recyclable to your program. If your neighborhood hosts block events, why not host a block "Electronics Recycling Day"? Whether recycling electronics in your neighborhood or at work, you are sure to make a positive environmental impact. Small devices like cell phones can be easily recycled for money. Use the proceeds to donate to a favorite philanthropic group, expand your recycling program or even have a green celebration party! Simply, search Cell Phone Recyclers on GOOGLE and a plethora of easy to use cell phone recyclers will appear. For larger items like laptops, coordinate the collection and recycling with your local municipality.
Besides electronics, everyone has obsolete, unwanted metal objects that can be recycled. Old file cabinets, metal shelving, cabinet hardware, and even paper clips can be recycled. In most states, scrap metal dealers pay cash for recyclable metals. Scrap metal is recycled (or should I say paid for) by the pound, so the heavier the load, the more moola you bring in. It's no wonder that old, metal air conditioners and broken water heaters often find their way to scrap metal dealers. Because such large objects are too heavy and cumbersome for everyone to handle, some scrap metal dealers will even pick up the load for a reduced recyclable price.
With a little ingenuity, you can revitalize your recycling program. With a little generosity, your recycling program can even help out a worthy cause.
Happy Recycling!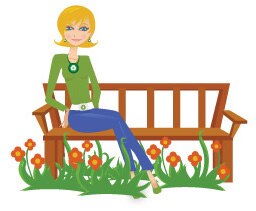 © 2012 Recycle Life, LLC
RecyGal¨ name and the RecyGal¨ character are registered trademarks and registered copyrights of Recycle Life , LLC. All rights reserved