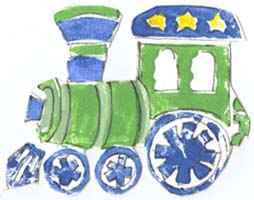 Children around the world delight in the wonder that toys bring to their lives. Who canÕt remember their favorite childhood toy? I suppose it is this nostalgic wonder that makes gifting a toy so heartfelt. During the holiday season toys abound. But where do many toys end up after the novelty wears off? Are you visualizing toys strewn throughout the house, stashed in the garage, or stuffed under the car seat along with remnants of birthdays and shopping trips past? Actually, within 3 months of receiving a toy, 41% of toys are broken and most end up in the trash. Ending up in the trash, means ending up in a landfill!
Since most charity organizations like Toys for Tots accept only new toy donations, finding a responsible way to donate or recycle toys can be a challenge. For those toys that do survive playtime, there are a few options to help keep these playtime wonders productive.
Second Chance Toys, a non-profit organization which rescues and recycles plastic toys will give new life to your no longer wanted toys. The community based initiative was founded in 2006 by Sasha Lipton, a New Jersey teenager, who wanted to provide toys to needy children while helping the environment. By collecting toys twice a year, Earth Week (April) and Year-End Holidays (November/early December), the organization has donated over 36,000 toys to needy children. Second Chance Toys has extensive outreach; it has even donated toys to children as far away as Trinidad. If you do not reside where there is a local chapter, donÕt worry; the organization will help you to start your own community based donation program. To learn more about this incredible organization, visit: Second Chance Toys
For wooden toys, dolls, and games there are donation or ÒregiftÓ opportunities too. Check the web and/or your local telephone directory to find charity preschools, womenÕsÕ shelters, and YMCA Charity Shops in your area. These organizations will gladly accept clean, intact childrenÕs toys of all types. Of course, you can always share (give) used toys with neighbors, friends, and family members. If your plan is to earn a little money from your childÕs used toys, consignment shops and traditional garage sales are good ÒreuseÓ options too.
If a toy is broken, check to see if it is recyclable before putting it in the trash. Some manufacturers are now printing recycle symbols and plastic resin identification numbers on toys. Game boards, playing pieces, and even entire toys may be recyclable.
With a little bit of ingenuity, we can help keep our environment clean, one toy and one childÕs smile at a time. Happy Toy Recycling!
© 2009 Recycle Life, LLC
The RecyGalTM logo and the RecyGal TM character are trademarks and registered copyrights of Recycle Life , LLC
References for this article were obtained from:heart-and-hands.blog, www.secondchancetoys.com