Boats everywhere are being pulled out of storage, unwrapped, and set back into the water. Unwrapped? Yes. For those of you who are not boaters, shrink wrap goes way beyond the kitchen- it is used to keep stored boats in good condition. But what happens to all this shrink wrap after it has been used?
In the past, the shrink wrap simply went to landfills. Today, thanks to boaters, marinas, and boatyards that care about the environment, hundreds of tons are now being reused and recycled.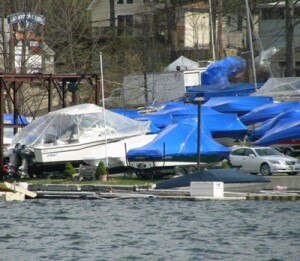 A leading shrink wrap recycler, Mondo Polymer Technologies (MPT), located in Reno, Ohio, has been collecting used boat shrink wrap since 2006 and turning it into highway guard rails and wheel chocks. To secure the shrink wrap supply for these recycled transportation products, MPT partners with the government sponsored program, Sea Grant. Sea Grant, under the aegis of the National Oceanic and Atmospheric Administration (NOAA), is instrumental in educating marinas and boaters about the importance of recycling and keeping our waterways clean. According to Colleen Wellington of Sea Grant Ohio, the Sea Grant program is often administered through extension programs of land grant universities providing research, education, and outreach to coastal water areas.
This successful shrink wrap recycling program, initiated in 2006 in Ohio, expanded to nearby states in only its second year of operation. Today, Mondo Polymer Technologies collects used boat shrink wrap to recycle in Ohio, Michigan, Pennsylvania, New York, Maryland, and Delaware. Ron Wesel, Materials Acquisition Manager for MPT, says that since its 2007 expansion, 1,900,000 pounds of shrink wrap has been collected and recycled. With most boats requiring between 14 to 25 pounds of shrink wrap, MPT has recycled used shrink wrap from about 100,000 boats. ThatÕs a lot of #4 LDPE (low density polyethylene) plastic being kept out of land-fills! To learn more about the MPTÕs reclamation program and recycled products, please visit: Mondo Polymer Technologies.
But we are a big water country. With our coastal waterways existing far beyond the Midwest and Mid Atlantic regions, what do our fellow boaters in large water states like Florida, Texas, or California do with their used shrink wrap? Well, in these warmer climates where the boating season can be year round, boat shrink wrapping is not as prevalent as in colder climate states. However, everywhere there is boating; there is a need for shrink wrap. In these areas, companies who offer boat shrink wrapping services like Dr. Shrink, Inc. and Fast Wrap also offer shrink wrap recycling kits. Basically, these ÒrebagÓ kits consist of a plastic collection bag, recycling instructions, and a pre-paid mailing label so the used shrink wrap can be simply shipped back to the purveyor who then recycles it. Reclaimed shrink wrap from Dr. Shrink, Inc. and Fast Wrap can end up in a variety of products ranging from trash bags to composite lumber. Each kit holds enough shrink wrap to cover a 26 foot boat. With 95% of all leisure boats under 26 feet in length, these kits work for most boaters. To recycle the shrink wrap from a larger boat, more than one kit must be used. To find the nearest Dr. Shrink or Fast Wrap location or learn more about their ÒrebagÓ recycle kits, please visit their respective websites at: Dr. Shrink and Fast Wrap.
Where there is boating, there is fishing. Monofilament fishing line, commonly known as nylon fishing line, can cause severe damage to marine ecosystems by entangling and killing aquatic life. Fish, birds, and mammals can all suffer from life threatening injuries when they become entangled in the barely visible, thin plastic line as it floats within our waterways. Keeping this sinister polluter at bay is essential to ensure our marine environments remain safe harbors for wildlife.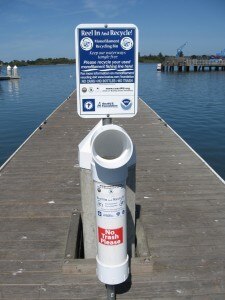 To help keep our waterways free of discarded, floating fishing line, BoatU.S. Foundation (a non-profit organization dedicated to Boating Safety and Clean Water) with a grant from NOAA, is providing coastal waterways throughout the United States with monofilament fishing line collection units made from PVC pipe. Susan Shingledecker, Director of Environmental Programs for BoatU.S. Foundation, says that BoatU.S. employees volunteer to make the collection units which are then distributed free of charge. To date, over 1,200 collection units have been distributed. To receive a fishing line collection unit, recipients must agree to maintain the unit for three years and to report to BoatU.S. the amount of fishing line collected. Because the demand for the unit often exceeds the supply, BoatU.S. has created a YouTube video with instructions for building a collection unit and for obtaining free program stickers and signs by mail. Where fishing line collection units are not available, monofilament line can also be recycled at West Marine retail boating supply stores. To find out how to obtain or build your own collection unit or to see a tally of how much fishing line has been collected for recycling through the program, visit: BoatU.S.. To locate your nearest West Marine store, visit West Marine.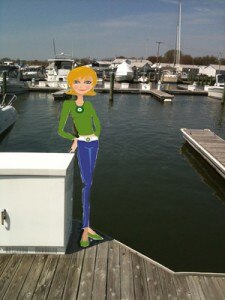 To close on plastic recycling at marinas, we must not forget to recycle our used plastic bottles. Through outreach and education by such organizations as Sea Grant and BoatU.S. many marinas and docks now have recycling bins as well as trash receptacles available for boaters to use. When visiting a marina or other waterside location, I would appreciate if you would snap a photo of a recycling bin when you see one and send it to me. (A photo from a digital camera or cell phone will do). IÕd like to follow up this article with some photos of recycling bins that are helping to keep our waterways free of litter and our landfills less burdened with plastic. The first ten water venue recycling bin photo submitters will receive a roll of 10 ClearViewª recycling liners from Recyclingbin.com.

All photographs and/or images received will be the property of Recycle Life, LLC and can at the companyÕs discretion be posted on the RecyGal.com blog. Please make sure you send your mailing address along with the photo. Please make your submission to:RecyGal
As always, thanks for reading my blog.
Happy boating, fishing, and photographing!
© 2010 Recycle Life, LLC
The RecyGal logoTM and the RecyGal TM character are trademarks and registered copyrights of Recycle Life , LLC
References for this article were obtained from, ÒItÕs a wrap: Recycling program aids marinasÓ, Waste News, July 21, 2008, Recycling, www.fastwrapusa.com, ÒPilot Project Will Recycle Shrink Wrap From BoatsÓ, US Fed News Service, April 15, 2008. ÒDr. Shrink sells the Rebag as the environmental answer to the question, Òcome spring, what do I do with the shrink wrap thatÕs been on my boat all winter?Ó, National Fisherman, January 1, 2008, ÒDelaware Department of Natural Resources and Environmental Control, Department of Correction Partner to Offer Marinas, Boat Storage FacilitiesÓ, US Fed News Service, April 1, 2008.