Recently, I received one of those gifts many people do not buy for themselves, an electronic book. Having well learned the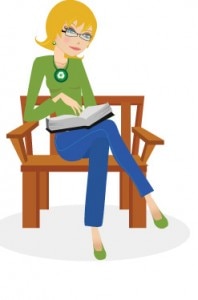 art of bending book spines to open up a paperback and creasing paper pages to make bookmarks, the idea of an electronic book seemed too "plasticiky", too "unintimate" for entering the world of a novel. Like many others, I kept telling myself, "I just like the feel of a real book". After all, isn't the tactile splendor of paper beneath your fingers an essential part of pleasurable reading?
We can all rationalize the irrational. For many of us, using paper for bookmaking is not wasteful because many books are not just read once, but are passed along for other readers to enjoy. Well, this couldnÕt be farther from the truth. Millions upon millions of books (many never having been read) are sent to landfills annually. Even this sobering truth did not change my mind. I liked paper books and I was bound to them. That is, until I read with my new Kindle¨ Wi-Fi.
Secured in its leather, felt-lined cover, this Ebook did not appear

unfriendly, but evoked the same sense of familiarity and comfort found in the bindings of my personal diaries. Placing the Ebook in my hands, I opened the cover, switched on the book, and began to read. As my hands unconsciously, enveloped the grained leather and felt-lined cover, this skillfully designed product did not feel foreign; it felt like a book should feel- welcoming and intimate.
According to an internet article, "The Future of Print", the new E books evoke a reading experience similar to that of a traditional book; the reader friendly experience is made possible through the use of E Ink. In the simplest of terms, E Ink is a collection of microcapsule pixels that when charged with an electrical current appear either black or white to create text. Like the page of a traditional book, E books rely on ambient light to be read. These screens do not require a constant source of power and dip into the battery only when the screen needs updating (whenever a page is turned). A single charge of the battery can power thousands of page turns. Because the E book requires ambient light, the well designed Kindle¨ cover includes an LED light which can be used when reading in reduced light environments. And, just like the power saving design of the Kindle¨ screen, the LED light is designed to reduce power consumption. LED lights are about 80% efficient and last thousands of hours.
With the new Kindle¨ far exceeding any of my expectations, I knew that my story and all the stories I would be reading in the future had changed forever. This E Book had impacted me, but how was it impacting our environment?
In the USA about 30 million trees are felled annually to create printed books. By using recycled paper rather than virgin stock, book publishers have reduced their annual tree demand by about 10%, leaving still millions upon millions of trees destined to become printed books-many which end up land filled. The average weight of a 400 page paperback (8 in x 5 in x 1 in) is just over 1 lb. My Kindle¨ (which weighs less than 1 lb.) can hold 3,500 such books. Additionally, 3,500 standard format paperbacks take up about 81 cubic feet of space; the Kindle can store them all in less than 0.007 cubic feet of space. Talk about inventory space reduction!
When it comes to carbon foot, publishing industry led studies reveal the average printed book has a carbon foot print of about 8.85 lbs. By purchasing books electronically on my Kindle¨, I can help to reduce my personal carbon foot print. If I read 25 books per year, thatÕs about 220 lbs. of carbon offset annually. However, the Kindle¨ too has its own environmental concerns. With the production of electronic devices comes the use of non-biodegradable plastics, toxic metals, and other materials that must be disposed of properly. The lithium batteries in the new Kindle¨ models are not removable batteries, so it is imperative that these units receive a proper ÒdecommissionÓ or a recycling when they are no longer to be used.
Fortunately, Amazon makes it easy to decommission a used Kindle. Through an established recycling program with Eco International, all Kindles¨ can be recycled. Just visit Eco International, print a prepaid UPS shipping label and ship off your Kindle¨ for proper recycling. With thousands of hours of reading ahead for Kindle¨ users, recycling shouldnÕt be necessary anytime real soon, but in the case that it is, it is readily available.
As technology marches on, eventually we all come to accept it.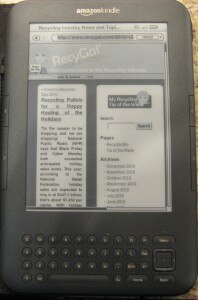 Commercializing new technology with proper end of life product recycling enables manufacturers to reuse materials and keep toxins out of our environment. Responsible technology is good technology. The Kindle¨
is truly a revolutionary product; it delivers on performance and when properly recycled, this E Book delivers on the green mantra, ÒReduce, Reuse, and RecycleÓ too.
Happy Ebook Reading and Recycling!
© 2011 Recycle Life, LLC
RecyGalTM logo and the RecyGalTM character are trademarks and registered copyrights of Recycle Life , LLC
References: ÒThe Environmental Impact of Ebooks and Printed BooksÓ, K. Klier www.typexchange.com, ÒFrequently Asked QuestionsÓ, The Green Press Initiative, www.greenpressinititative.org, ÒUse EBook Readers Wherever They Can be Used to Reduce Paper UsageÓ, R. Jayaswal, www.ezinearticles.com, ÒThe Future of PrintÓ, D. Fajar, www.infortekku.co.cc, ÒAdvantages of LED LightsÓ, www.lc-led.com