'Tis the season to be shopping and we are shopping! National Public Radio (NPR) says that Black Friday and Cyber Monday both exceeded anticipated holiday sales levels. This year, according to the National Retail Federation, holiday sales are expected to ring in at $447.1 billion; thatÕs about $1,450 per capita. With holiday sales representing about 20 percent of total annual retail sales, discounters, department stores, grocery outlets, and specialty shops make sure to stock sufficient merchandise for us to choose from. And, for those of us who donÕt like to elbow our way through the shopping mall, we can always order on-line. E-commerce sales (which are not included in the above forecasted number) are expected to reach $32.4 billion- a whopping 11 percent increase over last year.
So, how does all the merchandise we purchase during the holidays find its way from factories to warehouses and from warehouses to store shelves and ultimately to us? Business consultants refer to this process as Supply Chain Management (SCM). To give you an idea of the importance of SCM, the US Military and Wal-Mart invest heavily in this process and are considered to be leading experts in the field. SCM makes sure goods are where they need to be when they need to be there. Despite the complexities of SCM, at the bottom of it all and critical to the movement of most goods is the simple pallet.
A pallet is a portable platform used for handling and transporting goods. While a pallet can be used to hold or transport a single item, it is normally used to handle what SCM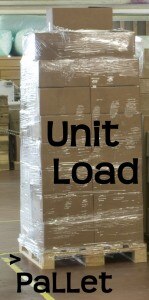 professionalsÕ term, a unit load. A typical unit load consists of goods packed in corrugated cardboard cartons stacked on a pallet and wrapped in plastic wrap for stability. The importance of the unit load cannot be underestimated; with over 1.2 billion pallets in circulation in the USA, 93 percent of all goods move on pallets (Beverage & Diamond, 2009).
Over 90 percent of all pallets are made of wood or wood-based composites. Approximately, 40 percent of all the hardwood lumber (especially low grade lumber) produced annually in the USA is used for pallet manufacturing- making pallets the largest single user of USA produced hardwood lumber. But, before we accuse the wooden pallet of being the primary cause of USA deforestation, we must take a look at current USA lumber statistics, forestry practices, government regulations, and pallet recycling activities.
Although over 400 million new wooden pallets are produced annually (Buelmann 2008), this past decade has seen a 25 percent reduction in the production of USA hardwood lumber. This table shows the changes in the production of hardwood lumber in millions of board feet: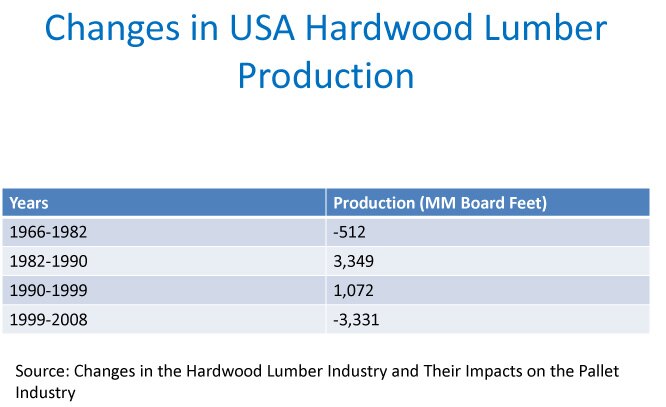 So, with such high pallet demand, why has hardwood lumber production experienced such a decline? Simply put, pallet manufacturing was not always the leading user of hardwood lumber; it is only because the global economy has pushed the production of other high demand wooden products overseas that the pallet now holds the position of Nœmero Uno. Because furniture, flooring, cabinets and many other hardwood products can be produced much less expensively in Asia than in the USA, these finished goods are now imported to the USA rather than manufactured here. And, contrary to popular belief, most of these items are not made from USA sourced hardwood lumber. To nail USA hardwood lumber even harder, a slowdown in new construction starts has also weakened the domestic hardwood lumber market. With so many other hardwood lumber products being made overseas, why is USA pallet manufacturing surviving? To remain cost competitive in the world of transportation and storage, pallets are made from low grade hardwood lumber (lumber often not feasible for other uses) and must be made locally so the cost to transport the empty pallets to where they are needed is minimal.
Wood, whether low or high grade, is a sustainable resource. So, how do we make sure our forests are sustained? In North America, wooden product manufacturers (including pallet makers) can source wood certified under the Sustainable Forest Initiative (SFI). Some manufacturers not only source such wood, but participate in the certification program themselves. SFI certified companies, at their discretion, can display the Certified Sustainable Forest Initiative Logo on their products. Because manufacturers do not have to be part of the program to source SFI certified wood, wood products that are available in the market place without the SFI Logo (including pallets) may actually have been manufactured from SFI sourced wood. With the greening of corporate America, many corporations are implementing Supply Chain Management practices that require the use of SFI certified wood in their pallet programs. As corporations use these programs to increase public awareness of their greening environmental practices, the more likely we will begin to see pallets stamped with a SFI logo in the future.
Although a pallet may be made from sustainable-sourced wood, it will not last forever. Surprisingly, the average useful lifetime of a wooden pallet is only 7 trips. So, what happens to these out of commission pallets? Many local and state governments have enacted laws that ban the disposal of pallets in landfills. According to an article posted on the website, Pallet Enterprise, over 33 percent of municipal landfills reject pallet waste and only 1 percent of obsolete pallets end up in landfills. (Mosqueda, 2010). The vast majority of pallets are not landfilled, they are refurbished and repurposed.
Refurbishing helps to extend pallet longevity and enables pallets to remain longer in circulation. But, to refurbish pallets, damaged pallets must first be collected. It is estimated that USA pallet recyclers reclaim more than 460 million pallets annually. This reclamation figure is slightly higher than the estimated 430 – 450 million new pallets manufactured each year. Large national poolers such as CHEP issue, collect and distribute pallets where and when they are needed. Issuing over 300 million pallets a year, the businesses practices of companies like CHEP can greatly influence the environmental impact of pallets within our country. When handling such a large amount of pallets, collecting damaged pallets is just part of the process. With an on-going source of damaged pallets, refurbishing helps to lessen the demand for new pallets; less demand for new pallets is less demand for hardwood.
Repurposing decommissioned pallets helps to extend the useful life of the hardwood material. Deconstructing the pallet and using the lumber to make down-cycled goods such as backyard compost bins, garden fencing, and ornamental signage enable pallet wood to become useful items for the home. Even badly damaged pallet lumber can be chipped and ground to make garden mulch and animal bedding.
So, next time you go shopping think of all those pallets that have helped to bring the merchandise to you. And, next time you mulch your garden, it is possible that you may be adding bedding to your flowers that once transported flowers to the nursery! Now thatÕs recycling that goes naturally back to the earth!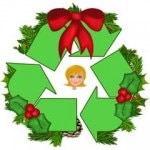 Happy Holiday Shopping!
© 2010 Recycle Life, LLC
RecyGalTM logo and the RecyGal TMcharacter are registered trademarks and registered copyrights of Recycle Life , LLC
References:References: "Holiday Shopping off to an Encouraging Start, Assoc. Press, November 26, 2010, "Cyber Monday Sales Top $1 Billion for First Time", December 1, 2010, National Public Radio, www.npr.com, ÒNFR Forecasts Holiday Sales Increase Of 2.3 PercentÓ, K. Grannis, October 6, 2010, www.nrf.com , ÒU.S. Population 2010: 308 Million and GrowingÓ, R. Schlesinger, December 30, 2009, www.politics.usnews.com, Ò2010 Holiday Survival KitÓ, NFR, www.nrf.com/holidays, ÒcomScore Forecasts 11 Percent Growth for 2010 Holiday E-Commerce SpendingÓ, A. Lipsman, November 23, 2010, www.comscore.com, ÒSupply Chain ManagementÓ, www.rockfordconsulting.com, ÒHow Do Differing Standards Increase Trade Costs? The Case of PalletsÓ, G. Raballand, E. Aldaz-Carroll, The World Economy, Vol. 30, Issue 4, p. 685-702, April 2007, ÒPerspectives on Material Handling from the United StatesÓ, Presentation at INTERMATEX 93, R.E. Ward, Materials Handling Industry of America, Charlotte, NC, www.MHIA.org, ÒPlastic or Wood? Packaging Wars Break Out at APHISÓ, Beverage & Diamond, P.C. September 15, 2009, www.bdlaw.com, ÒItÕs a Small World after AllÓ- Will Global Standards Impact Local Markets?Ó, C. Brindley, 2002, www.palletenterprise.com, ÒNews, Pallets Move the WorldÓ, www.greenlightpallet.com, ÒPallet RecyclingÓ, www.benefits-of-recycling.com, ÒPallets Move The World, The Case for Developing System-Based Designs for Unit LoadsÓ, M. White & P. Hammer, Forest Products Journal, Vol. 55, No. 3, March 2005, ÒHow green are your pallets?Ó, S. Lacefield, www.develocity.com, ÒSupply Chains and the ArmyÓ, [email protected], Special to CNE, News.com, December 6, 2003, www.news.cnet.com, ÒChanges in the Hardwood Lumber Industry and Their Impacts on the Pallet IndustryÓ, E. Brindley, February 1, 2010, www.palletenterprise.com, ÒIdentifying Impact Factors on Successful Exporting of the United States Hardwood Industries to Mexico, Asia, and EuropeÓ, O. Parhizkar, Dissertation for PhD in Forest and Forestry Products, Virginia Polytechnic Institute and State University, Blacksburg, VA, March 21, 2008, ÒComparison of important competitiveness factors for small-to medium-sized forest enterprisesÓ, O. Parhizkar, et. al., Forest Products Journal, May 2009, ÒHow Green Are Your Pallets? A Closer Look at Sustainability and the Pallet IndustryÓ, www.palletenterprise.com, A. Mosqueda, September 1, 2010, ÒPlastic Pallets Gain Ground In an Eco-Conscious WorldÓ, www.ptonline.com, J. Grande, 2008, ÒBan on landfilling of wooden pallets in North Carolina: an assessment of recycling and industry capacity,Ó Department of Wood Science and Forest Products, Virginia Tech, Books Froest Products Center, Blacksburg, VA, U.Buehlmann, et al. June 6, 2008.