In the USA non-hazardous solid waste is a $USD 55 Billion annual business. This ever evolving industry made up of ten thousand players spans public, private, and municipal institutions. Over the past decade, large public companies and private enterprises have become more entrenched in the industry while participation by municipalities continues to decline.
Today, public companies represent approximately 60% of this multi-billion dollar market with municipalities representing 23% and private enterprises 17%. Of the public company segment ($USD 33 Billion) over 60% of the annual revenue is shared by two leading waste players: Waste Management with over $USD 13 Billion reported for 2011 and Republic Services with over $USD 8 Billion reported for 2010 – no other market player even comes close.
Waste collection is the largest segment of the market with 61% of revenue ($USD 34 Billion in 2011). Transporting and processing waste and recyclables is 11%, disposal (including landfills) is 23% and waste-to-energy represents 5%.
In 2011, waste industry growth was sluggish and below 2%. Waste industry growth is closely linked to the economy and is dependent upon population, business activities, and construction. Recently, the slowdown in the USA building and construction industries has slowed waste collection growth. However, higher prices paid for recycling commodities has encouraged both companies and municipalities to divert a higher volume of waste from landfills and to recycle it. Diverting more waste from landfills and recycling it is good news for us recyclers!
Since the 1960Õs industry waste collection statistics have relied upon information collected bottom up from municipalities by states and reported on to the Environmental Protection Agency (EPA). Free from national waste reporting standards, each state determines how to report various waste collection and disposal statistics. In other words, the statistics between states are not Òplastic bottles to plastic bottlesÓ.
In 2011, the total volume of waste being handled by the industry was 621.5 million (MM) tons. This volume included 429 MM tons of municipal solid waste (MSW), 117 MM tons of construction debris, and 76 MM tons of special waste. Of the 429 MM tons of MSW, 33% (141 MM tons) was recycled, 60% (258 MM tons) went to landfills and 7% (30 MM tons) was burned in waste-to-energy plants.
Over the past 50 years, solid waste generation has steadily increased. Statistics released by the EPA (2010) showed we generate 4.43 lbs of waste per capita per day. However, in looking at statistics published by Waste Business JournalÕs (WBJ) ÒWaste Market Overview & Outlook 2012Ó, it is evident that the EPAÕs calculation of 4.43 lbs per capita is underestimated. According to WBJ, the MSW generated in 2011 was 429 MM tons (the EPA reported the MSW for the same year at 250 MM tons). Given our 2011 population was 311.8 MM, the per capita daily generation of waste is closer to 7.54 lbs per capita than 4.43 lbs per capita.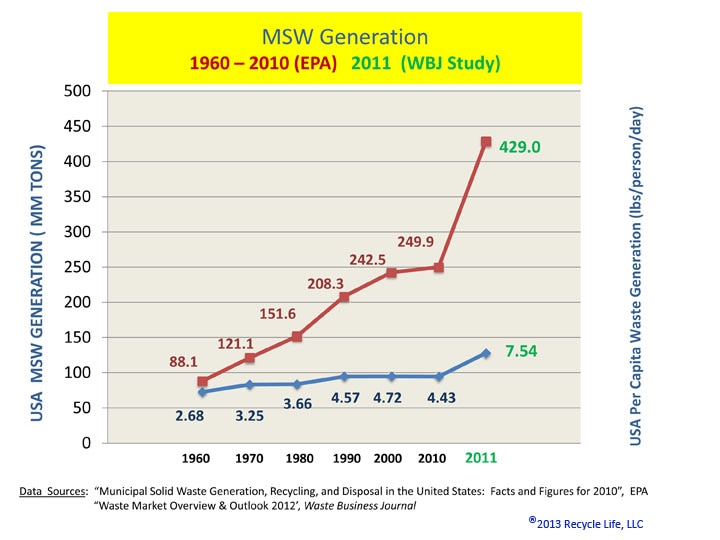 The large degree of discrepancy between the published EPA data and the private study data is primarily due to the following: EPA data relies heavily on MSW collected from households and excludes most business and institutional waste; municipalities only represent 23% of today's waste industry. To achieve the most accurate waste industry statistics corporate and private business data must now be included.
According to Waste ManagementÕs 2011 Annual Report, for the years reported 2009 thru 2011, collection and recycling revenues have been growing.
Overall collection revenue was up by 5.4% and depending on the year, represented between 63% and 68% of total company revenue. For 2011, revenues generated by collection represented 63%, landfills 19.5%, and recycling 12%; the remaining 5.5% of revenue was generated by waste transfer, waste-to-energy initiatives, and other. It is important to note that in the previous year's annual report (2010), recycling represented 9% of Waste Management's company revenue. Recycling is increasingly becoming a higher percentage of the revenue stream for the largest player in the USA waste industry. The industry leader is heading in the right direction!
Information published by Republic Services (RS) also indicates that recycling is an important growing revenue segment. In the 2010 Annual Report, RS states: Òincreasing volume of materials being recycled is what we refer to as the evolving ton and we continue to increase our capabilities and investments in recycling and processing activities which will further our growth strategyÓ.
In the USA, we recycle over 2,600 MM lbs of plastic bottles, 1,600 MM lbs of aluminum cans, and 3,800 MM lbs of paper annually; the recycle rates for these commodities are 28.9%, 65.1%, and 22% respectively. Other items which are recycled for the MSW stream include: batteries, steel cans, tires, glass containers, textiles, yard trimmings, and foods scraps. Additionally, we canÕt forget the collection opportunities for electronic waste: cell phones, computers, televisions, etc. According to DoSomething.org, the nation now dumps 300 MM to 400 MM electronic items annually and less than 20% are recycled. E-Waste accounts for 2% of trash in American landfills, but equals 70% of overall toxic waste.
When it comes to waste and recycling, revenues and profits are not the only industry drivers. Legislation plays an important role too. With no Federal legislation mandating recycling, State and Local governments are taking action. Many cities have mandated recycling and 25 States have proposed or passed E-Waste take-back laws. Legislation not only guides the large players in the waste industry but opens up entreprenuerial opportunities for small businesses. It seems that doing the right thing for our environment can be the right thing for business too.
Happy Recycling!
© 2013 Recycle Life, LLC
RecyGal© logo and the RecyGal© character are registered trademarks and registered copyrights of Recycle Life , LLC. All Rights Reserved.
References: ÒMunicipal Solid Waste Generation, Recycling, and Disposal in the United States: Facts and Figures for 2010″, www.epa.gov, "Waste Market Overview and Outlook 2012″, www.wastebusinessjournal.com, Waste Management Annual Reports 2011 and 2010, www.investors.wm.com, Republic Services Annual Report 2010, www.annualreports.com, dosomething.org