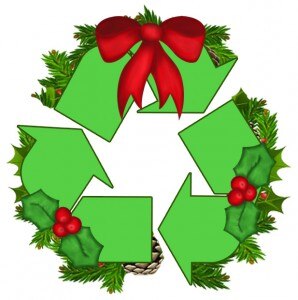 With the gift giving season upon us, we have lots of shopping alternatives: the local mall, big box stores, catalogue mail order, Amazon, and other on-line retailers. No matter which shopping path we choose, it's either "shop until we drop" or "pick before we click". Whether hauling shopping bags, collecting gift boxes, or ordering on-line items protected with plastic airbags and shipped in oversize cartons, our gifting entails lots of packaging. Holiday shopping is not only stressful on us, but on the environment as well! Please don't get me wrong, I am not a "Bah Humbug" type of gal, but I do believe we can do better to cut down on excessive packaging.


According to Forbes magazine, the Christmas holiday season represents about 28.9% of annual gift giving in the USA. With the annual gift giving market estimated to be $ 130 billion, lots of packaging goes along with it. The gift wrap industry is a big one; Hallmark estimates the annual sales of this market to be $ 3.2 billion or 2.5% of the value of the gift giving industry. According to Earth911 wrapping paper and shopping bags account for about 4 million tons of trash annually. Why trash? All gift wrapping paper is not recyclable- many papers are coated with plastics, strewn with glitter, or laminated in foil. These blended papers go to landfills. When looking for gift wrap, choose uncoated, printed papers that can be recycled or papers that are made from recycled paper. On-line retailers like Green Field Paper sell gift wrapping papers made from recycled paper and Wrappily offers papers printed on recyclable and compostable newsprint. While new gift wraps are nice, gently used wrapping papers can make gifts beautiful too.
And, what about those bows? These paper-plastic composites just aren't recyclable. Can you wrap your gifts without bows? If you want to be eco-friendly, you probably should have "bowless" gifts.
Since many of us will be shopping on-line and collecting cardboard shipping cartons in the process, let's make sure we recycle them. Cardboard is highly recyclable and most municipalities collect it curbside. The cartons shipped to our homes should be made from recycled cardboard. As a good measure, check and see if the retailer packed your order in a carton made from recycled cardboard. If they did not; let them know. There really is no excuse to use cartons that are not made from recycled cardboard.
For those of us purchasing gift cards, we now have PVC plastic to deal with. Every year, 3 billion new gift cards enter circulation and have the potential to generate 75-100 million pounds of PVC plastic waste. Thankfully, a PVC sheet manufacturer, Earthworks, has a program to collect used PVC gift cards for recycling. Unfortunately, at the time of this writing, their website is being "reworked", but you can contact them by phone at: Earthworks T.(440) 349-3434.
When it comes to wrapping and gifting, we truly have lots of choices. Keep the mantra "Reduce, Reuse, and Recycle" top of mind and you will be a "green" for the holidays.
Happy Holidays and Happy Packaging!


© 2018 Intercycle, LLC
The RecyGal® and the RecyGal character, logo are trademarks and registered copyrights of Interecycle , LLC.
References for this article were obtained from: The Gift Giving Market., USA Today, Earth911, "Wrap'sody of Wraps".