Junk mail is on the rise. Over the past decade as worldwide letter mail volumes have seen little growth, junk mail has been growing both domestically and abroad. Thirty percent of all non-parcel mail delivered in the entire world is US junk mail. While statistics vary by source, there are about 100 billion of these unsolicited mailings generated and delivered in our country annually. With about 45% of junk mail never opened, municipalities and waste haulers are handling millions of tons of unwanted paper. And, since most junk mail purveyors are not eco-conscious, most of these mailings are made from virgin materials. We are destroying trees and wasting energy to produce an unwanted product of which 60% ends up in landfills!
With almost half of these unsolicited mailings never opened, why are they so prolific? Because direct mail (commonly known as junk mail) is ingrained in the marketing psyche. Statistics from the Direct Marketing Association (DMA) reveal that Ò35% of all marketing budgets are allocated to direct mailÓ. The words Òall marketing budgetsÓ encompass marketing activities across all industries.
Even though the average response rate to direct mail is only 2%, direct mail influences the purchase of an item or service more than any other marketing tool. Each year in the US, we cut down 100 million trees to make 100 billion direct mailings of which we get back 2 billion responses. ThatÕs about 20 responses per tree. Frankly, IÕd rather have a tree where 20 birds can perch!
With the greening of America, corporations, universities, and governments are striving to improve their environmental sustainability records. We see large corporations using wind and solar energy to power their factories, universities building green certified buildings and composting their cafeteria waste and governments promoting recycling. However, how are their green records when it comes to junk mail?
According to a recent report, ÒGreen Marketing: What Works & What DoesnÕtÓ Ð A Marketing Study of PractitionersÓ, 40% of over 370+ corporate respondents spent money to market Ògreen messagesÓ by direct mail. What were they thinking? These same companies that were taking steps to become more environmentally conscious- mostly through conserving energy in operations and improving products to Òreflect greener valuesÓ forgot to think about the energy it takes not only to cut down a tree, produce paper, and print copy, but also to transport the Òbudding junk mailÓ all around during its creation. The paper and print streams needed to produce junk mail are just part of the journey. What about the petroleum used to create envelope windows and envelope glues? Oh, and, letÕs not forget about the energy dedicated to deliver the direct mail to the intended recipients and then finally cart 60% of it off to landfills. These unasked for ÒgreenÓ solicitations were once trees that stood in forests and converted carbon dioxide into oxygen. Sadly, the majority of the trees harvested for the purpose of spreading Ògreen messagesÓ ended up buried in landfills.
But getting out the Ògreen messageÓ is only a small chapter of the business and direct mail story. With newspaper advertising waning and telemarketing calls more regulated, direct mail (once thought destined for obsolescence due to the internet) is holding its own. Pharmaceutical companies, commercial banks, and magazine publishers rely heavily on direct mail to help sell their products. The US pharmaceutical industry is expected to increase its annual expenditure on direct mail more than 7% annually through 2012. For an industry with sluggish US growth rates of 1% -2%, pharmaceutical marketers must think that direct mail will positively impact sales revenue. When it comes to banking, despite the recent financial meltdown, 4th quarter 2009 saw a 47% increase in direct mailings for credit card solicitations. Although credit card junk mail is on the rise, it is still 34% below pre-recession levels when annual mailings topped 7 billion pieces! In addition to virgin paper, bank direct mail often contains Òmocked upÓ bogus credit cards which help to add additional plastic to the junk mail landfill mix. Looking at publishing, the downturn in readership levels has caused many publishers to lower their direct mail budgets. Once representing 26% of all advertising dollars, direct mail now represents about 19%. To make the most use of direct mailings, the publishing industry is specifically targeting its direct mail recipients. So, unless your name appears on a list which the publisher considers to be its core audience, you may not be receiving as much magazine junk mail. However, those of us unlucky enough to receive junk mail from publishers may find our junk mail supplemented with unsolicited, pre-shipped offerings like DVD movies or other gadgets. While there is always the option to return the offering free of charge, what about the waste of energy shipping it back and forth? Enough is enough.
When it comes to junk mail, business is not alone. Higher educational institutions have known for decades that direct mail is vital for recruitment. As far back as the mid-1980Õs, US colleges and universities allocated between 24% Ð 32% of their marketing budgets on direct mail. Although most of these budgets were used for student recruitment, the education industry knew that a next step for direct mail could be for the solicitation of alumni donations.
A study commissioned by Pitney Bowes and published in 2008, surveyed 1,100 U.S. college graduates and post-graduate school respondents about their preferences for receiving information from the school they attended. 57% of respondents preferred print mail to receive correspondence, news and other communication from their school. 54% of alumni had a strong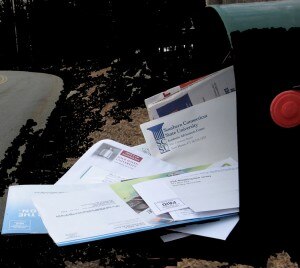 preference for direct mail and 27% were less likely to discard or ignore direct mail from their alma mater. I guess that means that there may be up to 73% of highly personalized alumni mailings that will be ignored or discarded. (A sizeable percentage of waste). Although the study gives no mention of response rate per mailing, if the rates for highly targeted direct mail campaigns are similar across industries, the effective response rate can be as high as 32%. Albeit, the response rate probably hovers between 5%- 8%. If the amount of direct mail that both my husband and I receive from our alma maters is representative of institutions of higher education, you can bet that colleges and universities are large purveyors of junk mail.
Junk mail is also an important volume contributor to US Postal Service operations. Yet, even these 100 billion mailings arenÕt enough to keep this government service running in the black. Last year the post office lost $US 3.8 billion dollars. With more people paying bills on line and sending emails rather than letters, the post office depends more and more on direct mail to keep its operations running. First class mailings which represent over 50% of postal revenue are on decline and projected to represent only 35% by the end of this decade. To give you an idea of how junk mail affects revenue, a first class letter is 44 cents to send, while direct mail can be sent for a low as 14 cents. Not a good business trend!
Polls taken over the past two decades indicate that Americans really do not like junk mail. While supporters of this polluter state that junk mail only represents 2% of annual municipal solid waste, this 2% is about 26.4 lbs per person or 8 billion lbs. of single use paper that is either incinerated or land filled. With direct mail recycle rates hovering around 36% -39%, there is opportunity to improve the recycling of junk mail. How about even making direct mail out of recycled paper? Yet, if most AmericanÕs donÕt like junk mail, why are we still receiving it?
According to an article in the "Huffington Post" several states across the nation have attempted to introduce "Do Not Mail Bills" only to be defeated by strong lobbyists who convince our government that Americans Òshould not be allowed to opt out of something we donÕt like and donÕt wantÓ. Basically, we donÕt have the right to determine what ends up in our mail boxes. With over $31 billion spent on direct mail marketing each year, this is not an industry that is going to go away soon.

When it comes to junk mail, we are paying for something we donÕt want to buy. Our nation spends billions of dollars annually to cart and handle unsolicited mail. We cut down our trees and waste energy to create mailings that are never opened or read. The mail just keeps coming and our trash just keeps growing.
Since the bulk of unsolicited mail comes from mailing lists, there are ways to help lower the quantity of junk mail which finds its way into our lives. According to the Privacy Rights Clearinghouse, if you want to be taken off as many lists as possible, register on-line with the Direct Marketing Association (DMA) Mail Preference Service (MPS). You must re-register every 3 years.
To register visit: "DMA Choice". I've already registered. Make your mail box "greener" by registering too. Find more useful information on how to stop junk mail and telemarketing solicitations in this book:
References for this article were obtained from: ÒWhat is direct mail?Ó, Direct Mail Advisory Board, ÒThe Environmental Impact of Mail: A BaselineÓ, Pitney Bowes Inc., June 2008, ÒEnvironment: Turning Junk Mail into ArtÓ, Inter Press Service English News Wire, October 5, 2009, ÒDirect Marketing 2009 Response RatesÓ, printinthemix.cias.edu, ÒGreen Messaging: A Survey of MarketersÓ, printinthemix.cias.rit.edu, ÒDMA study predicts healthy growthÓ, Medical Marketing and Media, www.findarticles .com, Comer, Ben, June 2008, ÒIMS Health Forecasts- 4.5 -5.5 Percent Growth for Global Pharmaceutical Market in 2009, Exceeding $820 BillionÓ, www.imshealth.com, Gatyas, Gary, Savage, Clive, October 28, 2008, ÒCredit Card Direct Mail, Mail Back on the RiseÓ, Business Wire, January 28, 2010, ÒDirect mail: still a reliable source for consumer marketers: the use of direct mail by magazines may have declined in the last 20 years, and volume is under constant scrutiny for significant cuts, but the format remains at the heart of the source mixÓ, Audience Development, Johnson-Greene, Chandra, March 1, 2009, ÒDirect Mail Marketing in Higher EducationÓ, Journal of Direct Marketing, Volume 1, Issue 2, Burdenski, Helen and Shanklin, William, Spring 1987, ÓU.S. Postal Service Considers eliminating Saturday deliveryÓ, The Tampa Tribune, Morelli, Keith, March 2, 2010, ÒSubsidizing Junk Mail in the Great RecessionÓ, www.huffingtonpost.com, Forest Ethics, Paglia, Todd, January 29, 2010, ÒDMAB Business Plan 2009-2012Ó, Universal Postal Union, Berne, Switzerland, www.upu.int/ , ÒHow Your Business Can Best Use Direct Mail Advertising and Marketing in Miami, FlÓ, www.truthtopowermedia.com, December 29, 2009, ÓFact Sheet 4: Junk Mail: How Did They All Get My Address?Ó, Privacy Rights Clearing House, www.privacyrights.org, October 2008.