My quest to properly recycle household batteries led me to the ÒstarterÓ iRecycle Kit which I ordered on line from www.batteryrecycling.com. Arriving in a standard US postal box, this convenient kit is simple and complete. The iRecycle Kit contains an attractive cardboard battery collection carton, a cellophane tape dispenser, and instructions on how to properly recycle batteries.
To my surprise the company behind the kit, Battery Solutions, not only accepts household batteries for recycling, but rechargeable battery packs and handheld electronic devices too. How convenient to be able to recycle your spent batteries and outdated electronic gadgets from your own home. Best of all, you have up to 1 year from the date you start collecting until the kit must be returned for recycling.
Yes, Battery Recycling 101 was about to begin. Having read the well illustrated instructions, I taped each battery terminal with cellophane tape before depositing it in the carton. You may be thinking, why tape the terminals? According to the Pipeline and Hazardous Materials Safety Administration (PHMSA) a division of the Department of Transportation (DOT), Òall batteries operate through a controlled chemical reaction, which generates electrical energyÉand some degree of heatÉ External short-circuiting of a battery can occur from contact or close proximity of metal objects or other batteries near exposed terminals". This short-circuiting, Òposes a risk of overheating and fireÓ. Taping the terminals ensures safe battery transport. Having properly deposited all of my batteries into the 10inÓx 5inÓx 6inÓ collection carton, I realized I still had lots of space left to fill. This sparked an idea- Take the iRecycle Kit to the office.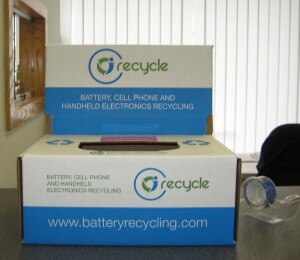 I set up the iRecycle Kit near our copy machine (high traffic area) and sent out an intra-company email announcing this novel recycling opportunity. Within just 1 week, the iRecycle collection carton was full. It seems that many of my co-workers had been hoarding batteries too.
Before mailing back our kit for recycling, I decided to find out the types of batteries and devices that we ultimately collected. For the most part, the box contained the usual household stockpile of AAA, AA, C, and D batteries interspersed with a few more specialized ones like 3.6 V NiCad (for telephones) and A-23 (for remote key fob radio devices). We even collected a few large, rechargeable power tool batteries. All in all, we shipped back over 10 lbs or batteries. In my opinion, thatÕs 10 lbs less chemical and metal waste going to a landfill. I believe that with a larger collection container and more time we would begin to collect old cell phones and PDAs too. So, what did 10 lbs of batteries cost to recycle with the iRecycle kit? The answer is: $US 34.95 – just under $US 3.50 per lb. including transportation. (Not cheap, but not bad considering at least $US 10.00 went toward shipping).
Trying to promote household battery recycling is not an easy task and is largely hindered by lack of government regulation and the intrinsic value of battery components. Although all household batteries are recyclable, the costs associated with the recovery of component metals may be higher than the market values of the metals reclaimed. In a world where consumers are used to throwing batteries out with the trash, it will take government legislation to make battery recycling a normal household habit. The iRecycle Kit is a convenient way to collect and recycle batteries and small electronic devices. Yet, in our current recessionary economy, it may be a difficult sell. In my opinion, recycling batteries is worth the expense. To lower the expense, the company could ship the kit out to customers in an envelope (packed flat) rather than packed inside an outer carton. Less shipping expenditure passed on to the customer could create a better kit value.
Now that I have sent off my cache of disposable batteries for recycling, I am beginning to use rechargeable batteries. Knowing that rechargeable batteries are considered ÒHazardous WasteÓ, my battery recycling efforts will be mandatory, but less frequent.
© 2009 Recycle Life, LLC
The RecyGalTM logo and the RecyGal TMcharacter are trademarks and registered copyrights of Recycle Life , LLC
References for this article were obtained from:
Recycling Today, March 2003, Federal Register, Vol.72, No.57, www.irecycle.com