UserÕs Choice
The other day I was cleaning out our family Òjunk drawerÓ. You know that one drawer treasure trove containing everything from old sales receipts to mystery keys of long forgotten locks. Well, this particular drawer had its share of miscellaneous objects but one collection stood out above all the rest: spent batteries. The drawer was heavily laden with an assortment of old alkaline (AAA, AA, C, D, 9V) and lithium (button) batteries that for eco-guilt reasons I just couldnÕt throw out.
According to the EPA, ÒEvery year in the United States, Americans buy, use and throw out billions of batteries.Ó For me, the tough part of the above statement is, throw out. While I know that alkaline and lithium batteries are classified by the federal government as Ònon-hazardous wasteÓ and can be thrown out with the kitchen trash, it just doesnÕt seem responsible to put them out for curbside trash pick-up knowing they will end up in a municipal landfill. So, I collect them and collect them and collect them.
Knowing that batteries can contain toxic substances like heavy metals and caustic acids, it seems unbelievable that a more rigorous effort is not made to incorporate them into the municipal recycling stream. According to Environment, Health, and Safety Online, ÒDry cell batteries contribute about 88 percent of the total mercury and 50 percent of the cadmium in municipal solid waste streamÓ.
The fact that batteries contain metals and chemicals that can pollute our environment has sparked both public and government concern. Leading the charge to eliminate household battery pollution is the State of California where all batteries are considered hazardous waste. To respond to battery pollution concerns, battery manufacturers have taken a two prong approach: work to reduce or eliminate the amount of heavy metals in batteries and promote the use of rechargeable batteries. While rechargeable batteries may reduce the amount of new batteries consumed, many rechargeable batteries are nickel-cadmium based and must be recycled in order to keep these heavy metals out of the waste steam. With the market push toward rechargeable batteries, some retailers have begun to offer rechargeable battery recycling programs. I believe this is a step in the right direction if the public (now used to throwing batteries out with the trash) actually recycles these rechargeable counterparts. Rechargeable batteries are hazardous waste and we all know, ÒOld habits Die Hard!!Ó
To solve my growing battery collection, I searched for on-line advice on how to recycle them. I have just sent away for information on a residential mail-in program called, ÒThe iRecycle KitÓ. I will keep you posted on my experience. To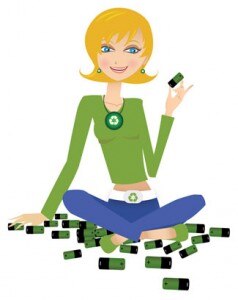 reduce the amount of batteries used in my home, I am going to begin using rechargeable batteries. Honestly, I have been reluctant to start using them because past attempts were disappointing. I recall that rechargeable batteries did not hold a charge well. My husband assures me that since I last used rechargeable batteries, charge performance has improved considerably. Reduce, Reuse, and Recycle is a mantra we can all easily follow. So, now that I have a plan for household batteries, I need to work on one for the office É.. to be continued.
© 2009 Recycle Life, LLC
The RecyGalTM logo and the RecyGalTM character are trademarks and registered copyrights of Recycle Life , LLC
References for this article were obtained from:
www.epa.gov, www.esho.com,www.green.ca.gov,www.irecycle.com