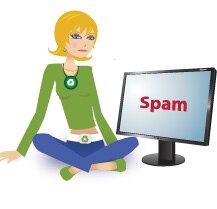 Open up your email and what do you find? Spam! Spam! Spam! Worldwide 62 trillion spam emails are sent annually. With 80 percent of all emails being spam, these Server passed aggravating messagesTM
cost our patience, our pockets, and our environment.

Globally, spam consumes over 4 Gigawatts of electricity each year. That's the same amount of electricity generated by 4 coal burning power plants. According to the software company McAfee, spam email is responsible for over 18 million metric tons of CO2 released annually. Get rid of spam for one year and we could save the amount of electricity used to power 2.4 million U.S. homes and the CO2 emissions equivalent to 3.1 million passenger cars using 2 billion gallons of gasoline.1
Because countries with greater Internet connectivity tend to have more mail users, it's these nations where you'll find the most spam. The USA holds the #1 position for spam generation and uses 20% of all energy wasted on spam worldwide. With China at 19% and India at 19%, these fast developing, Internet growing nations will soon surpass the USA for the amount of energy demanded by spam. And, with per capita PC penetration in emerging markets to double by 2013, 1 out of every 3 people on the planet will have a PC. Where there are PCOs, Internet connectivity follows. Where there is Internet connectivity, there is spam!
While it is relatively inexpensive for a spammer to create messages and get the spam chains rolling, costly down link handling of spam hits the public, businesses, and Internet Service Providers (ISPs) with fraud, lost productivity, and the need for increased data capacity infrastructure.
When it comes to pure energy drainage, viewing and deleting unwanted emails represent 52% of the energy wasted on spam. While spam filters and blockers have helped to curb the need to validate or invalidate every incoming email message (MSN blocks 2.4 billion spam messages daily)2, spam filters also take a toll on energy use. When it comes to Spam, there is no free lunch!
So, how can we best rid ourselves of these unwanted bulk mailings? We must attack at the source. While spam filtering does help (annually, it reduces spamÕs carbon footprint by the equivalent of taking 13 million cars off the road), it takes tremendous ingenuity and continual improvement to handle the filter evading tactics of spammers and the ever increasing digital traffic. ISPs, often stuck with the costly handling of spam traffic, are fighting back. In 2008, one U.S. prolific spammer, McColo, Inc., was taken offline by its upstream ISP. Overnight, spam volume dropped 70% globally! Good news for our in-boxes!
By decreasing unwanted email through shut down of major spam generators, we will reduce the number of new servers which need to be brought on-line to handle the traffic. With increased use of spam filters, we can decrease green house gas emissions while increasing work productivity. (It is estimated that 104 billion user hours per year are dedicated to reading and manually deleting spam).
Additionally, by better power management of our PCs, we can reduce our energy consumption and green house gas emissions ever further. PCÕs and monitors account for 39% of all the carbon emissions generated by the information and telecommunications industry. Making PCs more energy efficient should be a top priority. As PC users, what can we do to help? We can power down. ÓIf the worldÕs 1 billion PCs were powered down for just one night, it would save enough energy to light up New York City's Empire State Building-inside and out-for more than 30 years!
So, how should we power down? Well, power down and shut down are not the same thing. If you are finished using your computer for the day and do not need it for remote access, turn it off when you leave your desk. If you need your computer for remote access, power it down by putting it in Sleep/Hibernate mode. This mode greatly reduces energy consumption and still allows remote access to the computer. Also, reduce energy consumption during the day by using your power scheme settings. You can shut down your main screen (the computer is still running behind the scenes) whenever there is inactivity for a specified time. A good rule of thumb is if the computer is inactive for 5 or 10 minutes, it should be set to automatically go into power save mode. You can resume your activity by simply clicking on any key. Watch out for those big, graphic screen savers, they can use a lot of energy. If we all manage our own computers wisely, we can help to reduce energy consumption and green house gas emissions. When all are individual efforts are added up, globally we will have major positive impact on the environment.
To learn more about energy conservation through spam reduction, check out these books:
Happy Monitoring!
RecyGal© 2012
RecyGal© Blog and RecyGal© character are registered trademarks and registered copyrights of Recyclingbin.com
All rights reserved.