April 22, 2010 marked the 40th anniversary of Earth Day. By attending the 2010 New York City Earth Day event, it was obvious we have come a long way since Earth DayÕs beginnings as a protest to raise environmental awareness.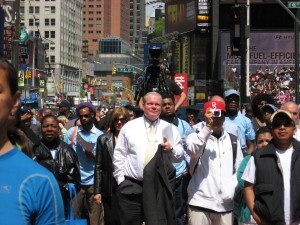 On the first Earth Day, 20 million Americans marched down city streets, gathered in community parks, and protested on college campuses to the let our government and industries know that we cared about the air pollution, toxic waste, loss of natural landscape, and litter that was damaging the environment. The message rang out loud and was heard clearly. Earth Day 1970 set the stage for creation of the Environmental Protection Agency (EPA) and many of the laws which now protect the environment.
This yearÕs main event (now held in Times Square rather than Central Park) featured such notable speakers as Ban Ki-Moon (Secretary General of The United Nations), Barry Caldwell (Waste Management Executive and Chairman of Keep America Beautiful), and The Honorable Mayor Bloomberg. Even Al Gore made a video appearance!
The event celebrated not only how much greener New York City is becoming, but how far we have come as a nation to take environmental stewardship seriously. What struck me immediately was that Earth Day is no longer about the culture of youth clashing with the titans of industry, but about people from all walks of life working together with the goal of preserving our precious earth. School children, business executives, entertainers, and politicians came together to celebrate all the good things that we have accomplished and to recognize how far we still have to go.
Speaker Barry Caldwell reminded us, ÒWe are not recycling as much as we did 15 years agoÓ. Despite this discouraging news, incentives are underway to increase the recycling rate. One initiative between Waste Management, PepsiCo, and Entrepreneur Boot Camp for Veterans (EBCV), will strive to take the nationÕs current recycling rate from 30- 34% to 50% by 2018. Just how will they accomplish this? The answer is the ÒDream MachineÓ.
Jeremy Cage, Chief Marketing Officer for PepsiCo, explained that the Dream Machine project will not only help to increase the recycling rate but help veterans fulfill their dreams of starting their own businesses. For every bottle recycled via a Dream Machine, PepsiCo will make a donation to the EBCV program. EBCV provides disabled veterans with a free university education in Entrepreneurial Business Studies and helps to support them financially when they are starting their businesses.
So, what is a ÒDream Machine?Ó It is a reverse vending machine developed by Tomra Industries to collect spent plastic bottles. Reverse vending machines have been used successfully in California (where plastic bottles have a deposit law) to collect plastic bottles at local shopping centers for recycling. Consumers simply deposit their used bottles in the automated machines. For each bottle deposited, a monetary refund is awarded; in California that means 10 cents for each 24 ounce plastic bottle! Behind the scenes, The State of California pays processing fees to shopping centers for emptying the machines and issuing refunds; the State also compensates independent haulers who cart the bottles from the machines to recycling stations. For several years California's beverage container recycling program ran smoothly, then things got messy. With the downturn of the world economy, demand for used plastic dried up in Asia . (Most of California's spent plastic bottles were shipped to Asia because the price per pound was highest). As the demand for reclaimable plastic slowed, it was apparent the program was in trouble and needed funding. However, there were no reserves to tap. Why? Because hundreds of millions of dollars from the beverage container recycling fund had been funneled off for use in other state programs. To try and keep the program alive, the State of California had to reduce handling fees and funding to several recycling-rated programs by 85%. By last November, further fees cuts were made and handling fees were totally eliminated. Tomra Industries filed a law suit against the State of California. On March 8, 2010, Governor Arnold Schwartzenegger enacted an urgent measure, Assembly Bill 7, to help to restore the program to working order. The jury is still out.
While recycling with Pepsico's Dream Machine will not provide bottle deposit returns, it will enable users to obtain coupons for product discounts. To learn more about Pepsico's Dream Machine, visit: "Dream Machine"
While we all love machination, machines do have an effect on our climate. This weekend a climate rally will take place on the National Mall in Washington, DC, to let Congress know that as citizens, many of us believe a comprehensive climate bill that will cap green house gas emissions is needed to help alleviate global warming. With global warming literally looming over our heads, I believe more cost effective, lower carbon footprint plastic bottle collection alternatives could best support public recycling efforts.
A leading recycling container company, Recyclingbin.com, LLC, offers the Event Recycling KioskTM a public collection bin that is made from up to 3O% recycled plastic and is itself 100% recyclable.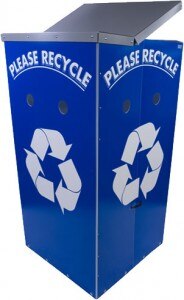 The unit offers 92 square feet of messaging space, holds 2,400 plastic bottles, and even folds flat for storage and shipping. Could I be envisioning a truly eco-friendly Dream Machine? What do you think? Please visit: "Recyclingbin.com" to learn more about the Event Recycling KioskTM.
In the spirit of recycling, a truly great effort is being spearheaded by the City of New York. According to Mayor Bloomberg, ÒFolks you ainÕt seen nothing yetÓ. New York City council plans to expand plasticsÕ recycling beyond PET #1 and HDPE #2 to include all plastics. Now, thatÕs leading the nationÕs plastic recycling effort! Go New York!!