For several years now, the disposable plastic shopping bag has been a worldwide, much debated, often legislated, environmental issue. Extreme opinions exist at both ends of the spectrum. Proponents of the disposable, plastic shopping bag argue that this inexpensive, handy tote can be reused and recycled. Oppositionists claim the disposable plastic bag does so much damage to the environment that it must be banned. All opinions aside, new reclamation technologies may soon enable these much-debated bags to be not only recycled, but biodegraded. Viola! Eco-friendly, disposable, plastic shopping bags!!
The standard, disposable, plastic shopping bag (like those found at your local grocer or big box store) is made from polyethylene plastic (PE). This plastic, a long chain polymer derived from the petroleum-based gas- ethylene, is durable, inexpensive, and light-weight. Once in the waste stream, its inherent strength and durability make it resistant to degradation.
Since the 1970's scientists have been searching for ways to make PE plastic more degradable. Now, with over 40 years of research and discovery, some very promising, innovative techniques and novel microbes may make the biodegradation of these notorious shopping bags a reality.
In nature, PE plastic degradation is an extremely slow process and depending upon the environmental factors and available microorganisms, it is estimated that it takes between 100 to 1,000 years for this plastic to degrade. Looking to nature as an inspiration and guide, scientists are developing processes that speed up what would take nature hundreds of years to do.
Being a long chain polymer, PE plastic must be broken down into smaller molecules (think of pieces) before microbes can chomp away at it. Because remediation specialists know that PE plastic partially breaks down when exposed to moisture, air, light, and heat, these processes can be coupled with biological treatments (microbes) to speed up PE degradation.
Sounds easy, right? Well, working with microbes can be a bit tricky. PE plastic is hydrophobic (it does not have an affinity for water) and many microbes used for biodegradation are hydrophilic (they have an affinity for water). So, for most microbes to be able to work away on the PE plastic, the polymer must be opened up through oxidation to make it water loving. Once it is oxidized, the plastic is available for chomping.
To overcome the non-degradable properties of PE plastics, the scientific community has taken a three-prong approach:
1) Add natural polymers (starch or cellulose) to the plastic to increase biodegradability
2) Add pro-oxidants to the plastic to make it more available to microbes
3) Isolate and improve microorganisms that can efficiently degrade plastic
To keep things simple, let's assume adding an ingredient like starch or a pro-oxidant to the PE plastic recipe is easily accomplished. With this said, we can now focus on the microbes.
So, how are plastic degrading microorganisms found? Scientists look to isolate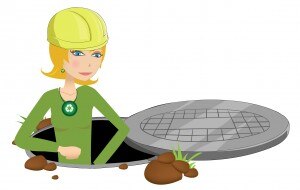 microbes from environments that have similar conditions to the proposed laboratory and biodegradation processes being developed. In other words, if bioremediation specialists need a microbe that thrives in high temperatures, they may seek to isolate microbes from hot springs or thermal vents. Or, if the intended pathway for final plastic disposal is the municipal sewer, they may start their search in the sewer. Microbes can be found in the most obscure places!
In simple terms, to biodegrade plastic the microbe must be able to attach itself to the surface of the plastic. (That's where the water loving stuff is important). Once the organism is attached, it must be able to utilize the plastic as a nutrient source. (In our case, the organism would be able to utilize the carbon molecules of the plastic for food). Once it starts chomping, the microbe starts multiplying and the plastic degrades from enzymes secreted by the microbe. Microbial growth and secretion continue to break down the plastic into smaller and smaller pieces (molecules) which are also utilized by the microbe for energy. Under aerobic (with oxygen) conditions, the plastic is finally broken down into carbon dioxide, water, and some biomass (dead microbes). What was once a plastic shopping bag, can now be a source of plant food!!
To measure a microbe's ability to biodegrade PE plastic, scientists have devised techniques ranging from measuring the growth of the microorganism to measuring the changes in the physical and mechanical properties of the plastic.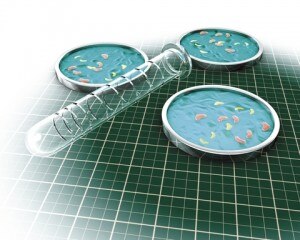 To date, several fungi and bacteria have been shown to biodegrade PE plastic.
In 2008, a high school researcher, "Daniel Burd", won the Canadian-wide Science Fair for his experiments with Sphingomonas and Pseudomonas bacteria. In just 6 weeks, these two chompers achieved a 43% degradation rate on PE sourced from plastic shopping bags.
All around the world researchers are working to isolate effective microbes and to perfect PE biodegradation processes. It shouldn't be too long before our PE plastic bags recycling efforts are augmented with efficient biodegradation processes. Why not envision a recycling facility and biodegradation operation under the same roof? Or better yet, a portable plastic bag biodegrader that sits alongside your recycling, compost, and trash cans. Green dreams can turn into reality!
Until then, be sure to bring all those plastic, disposal shopping bags back to your local grocer or big box store. Most stores have plastic bag recycling bins in their lobbies. Happy Plastic Bag Recycling!
© 2017 Intercycle, LLC
RecyGal® logo and the RecyGal ®character are trademarks and registered copyrights of Intercycle, LLC
References:: "Plastic Bag Resin Types",www.plasticbagrecycling.org,"The Manufacture of Polyethylene", www.nzic.org.nz, "Biodegradation of Polyethylene Followed by Assimilations of Degradation Product", M. Hakkarainen, et al, Biopolymers Online, Jan. 1 5, 2005, "Plastic Bags and Oil Consumption", www.fooddemocracy.wordpress.com, "Biodegradation of polyethylene and polypropylene", J. Arutchelvi, et al, Department of Biotechnology, Indian Institute of Technology, Madras, Chennai 600 036, India, Polymer Research and Technology Center, Reliance Industries Ltd., Swastik Mills Compound, Chembur, Mumbai, 400 071, India, May 22, 2007, "Isolation of Fusarium sp. AF4 from sewage sludge, with the ability to adhere the surface of polyethylene", Aamer Ali Shah, et al., Microbiology Research Laboratory, Department of Microbiology, Quaid-i-Azam University, Islamabad, Pakistan, Physics Research Division, Pinstech, Islamabad, Pakistan, September 2009, "WCI student isolates microbe that lunches on plastic bags", K. Kawawada, The Record.com, May 22, 2008.