Responsible Retailers
It doesnÍt take much shopping to recognize that retail outlets are large purveyors of disposable, plastic shopping bags. Of the estimated 100 billion bags used in the USA annually, 53% are distributed by supermarkets and grocers. By offering plastic bag recycling programs, retailers are effectively increasing the collection and recycle rates of these high environmental impact totes. The spark that ignited point of sale recycling began in the USA in 2006 when the State of California adopted, The Plastic Bag Recycling Act. This law mandates that certain retail outlets be responsible for the collection, transportation, and recycling of plastic bags. Since CaliforniaÍs law went into effect other states have enacted or are considering similar legislation. Many grocers and pharmacies are implementing plastic bag recycling programs even before any law mandates them to do so. It seems that these retailers know that going green is not only good for the environment, it is good for business.
Given the current greening of America, itÍs not a surprise that some cities have outpaced their states by enacting their own local ordinances. On the far end of the spectrum is the City of San Francisco where the use of plastic shopping bags at large grocers and pharmacies is totally banned. While banning plastic shopping bags has resulted in 5 million less plastic bags purveyed monthly, environmental concerns still remain regarding the types of bags which have replaced the notorious plastic tote; paper bags (even those produced from recycled paper) and compostable bags may not be as environmentally friendly as one would think.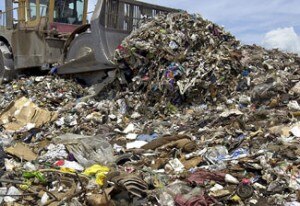 Current research shows that when land filled, paper does not break down any faster than plastic. Because modern landfills are designed to isolate the collected waste from both air and water (critical substrates for decomposition), nothing in the landfill really degrades. While this waste containment helps to prevent ground water contamination and air pollution, the land filled waste (whether paper or plastic) just keeps piling up. Because paper bags are far bulkier than plastic bags, their disposal takes up larger landfill volume. Given that 33% of municipal solid waste is paper, this is a lot of bulk! Over time if some air and water do reach the landfill, paper bags will decompose. However, a by-product of the paper breakdown is the greenhouse gas, methane. With 23 times the heat trapping power of carbon dioxide; any methane which does escape from the landfill into the air contributes to global warming! So, how about recycling those paper shopping bags? To recycle paper, chemicals such as sodium hydroxide, hydrogen peroxide, and sodium silicate are required. While the paper bags may end up recycled, the use and disposal of these industrial chemicals negatively impacts the environment. It seems that substituting paper bags for disposable plastic shopping bags is not a big win for landfill waste reduction or cleaner recycling. As science marches on, we now have the newly touted compostable bag. Are compostable bags a better substitute?
Compostable bags (even those derived from corn) are not necessarily petroleum free. Often praised by gardeners and avid composters, these bags may degrade if they are lucky enough to be disposed of in an industrial compost facility where the proper conditions exist for their decomposition. Because the decomposition of these agriculturally-based bags is a photo reactive process, light is required for the process to occur. Because there is little or no light in a landfill, compostable bags do not decompose but break down into smaller polluting pieces that remain in the landfill. From an environmental perspective, replacing plastic shopping bags with compostable ones is not so straightforward.
If we are going to reduce the environmental impact of our shopping habits, we need to reduce our use of all disposable shopping bags. By reducing our personal usage of these totes, we will be helping to reduce overall demand for disposal shopping bags.
© 2009 Recycle Life, LLC
The RecyGalTM logo and the RecyGal TM character are trademarks and registered copyrights of Recycle Life , LLC
References for this article were obtained from:
www.epa.gov, www.icis.com, www.msbc.com,www.planetark.org ,www.science.jrank.org, www.aza.org, www.slate.com, www.toronto.ca ,www.environ.ie ,www.mindfully.org