There is no doubt about it, where smokers trod, cigarette butts remain.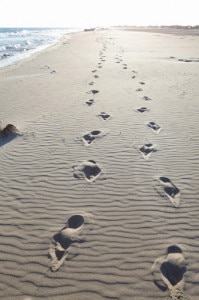 Left behind with a flick of a finger, many smokers treat the disposal of a cigarette butt as if nature can just reabsorb it. Well, this simply isnÕt the case. Cigarette filters, the most littered item in the world, are not biodegradable. These polluters of our city streets, roadways, and beaches not only look unsightly but release harmful toxins into the environment. Often travelling via drainage systems into our inland waterways which eventually empty into our oceans, cigarette filters can pose serious poison and choking hazards to aquatic wildlife. Yes, cigarette butts do travel and take along their toxins too!
To better understand the worldwide scope of cigarette butt littering and its effect on our oceans, we just need to look at a few statistics gathered from last yearÕs 2010 International Coastal Cleanup. Almost 500 thousand volunteers from 108 countries including 45 USA States and the District of Columbia picked up and catalogued in a single day 7.4 million lbs. of debris from inland and ocean waters; thatÕs 10.2 million individual pieces of trash. And, guess what was at the top of the list for Marine Debris?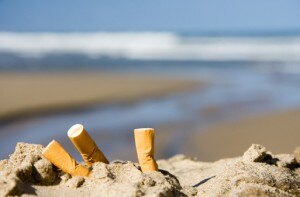 Yes, cigarette butts and related smoking items which represented a whopping (or should I say, coughing) 21% of all the litter. In the USA alone, cigarette butts were 33% of the take; add in other smoking related items and it reached 36.3%! That's a lot of non-biodegradable litter polluting our shorelines.
So, why are cigarette filters not biodegradable? They are made from a synthetic fiber called cellulose acetate. Now, cellulose by itself is a biodegradable fiber derived from trees (wood pulp) but to become useful for the production of cigarette filters it must be treated with a common acid reagent (acetic anhydride) and a solvent (acetone) which results in a solution that can be spun into fibers. These fibers are combined to create a ribbon that in the cigarette industry is called a tow. The tow is then treated with a plasticizer such as, triacetin. Triacetin, a very effective plasticizer for cellulose-based products, is food grade and also used in chewing gum. (In case you didnÕt know, chewing gum is not biodegradable either). Anyway, triacetin makes the filters flexible and durable which allows them to pass through the high speed cigarette production lines without a hitch. After the tow is treated with triacetin, humectants like glycerol can also be added to keep the cellulose acetate fibers moist. The tow is then machined into tubes having the diameter of a cigarette filter; the tubes are then cut into the proper length and affixed to the cigarette. Having a higher heat resistance than natural fibers, cellulose acetate also helps to make the filter guard against smoker lip burns. Additionally, the water attracting properties of this synthetic material provide a moist lip feel on the cigarette for the smoker. What started out as biodegradable wood pulp is now synthetic and non-biodegradable. By the way, 1.5 million trees are cut down daily for the production of cigarettes!
With 1.1 billion smokers in the world today and approximately 5.5 trillion cigarettes sold annually, there are about 2.2 billion lbs. of leftover cigarette filters to deal with each year. Now, thatÕs a lot of ocean debris, landfill waste, and general litter. So, why arenÕt cigarette butts recycled? The short answer is that cigarette filter collection is a complex process and a feasible recyclable market for them has yet to develop. While some research has suggested that cigarette butts could be recycled into rustproof coatings for metals or may be even into paint additives, there is not yet a commercial process developed for recycling them. However, this does not mean that efforts for finding a way to recycle cigarette butts are not underway.
One of the most talked about efforts in the USA this year is New York State Bill A02147, spearheaded by Assemblyman Michael DenDekker. DenDekkerÕs Bill (if made into law) will establish a cigarette butt redemption program (not unlike the bottle deposit laws) where each cigarette butt returned to a collection station will be worth at least 1 cent ($USD 0.01). If such a program does come to fruition, there will be actual market incentive to collect and return cigarette filters. One company betting that the bill will become law is Eco-Tech Displays. Placing cigarette filter recycling collection stations within the New York Metro area, this company is already filling up a Staten Island warehouse with collected filters.
Collecting and redeeming cigarette filters is a good beginning, ÒbuttÓ how will these litterers actually be disposed of? Incineration is an option if scrubbers can be used to collect any potential airborne pollutants and capture potential valuable heavy metals from the filters. If incineration is tied to energy generation the disposal process becomes more viable. Ideally, a process to recycle the cigarette filters would be best. LetÕs hope in the near future a viable recycling option rises out of the ashes.
Happy Recycling!
© 2011 Recycle Life, LLC
RecyGalTM logo and the RecyGalTM character are trademarks and registered copyrights of Recycle Life , LLC
References: Cigarette Litter News, Spring 2001, www.cigarettelitter.org, Cigarette Litter and How it Affects Us, T. Martin, About.com, January 3, 2011, 2010 International Coastal Cleanup Report, www.oceanconservancy.com, City of Sydney, Item 11: ÒSupplementary Answers to Previous QuestionsÓ, www.cityofsydney.nsw.gov.au/council, Ò1.5 Million Trees are Cut Down Every Day to Make CigarettesÓ, www.talkbaltimoresun.com, ÒThe intractablre cigarette Ôfilter problemÓÓ, B. Harris, Research Paper, Stanford University, January 25, 2011, www.tobaccocontrol.bmj.com, ÒDetermination of Plasticizer Profile in Mono Acetate Filters Using the Microwave MethodÓ, www.cerulean.com, ÒBill Text: NY Assembly Bill 2147-2011 General Assembly, New York A02147Ó, www.e-lobbyist.com, ÒCigarette Butt Recycling ProgramsÓ, ww.eco-techdisplays.com, ÒThereÕs a Staten Island warehouse full of cigarette buttsÓ, N. Chiwaya, March 7, 2011, www.thefunkyapple.com, ÒRegulating the disposal of cigarette butts as toxic hazardous wasteÓ, R. Barnes, Research Paper, www.tobaccocontrol.bmj.com.