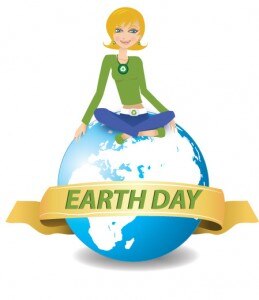 Since the first official Earth Day on April 22, 1970, both the world and the celebration of Earth Day have seen a lot of changes.
We no longer rely on circulating flyers, telephone calls, radio and TV broadcasts, newspaper ads, or even word of mouth to learn about Earth Day events. Today, thanks to technology, we just type Earth Day Events and the name of own town into Google or another search engine of choice and up pops everything we need to know to be well informed, active participants.
So, was it with me; my internet search on Earth Day led me to Grand Central Station in New York City where I soon became aware that something was different. Earth Day, once a celebration of something bigger than ourselves had become part of the "me" generation. I know that may sound horribly critical, but let "me" expound a bit.
The banner below is the slogan for this year's event by earthdayny.org:

What do you think? For "me", the slogan design is actually quite aesthetic, but the prominent hand symbol and the letter E do not scream Earth Day. To give credit where credit is due, the slogan was supported by videos of people making the hand sign and saying, "I am E". To really understand the thought behind the slogan, one had to see the quotation by Muhatama Ghandi, "Be the change you want to see in the world". If you watched the video long enough or passed by the event's waste receptacles, the whole message started to come together.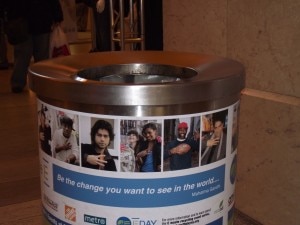 In watching people say, "I am E", I couldn't help but think this is an egocentric time we live in. To "me", the Earth with all its beauty is much bigger than the self. Where has all the reverance for our planet gone?
Social media platforms like FaceBook, My Space and Twitter and blogging platforms like WordPress and Blogger allow each and everyone of us to create our own worlds. We no longer have to fit into the world, the world fits into us. And, today we can fit the whole world into our own realm by simply using our personal computer or PDA. Even the popular website, Earth911¨, posted an article about celebrating Earth Day on the computer from the comfort of your home. The caption underneath the article's photo read "Celebrate Earth Day without even leaving your chair". Please!! Let's at least try to make Earth Day a celebration where we actually (not virtually) experience the wonder of our great planet. (Even if it is as simple as looking out the window and taking in the true sky- be it cloudy, sunny, rainy, or dark of night).
Please don't get me wrong. Having the ability to bring the world to ourselves with just a "click" of a button can make great things happen if we act upon what we are reading, seeing, and listening to. Learning about recycling, planting trees, and lowering our carbon footprint are all well and good, but we must put into practice what we learn. For us who are fortunate enough to be healthy and active, we should not be passive Earth Day participants, but get involved in the activities of our local communities and places of work. And, if group involvement is not our thing, we can always do something small at home like replace an incandescent light bulb with an energy efficient one or add a houseplant to a windowsill and improve the air quality of a room. All the symbols in the world cannot take the place of even the smallest action.
We only have to look back at the story of the man behind Earth Day, John McConnell, to see that this celebrated event was the culmination of years of life experience, hard work, and commitment. Born in 1915, John was already a 55 year old man when the first Earth Day was celebrated. Some say, it was his experience in industrial manufacturing that alerted him to the damaging effects pollution could have on the environment. As early as 1939, John was already involved in developing environmentally conscious manufacturing practices. And, in the 1950's and 1960's, John saw space technology as an opportunity to improve world peace. When the first satellite photograph of the Earth was printed in Life magazine, John was inspired to use this larger than life image to be the symbol on the Earth Day flag. Today, this flag is still the symbol used by the United Nations on Earth Day.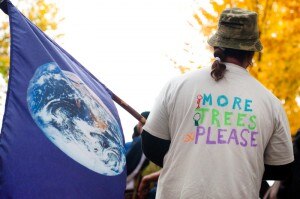 For Earth Day to continue to be the important event we have come to celebrate, we must ensure that it remains "real" and "active". Augmenting the experience with virtual activities is fine, but the importance of getting out there and doing something to better our planet cannot be emphasized enough. The world knows that Ghandi wasn't in a computer simulated world when he called for "be the change".


Some 750,000 commuters pass through Grand Central Station on a daily basis. With a captive audience of this size, it is truly a great Earth Date celebration venue. The commuters who pass by are reminded of the great country we live in by the American Flag which hangs proudly inside the terminal.