November 15th is America Recycles Day (ARD). Started in 1997 to raise public awareness about the benefits of recycling, this event will be celebrated by hundreds of communities across our nation. Municipalities, schools, companies, and other organizations will conduct recycling-related activities to spread the message that recycling is good for our environment, economy, and society. So, with ARDÕs thirteenth anniversary upon us, how well has AmericaÕs recycling rate improved during this time?
Surprisingly, the overall recycling rate has barely increased by 5%. What was once 28% is now lingering between 30-33% (depending on the source of information). But letÕs not despair, small strides must be celebrated; any increase in the recycling rate means we are keeping more waste out of our land-fills!
Because the Recycling State of the Union encompasses a broad spectrum of materials, processes, and reporting methods, letÕs look at the recent recycling history and performance for two key U.S.A. recycled materials: PET Containers and Aluminum Cans.
PET (Polyethylene Terephthalate), the plastic commonly used in beverage bottles, has a relatively well developed recycling infrastructure and is well reported upon. Despite great efforts by municipalities, corporations, and consumers to increase the PET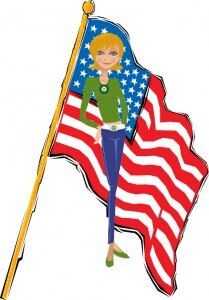 recycling rate, post consumer recycling rates reported by NAPCOR (National Association for PET Container Resources) have remained relatively flat at 27.1% (1997) and 28.0% (2009) respectively. While these statistics may be disappointing, reported information for 2009 did have a positive twist- the amount of PET bottles and jars available for recycling decreased by 4% (in weight) from the previous year. Perhaps we are using less plastic?
Aluminum cans are another interesting recyclable. In 1997, the aluminum industry set a 75% recycle rate goal for aluminum cans by the year 2001. To meet this aggressive goal, the aluminum can recycle rate had to increase by either 8.5% or 19.9% in just four years time. But, why were there two rate increase goals? The answer lies in how the aluminum can recycle rate was calculated. According to some critics, the aluminum industry inflated U.S. recycling rates by including spent aluminum cans from other countries like Mexico and Canada that were imported and recycled here in the United States. While the aluminum industry reported a recycle rate of 66.5%, critics claimed the actual U.S. recycle rate was only 55.1%. While the higher reported rate may seem like a sneaky trick, I think it was great that these imported cans were recycled rather than dumped into land-fills. To me, a can is a can is a can. However, this illustrates well how recycling rate calculations vary. To date, no matter how you look at it, we have not achieved a 75% recycle rate for aluminum cans. With a 2009 reported aluminum can recycle rate of 57.4%, we have not done much to increase the recycle rate and still have a long way to go.
LetÕs hope that ARD 2010 makes great inroads to raise recycling awareness and participation. Hopefully, this yearÕs effort will help to spur recycle rates to never achieved, higher levels. Check your local municipalityÕs website, local newspaper, or simply Google, ÒAmerica Recycles DayÓ with your hometownÕs name, to learn about all the activities in your area. And, donÕt forget to stop by your local shopping mall. Many retailers are offering special discounts in exchange for recyclables.
One such event will be hosted by the Disney¨ Store. Disney¨ will be offering a Tee-Shirt Recycle Event. Look for this special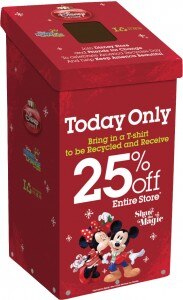 Tee- Shirt Recycling Bin at your local Disney¨ Store, drop in a used Tee-Shirt, and receive a 25% discount off merchandise throughout the entire store.* Disney¨ is truly making this America Recycles Day magical. With a little magic, maybe our national recycle rate will increase too!
Happy America Recycles Day!!
*Note: Exclusions apply, see a Disney sales associate for details.
© 2010 Recycle Life, LLC
RecyGalTM logo and the RecyGalTM character are trademarks and registered copyrights of Recycle Life , LLC
References::
ÒSummary of the EPA Municipal Solid Waste ProgramÓ, www.epa.gov, ÒThe Rate of RecyclingÓ, www.recygal.com, Ò2006 Report On Post Consumer PET Container Activity Final Report, NAPCOR, www.napcor.com, Ò2008 Report on Postconsumer Pet Container Activity Final Report, www.napcor.com, ÒNAPCOR and APR Report Sixth Straight Year of PET Container Recycling Rate IncreaseÓ, www.napcor.com, ÒAluminun Can Recycling Lowest in 15 yearsÓ, www.mindfully.org, ÒRecyclingÓ, www.aluminum.org, ÒAluminum RecyclingÓ, www.green-networld.com, ÒAluminum Can Recycling Rate Hits Ten Year LowÓ, Container Recycling Institute, P. Franklin, April 6, 2000.