With the news media covering world economics recently in Davos, I couldn't help but ponder how technology, markets, and economics affect the development of recycling in the America.
The most recent recycling statistics published by the EPA, show the amount of Municipal Solid Waste (MSW) recovered in 2012 (86.6 MM Tons) is almost equal to all the waste generated in 1960 (88.1 MM Tons).
In 1960, nearly all the waste generated went to landfills (82.5 MM Tons). In 2012, 65.5% of the waste generated (164.3 MM Tons) was landfilled.
With our waste generation now at 250.9 MM Tons, thank goodness 34.5% (86.6 MM Tons) gets recycled!
Here's an eye opener…Although we are recycling about the same amount of waste we used to landfill, we are now sending twice as much waste to landfills!
To add a bit more mess to these statistics, the 2012 recycling rate was down slightly from the previously reported 2011 rate. It will be interesting to find out what the EPA 2014 MSW report will reveal when it is released in the next couple of months.
For those of us who like details, the table below shows how waste generation and recycling has trended for three major USA MSW streams: glass, plastics, and paper.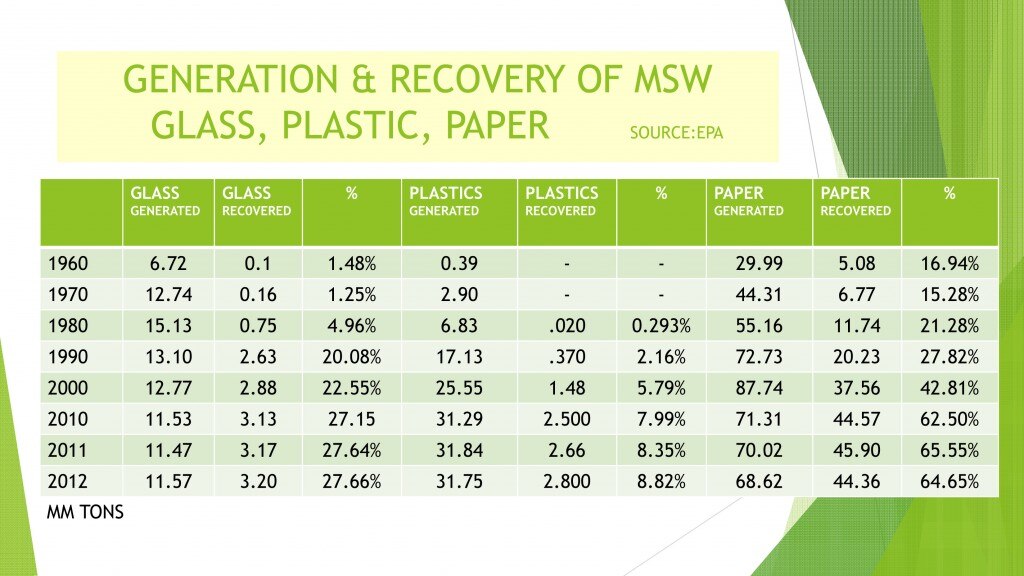 Since 1960, the amount of glass in MSW has increased by 72.2% (6.72 MM Tons to 11.57 MM Tons); we are now recycling (3.2 MM Tons). We recycle about half the amount of glass as we used to generate. Additionally, for almost three decades glass waste has been mostly on the decline. Why? The simple answer is that plastics have replaced glass in many applications.
When it comes to plastics, it is clear we are a polymer society. We have gone from generating 0.4 MM Tons to 31.7 MM Tons and we only recycle 8.8%. Yikes! Why is our recycling rate for plastics so low?
Processing reclaimed plastic has a cost and oftentimes the cost to recycle plastic is more than the cost to produce virgin plastic. When virgin plastics rather than reclaimed plastics are used in the manufacture of goods, the infrastructure required to recycle plastics stops evolving. Additionally, many new plastic goods are made out of a combination of different plastics making them mostly non-recyclable.
We generate a lot of paper, 68.6 MM Tons or about twice the amount in 1960. The sharp rise in paper waste follows the proliferation of technologies like photocopying and the rise in demand for packaged goods. Fortunately, the generation of paper waste remains on a decline and our paper recovery rate continues to climb and has reached 64.6%. (Down slightly from 65.55% in 2011).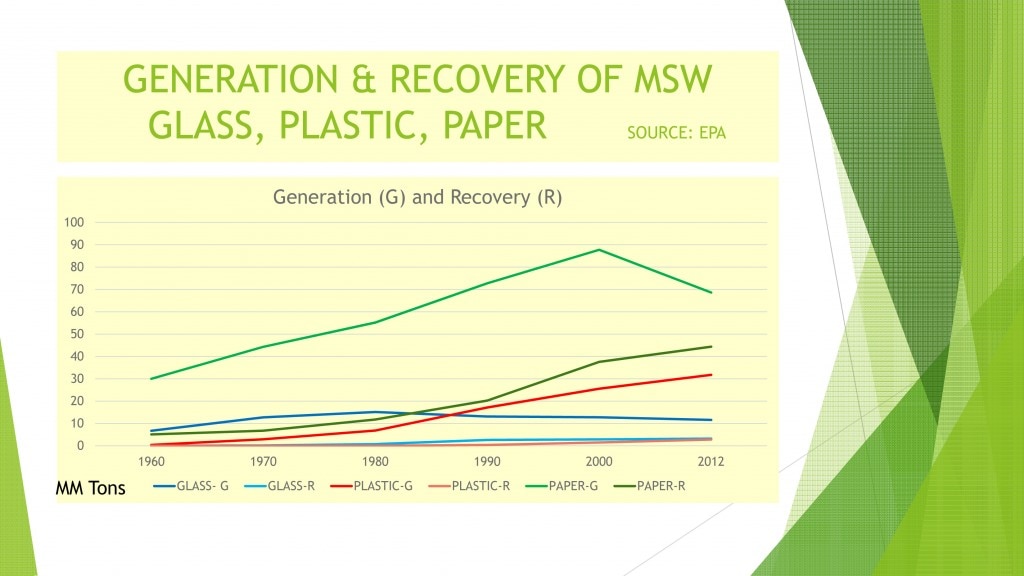 Because digital technology continues to reduce the need to use paper, paper waste should continue to decline. Keeping the markets for reclaimed papers alive and well will be the challenge.
Single stream collection strives to lower hauling costs while increasing the amount of materials available for reclamation by collecting all recyclables and/or waste together and separating it downstream at Materials Recovery Facilities (MRFs). Unfortunately, paper collected in single stream systems is often contaminated with other materials lowering its value and reducing the amount of reclaimed paper that can be used to produce higher quality goods. Mix the paper with glass and paper mills won't even touch it! Despite these challenges, paper recycling is on the increase. In the not so distant future we have the potential to reach a Net Zero position- we could be recycling all the paper we generate!
The key to successful single stream recycling is excellent downstream separation. If the separation of collected materials does not meet the material specifications required by reclaimers, the recyclables have lower market value or end up in landfills. Since large waste haulers often own the materials recovery facilities and the landfills, they ultimately control the development of the technology and how much collected materials go to landfills. Unfortunately, for the recycling industry to develop, more reclaimed materials must go to the reclaimers rather than to landfills. Better quality reclaimed materials result in more demand for recyclables and higher recyclables pricing. Higher value recyclables yield more funds for investment in recycling infrastructure.
A glimpse at market pricing for recyclables last quarter 2014 will shed some light on the economic importance of being able to successfully separate recyclables.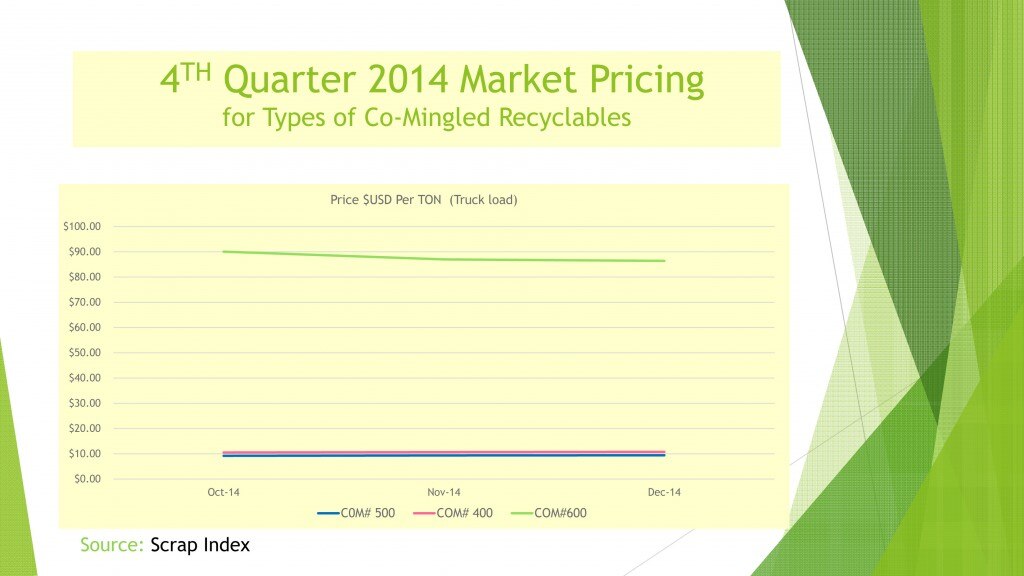 In looking at the above graph, it is apparent that most valuable co-mingled reclaimed materials stream (#600)contains no glass or paper mixed in.
With glass and paper separated out, the revenue per ton at $87.82/ton, is over 9 times more valuable than the least valuable reclaimed stream (#500) at $9.31/ton which includes all materials collected including glass and paper.
Slightly higher in value at $10.66/ton is the "everything stream" (including paper) minus the glass (#400).
The importance of good reclaimed materials separation is even more strongly illustrated when looking at individual materials such as PET Plastic, Sorted Office Paper, and Clear Glass.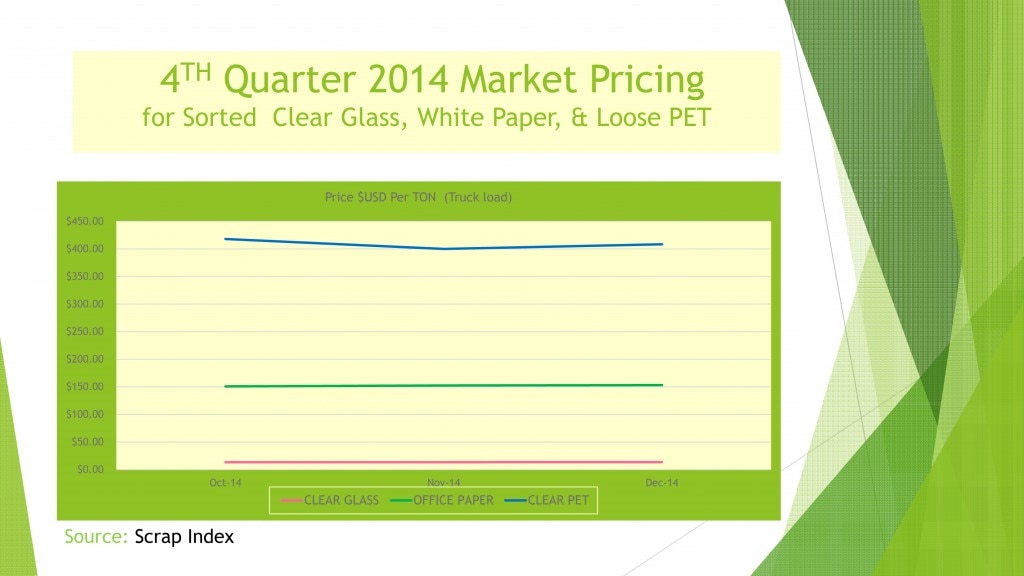 Here the $/Ton figures are: Loose, Clear PET plastic at $408.79, Sorted Office Paper at $152.17, and Sorted Clear Glass at $13.50.
Today, single stream technology is pretty good at separating out plastics, metals, and paper; glass separation is still a bit challenging. Since glass can damage recycling equipment and can dramatically lower recycling collection revenues, it should be collected separately whenever possible. If you are not seeking revenue from papers destined for white office paper reclamation, then paper can be readily collected with non-glass containers and separated downstream.
To capture the most value out of your recycling collection, a three bin system will work best.
The system should include: 1 bin to collect glass bottles and jars, 1 bin to collect co-mingled plastic bottles, aluminum cans and paper, and 1 bin to collect trash.
Increase the revenues of your program with a collection system like the HexStation® 3 Bin Solution Center by Recyclingbin.com. This units offers 87 gallons of capacity and effectively separates glass and trash from other co-mingled recyclables.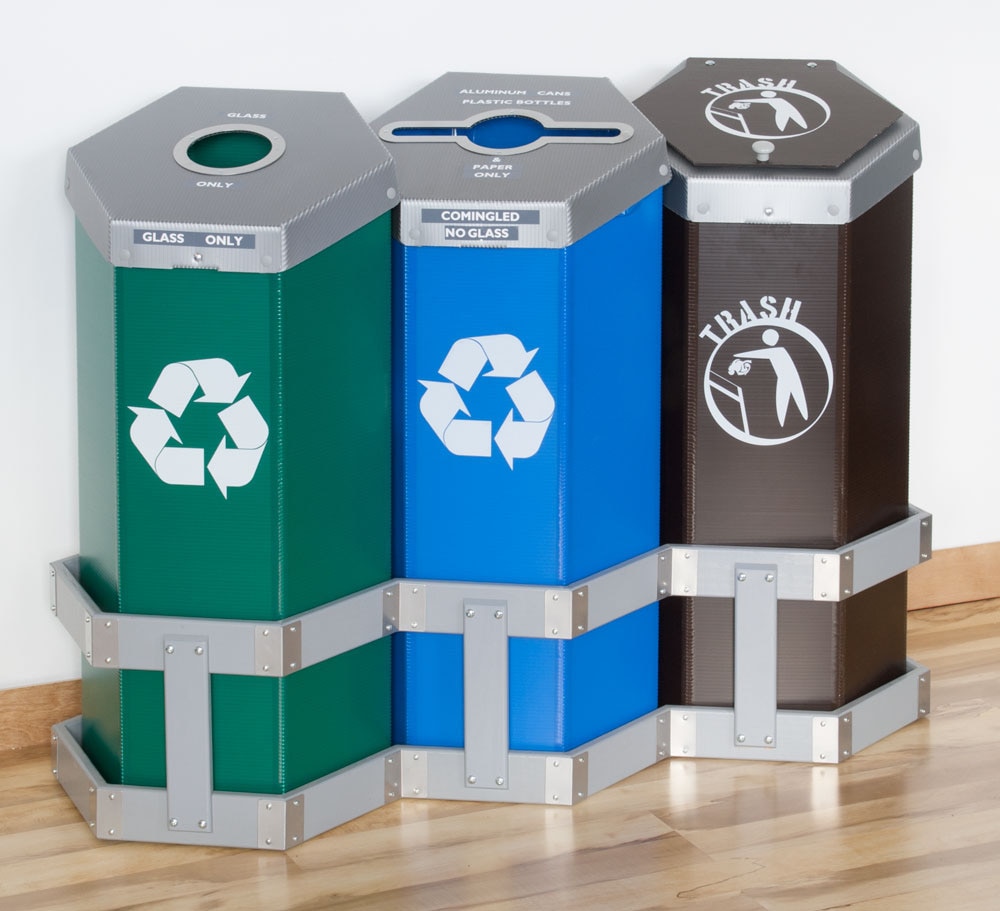 A simple tweak like separating out glass from your recyclables, can add $dollars to your bottom line.
Happy Recycling!
© 2015 Recycle Life, LLC
RecyGal® logo and the RecyGal© character are registered trademarks and registered copyrights of Recycle Life , LLC. All Rights Reserved.