I Got to Thinking, Why So Much Plastic?
Last week, my husband bought a replacement light switch from one of the big box stores. To make this switch versatile enough to work across popular styles, it came packaged with several wall plate options. This mostly plastic switch was also packaged in plastic. Surprised by how much "extra" plastic plus paper and metal remained after he replaced the light switch, I took a photo.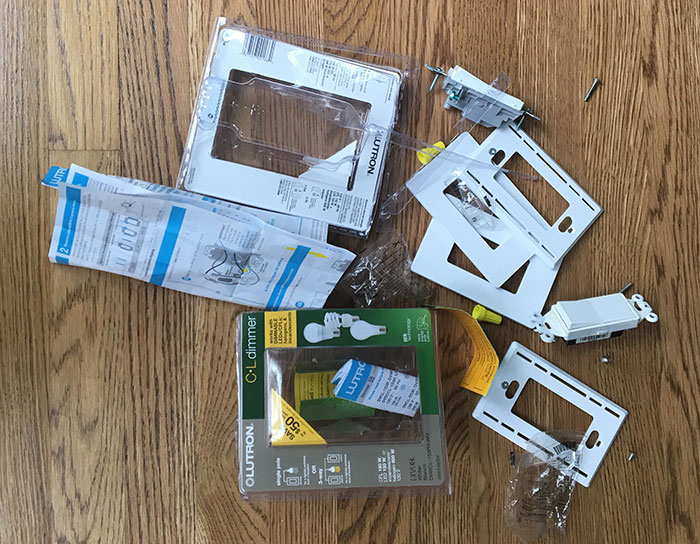 Modern convenience does bring waste; and this waste normally comes without an environmentally conscious discard treatment plan. Even though the extra plastic pieces from our little project did not have embossed recycling symbols, we "hopefully" discarded them into our recycling bin. (Only the municipal recycling center knows for sure if these items were recycled or sent to a landfill.)
This is a perfect example of where a secondary market needs to be available. While charity organizations can sometimes take these usable, but unwanted items off our hands, for safety reasons most charities want "electrical related items" in their original, sealed packaging. Here's a market niche opportunity for collecting and if need be, testing, and approving these items for secondary distribution. Easier said than done, but not impossible!
Invented in 1907, plastics have replaced the use of glass, paper, natural fibers, and metals in billions of applications. Whether it is packaging, textiles, building materials, or consumer goods, plastics abound in the modern world.
Globally, the annual production of plastics is estimated to be 845 billion lbs. With a world population of 7.7 billion, that's 110 lbs. of plastic produced annually for every person in the world!
According to National Geoographic, 91% of global plastics are not recycled. In the US, about 20% of the plastics produced get recycled; these statistics don't even take into consideration the plastic waste generated by industrial applications or consumer plastics that never make it into the municipal solid waste stream. Plastics that escape our collection end up littering our environment and can remain there for thousands of years. Plastics simply breakdown into smaller and smaller polluting bits. It is estimated that if we continue this "reckless abandonment" of plastics into our environment, by 2050 there will be more plastic mass in the oceans than fish mass! This is truly something we must begin to remedy.
So, let's switch it up! Let's be mindful of our needs and consider how we are going to handle the "extras" before we purchase something. Perhaps we can search a little more and find an option with less accoutrements? Or swap a "leftover" with a friend for one of their "extras" which we find useful? Keeping "things" in use will reduce the demand to produce more "things" and will also keep more "things" out of our landfills. And that my friends, is a beautiful "thing"!
Happy Repurposing and Recycling!